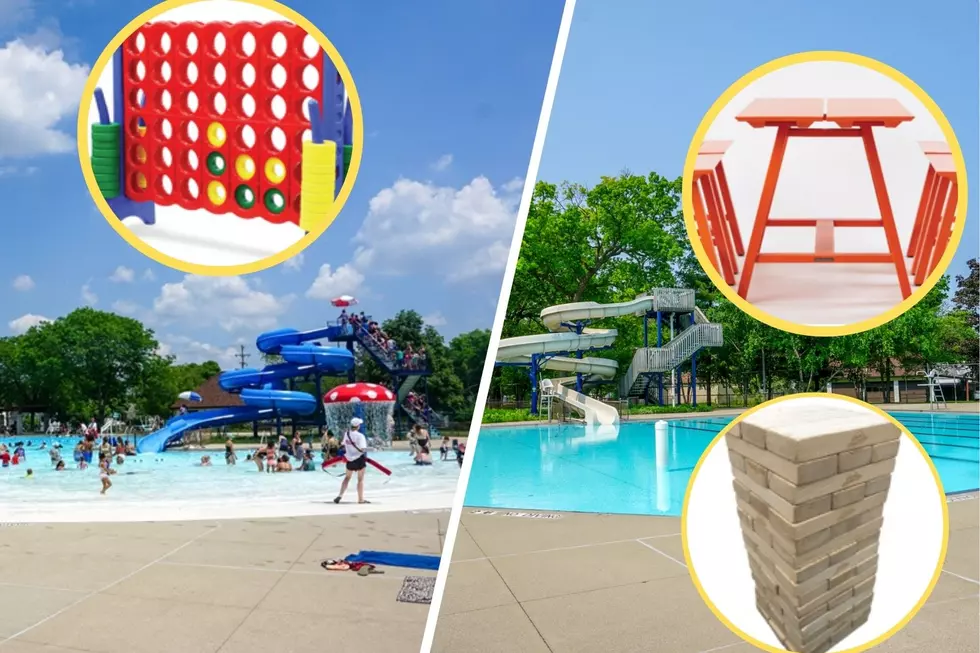 Giant Yard Games, Pool Deck Furniture Coming to Grand Rapids Pools in Pilot Program
City of Grand Rapids Parks and Recreation, Facebook
Ready for even more fun while you're cooling off this summer at Grand Rapids' City Pools?
The City of Grand Rapids Parks and Recreation Department announced they're launching a pilot program in which large scale yard games, including Giant Connect 4, Giant Jenga, Giant Dominoes, and Giant Checkers/Tic-Tac-Toe, and new pool deck furniture will be temporarily available at the City's three pools.
The features will spend two weeks at each pool.
MLK Pool from July 11 - 23
Richmond Pool from July 24 - August 6
Briggs Pool from August 7 - 20
During that time, pool goers will be able to take surveys and provide their thoughts to the City of Grand Rapids. They'll use those responses to determine which features will become permanent at City Pools.
Grand Rapids residents seem pumped about the pilot program!
Christine commented on GR Parks and Recreation's Facebook post,
Simply pressing the love button does not seem to express how thrilled I am over this.
Ashley writes,
Love this! Hope it becomes permanent!
Kate says,
Such a good idea, I know I am already in love with all of it. I will definitely be at the Briggs pool those weeks.
The City of Grand Rapids also recently launched live occupancy updates for City Pools. So now you can know before you go how many people are already at the pool! You can find the most up-to-date info on GR pool occupancy here.
New this summer, you can now rent out GR City Pools for private events. Rentals are available Sundays from 5:30p.m.to 7:30 p.m. and cost $400 for two hours.
The three Grand Rapids City Pools and 14 city-wide pads are open through August 20, 2022.
Briggs Park (Lafayette and Knapp NE)
Martin Luther King  (Fuller and Franklin SE)

Richmond Park (Richmond and Tamarack NW)
Pool hours for the 2022 season are:
Mondays from 1 to 5 p.m.
Tuesdays from 1 to 6 p.m.
Wednesdays through Saturdays from 1 to 8 p.m.
Sundays from 1 to 5 p.m.
You can find more information on Grand Rapids City Pools and Splash Pads here.
At Least 3 Pools You Can Rent by the Hour in the Kalamazoo Area
Did you know that you can rent pools by the hour with an online service called Swimply? Here are three that are available in the Kalamazoo area.
$5 Million Michigan Mansion Comes With A Pool Fit For A Resort
This home for sale is located at 52120 Lake Park Drive in New Buffalo, Michigan, and could be yours for $5,000,000. It offers amazing views of Lake Michigan and also comes with an infinity pool straight out of a resort.