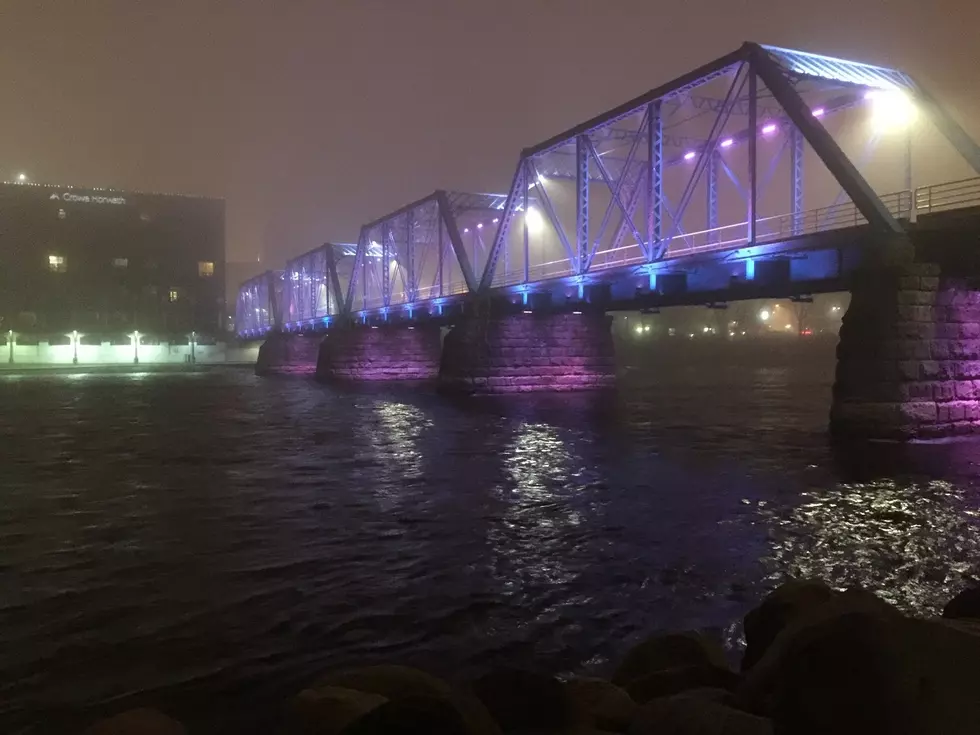 Blue Bridge is Getting Lighting Upgrade, Limited Use through Aug. 28
Dan Harland/WZZM-13
Downtown Grand Rapids is about to be LIT up once again in the evenings.
No. I'm not talking about the nightlife... unfortunately we're still in the middle of a pandemic. I'm talking about GR's historic Blue Bridge. In an announcement from the city, they have begun installation on new and improved LED lighting on the bridge -- bringing back the "night time glow" over the Grand River. Not only that, but it will also allow for customizable lights for different holidays or events i.e. pride colors or pink for breast cancer awareness.
The release states that the energy and lighting department, along with the Downtown Development Authority (DDA), paid $80K to do major upgrades on the lighting. The bridge has stayed dim the past year because the current lighting system has reached the end of use... making it unworkable.
The project includes replacing 53 decorative lighting fixtures.
To increase safety, 11 new walkway lights for pedestrians are being installed.
Because of all this the bridge will available for limited use over the next couple of weeks. Construction began on Monday and will continue throughout the work week. However, the bridge will be closed daily beginning August 24 through August 28 from 6 a.m. to 5 p.m.
If you are part of a group/community/organization who wants customized lighting you can fill out a permit starting September 7. It's advised you fill one out 10 business days before requested start date.
In a statement from Evette Pittman, supervisor of the Office of Special Events, says the city is excited to offer this feature again.
The lighting helps call attention to specific causes. It also helps to commemorate or enhance specific events connected with our city.
Enter your number to get our free mobile app
The Blue Bridge has been in Downtown Grand Rapids since 1892 and initially served as a railroad.
It was turned into the walkway it is today in the 1980s. It remains the oldest railroad bridge in the city.
Check It Out: The Last Of The Murals in Downtown Grand Rapids Coming Down