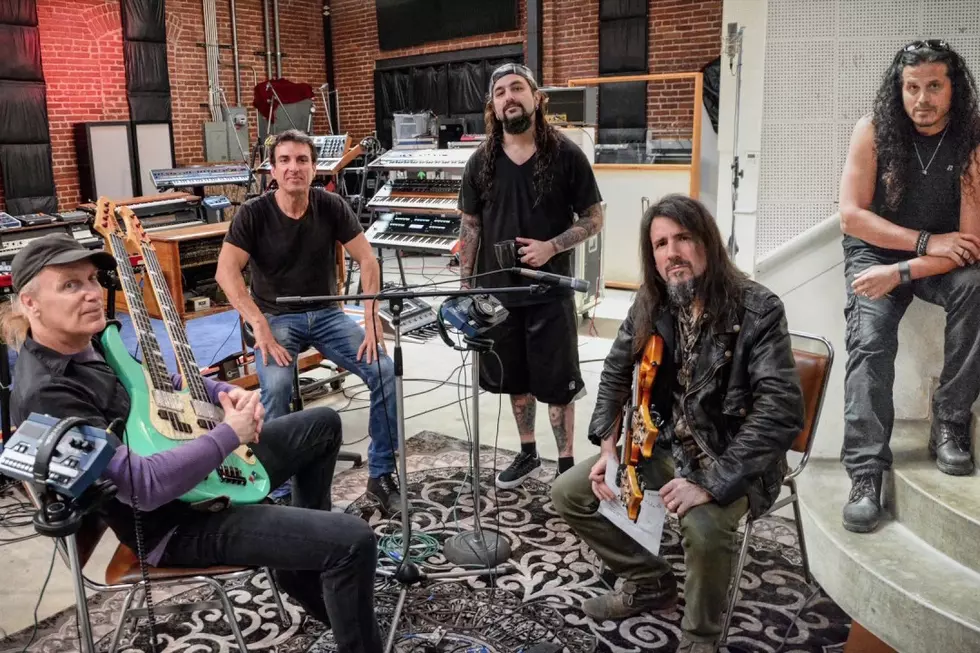 Sons of Apollo Unite Mike Portnoy, Bumblefoot, Derek Sherinian, Billy Sheehan + Jeff Scott Soto, Debut Album Announced
InsideOut/Sony Music
Somehow, Mike Portnoy has found the time for yet another band. The drummer has an exhaustive work ethic and has joined forces with a number of notable rock and metal musicians to form Sons of Apollo, who will release their debut, Psychotic Symphony, on Oct. 20 through Inside Out/Sony Music.
Sons of Apollo are rounded out by Ron 'Bumblefoot' Thal (guitar, ex-Guns N' Roses, Art of Anarchy), Derek Sherinian (keyboards, ex-Dream Theater) Billy Sheehan (bass, The Winery Dogs, Mr. Big) and Jeff Scott Soto (vocals, Trans-Siberian Orchestra, ex-Journey). The band was spurred by Portnoy's collaborative instrumental work with Sherinian, Sheehan and Tony MacAlpine shortly after his split with Dream Theater. After completing a tour, Sherinian had urged the drummer to pursue a full-time band with him and now the timing has finally allowed for this to happen.
The band's name was chosen after Portnoy, who keeps a running list of potential band names on his phone, plucked "Apollo" from the tab. Both Portnoy and the keyboardist agreed on using the word, especially since Apollo is the Greek god of music, and after Sherinian tossed in the prefix, the name was settled.
Speaking about the group's sound, Sherinian explained, "The music is modern, but we have an old school soul. What is unique about Sons of Apollo is that we have true rock 'n' roll swagger along with the virtuosity — a lethal combination!" To sample what's to come, check out the album teaser in the video below.
For those assuming this is another one of Portnoy's side projects, that's an error in judgement. The drummer asserted, "This is a real band. This is going to pick up for me and Billy where The Winery Dogs left off, in terms of this being the next logical full-time thing for us. I'm not saying The Winery Dogs have broken up, because we haven't, we're just on a break. Sons of Apollo is absolutely going to be a full-time band and we plan on touring all over the world all throughout 2018 and, honestly, it is the priority for all five of us."
Since parting ways with Dream Theater, Portnoy has been incredibly active both on the road and in the studio. His name will always be tied with the legendary prog band he was an integral part of for so long, but in a recent interview he stated he's content with his current work and is not longing for a reunion with Dream Theater.
Sons of Apollo, Psychotic Symphony Album Teaser
Most Anticipated Upcoming Hard Rock + Metal Albums of 2017
Loudwire Podcast #8 - Mike Portnoy