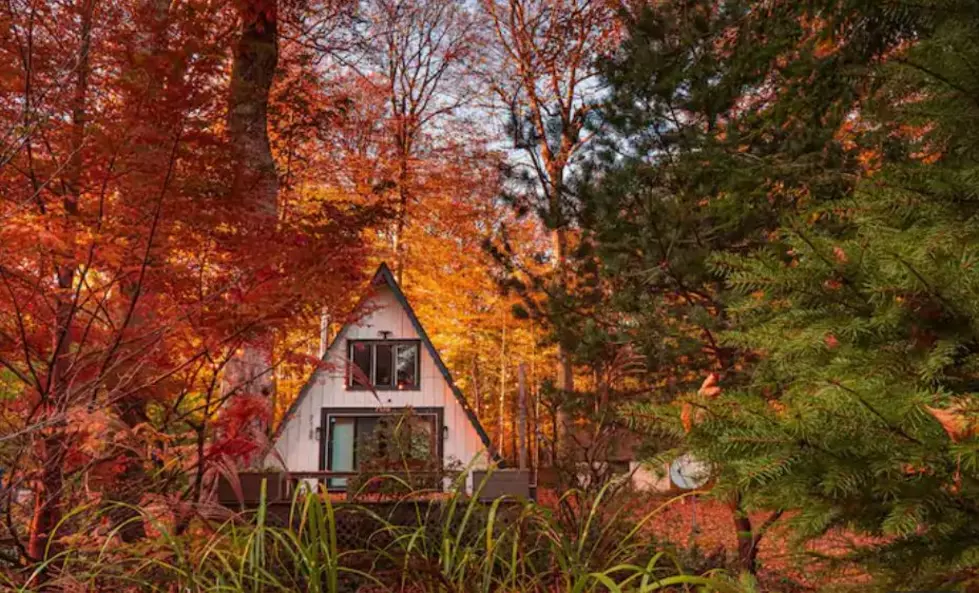 Ready For Fall? 3 of the Best Airbnbs in Michigan to Go Glamping This Fall
Credit: Airbnb
Fall is almost here!
The most beautiful season of the year. From the fall leaves, apple picking, apple cider, and warm blankets, fall is my time to thrive!
Fall is also the perfect time for a cabin getaway. I have always wanted to go stay at a cabin to soak in the fall vibes.
Here are three fall cabin Airbnbs that you can book for this season.
Maple Haven
You cannot tell me that it doesn't look like a fall paradise in this picture!
The treehouse can fit up to five guests in two bedrooms. In the backyard, there is a fenced-off fire pit for your s'mores-making pleasure.
The front patio has twinkly fairy lights lined around it with benches so you can sit and watch the sunset in a dreamscape manner.
The owner Kristen says that you should,
"Come immerse yourself with the peace and tranquility that Lake Michigan has to offer. Hear the waves from this charming tree house and experience breathtaking sunsets from the view point which is just steps away."
Maple Haven (the greatest name by the way) is nestled between downtown South Haven and Saugatuck, which makes it close to a lot of amenities.
It is a fall sanctuary. You can visit the southwest Michigan breweries, "raspberry/blueberry/apple picking, wine tasting, and the public beaches".
Tessa left a review saying,
"Loved the cabin. The beds were very comfortable, the place was clean, and the fire pit was a hit with the kiddos. While the beach is small, that means the crowd is also small. Sometimes we even had the beach to ourselves completely. We would absolutely stay here again."

 
Pure Michigan A Frame
This is your next glamping vacation if you want to get off the grid for a fall escape!
With no WiFi and limited cell service, the A-Frame Airbnb is perfect for taking a break from the hustle and bustle of life.
There is also a grill on the fire pit out in the backyard with skewers for the perfect s'mores.
Tyler says this should be the next getaway for couples.
"Good place for a couple seeking a remote retreat. Modern amenities (including AC and updated kitchen and bathroom) made the stay pleasant. Overall very isolated and peaceful."

 
Bell Tent Glamping
This is a true "glamping" experience to top them all.
You can glamp at the Lost Woods Farm + Forest, a 160-acre property a few minutes away from Boyne Mountain Resort.
The "bell tent has a queen memory foam mattress, linens, extra blankets, portable fans, lanterns, cooler and private fit pit."
The owners suggest this is perfect for two adults and two children over the age of 5.
Are you worried about using the bathroom?
This year, the owners built an "eco-luxury bathhouse which includes a refinished vintage sink, indoor and outdoor rain showers, and local lavender shampoo."
Heather gave one of the best reviews for this glamping experience.
"I can't describe the view. It's beautiful! Our hosts, Lauren and Jason, were warm and inviting to their guests, including breakfast bagels and coffee delivered to your site. Coming from being a camper who usually pitches her own tent, this was a wonderful way to enjoy the best parts of camping with a few comforts of home, like a comfy bed and a beautiful view. Just come here and do nothing but enjoy the scenery and tranquil sounds of nature. It's the best weekend you could have if you need to disconnect."
Campers, Campgrounds, Camps, and Camping in Michigan
Michigan Tentrr Campsite Will Take You Off The Grid.
Newaygo County Parks, Lakes, Rivers & Campgrounds
If you are looking for somewhere to take the family to get outdoors, Newaygo County has just about everything Michigan has to offer in one county.