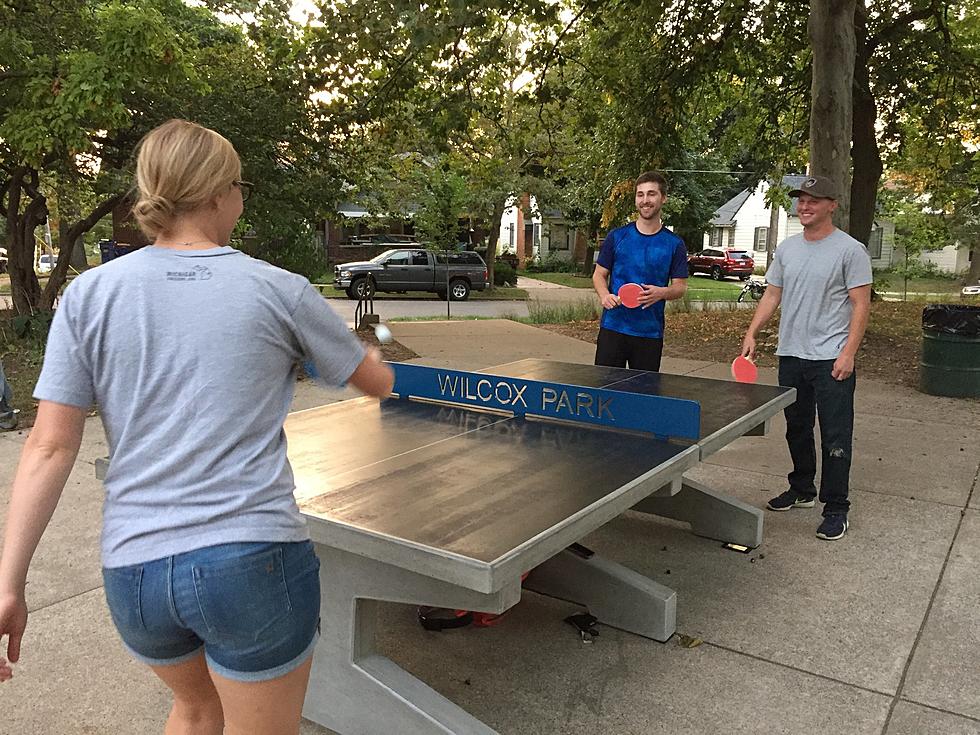 Did You Know There are 5 Outdoor Ping-Pong Tables in Grand Rapids?
City of Grand Rapids Parks and Recreation Department
Looking to get your ping-pong game on? There are five outdoor tables at Grand Rapids City parks where you can play for free!
There are so many cool things to check out at Grand Rapids' parks. There's the free outdoor fitness equipment at Ottawa Hills Park, the bouldering wall at Highland Park (with even more upgrades coming soon), the hammock groves at multiple local parks, new pickleball, tennis, and basketball courts at Cherry Park, and tons more!
There are also five outdoor ping-pong tables across the park system.
You can bring your own supplies or rent a set from GR Outside for a tournament or casual game at these permanent concrete tables customized with the parks' names. Check out more cool things you can rent from the GR Outside Gear Library below!
Grand Rapids Park Ping-Pong Table locations:
Garfield Park (250 Madison Ave SE)
Pleasant Park (620 Madison Ave SE)
Richmond Park (963 Richmond St NW)
Riverside Park (2001 Monroe Ave NE)
Wilcox Park (1561 Robinson Rd SE)
Grand Rapids parks are getting cool upgrades all the time, thanks to a voter approved millage.
Passed in 2019, the millage provides approximately $5 million each year for repair, maintenance, and new improvements to parks, pools, and playgrounds. Learn more about past, current, and upcoming projects here!
Outdoor Games, Gear, and Equipment You Can Rent for FREE From Grand Rapids Gear Library
Grand Rapid Parks and Recreation
recently added skateboards to the
Thrive Outside
Gear Library. Did you know about all the cool stuff you can rent for free? Just about anything you'd need for a camping trip you'll find in the Gear Library at Roosevelt Park Gym, plus team sports equipment, clothing, picnic supplies, even gear for cold weather activities too! The Gear Library is located at the gym at Roosevelt Park at 739 Van Raalte Dr. SW in Grand Rapids. The library is open on Wednesdays, Thursdays and Fridays from 2:00 pm to 7:00 pm.