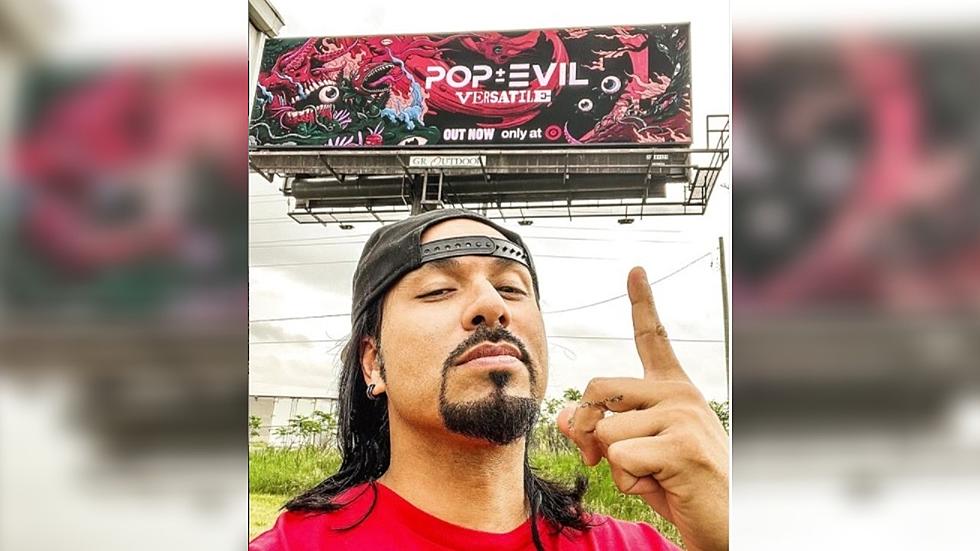 Have You Seen Pop Evil's New Billboard Around Grand Rapids?
Pop Evil, Instagram
How cool! West Michigan's own Pop Evil recently released their sixth album "Versatile" last month and now there's a new billboard for it around Grand Rapids. Have you seen it?
The band shared a picture on Instagram with singer Leigh Kakaty in front of the billboard along a GR highway.
Have you spotted the billboard yet? I haven't seen it in my travels around Grand Rapids, but a listener wrote in to tell us it is along 131 South between the 28th and 54th street exits. I'll have to keep my eye out for it!
Pop Evil's 6th album "Versatile" is out now. Kakaty shared with Good Call Live some thoughts about making the new record:
We worked hard... we were excited to really flirt with that duality that is Pop Evil, which is basically a fight for the new sounding Pop Evil. How could we make our heavy heavier and still experiment with my vocal textures but at the same time balance that old school Pop Evil writing style that so many people, six albums in, have grown to love about us. We don't want to totally alienate it or not do any of it  but you know some of juggling that duality, split/side personality of the band, it was the challenge and the fun of making this record.
This year marks the band's 20th anniversary -- 20 years since Pop Evil formed right here in West Michigan! Kakaty spoke about the milestone anniversary with the Oakland Press,
 Survival in this business is not easy, y'know? And 20 years is a milestone in anyone's career, to be around a job for that long. There's a surviving element here that's surprising for a lot of people. You realize how many people you've touched over the years, and have touched you. It's a special milestone moment for the fans, 'cause it's their music, too.
We'll get to celebrate with Pop Evil soon! They're coming home to rock Upheaval Festival at Belknap Park next month, along with Rob Zombie, Korn, Chevelle, Staind, and more!
QUIZ: Just How Michigan Are You?