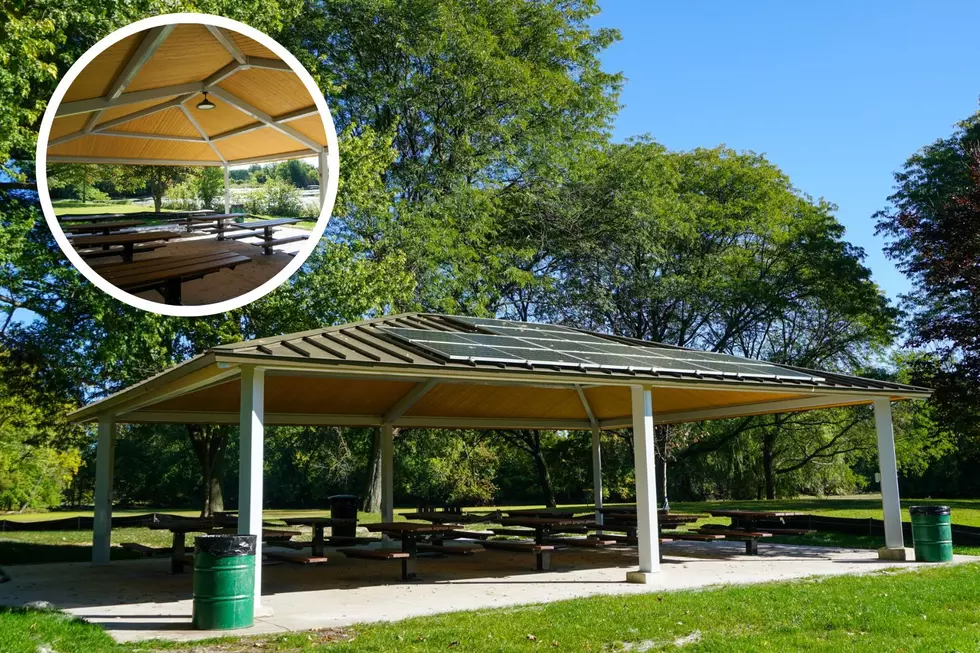 Grand Rapids Park Gets City's First Solar Powered Picnic Shelter
City of Grand Rapids Parks and Recreation
Grand Rapids' Riverside Park has gotten even more upgrades!
Grand Rapids' Riverside Park Gets Upgrades
Last spring we told you a new accessible kayak launch was put in at Riverside Park, which is located at 2001 Monroe Ave NE, along the Grand River.
The next phase of park upgrades is now complete! The newly reconstructed Island Shelter at Riverside Park is now the first picnic shelter in the City to be powered completely by the sun. It also features power outlets, accessible pathways, and more seating than the previous shelter.
Here is a side-by-side look at the old picnic shelter vs. the new one.
Other improvements to Riverside Park include a refurbished restroom building (also powered by solar panels), bike loops, and a drinking fountain with a dog bowl.
The upgrades to Riverside Park were made possible through a voter-approved parks millage with support from a Michigan Department of Natural Resources Trust Fund Grant.
Activities at Riverside Park
When weather allows, the City of Grand Rapids hosts kayaking demonstrations and classes, some of them free.
In fact, coming up October 7th, there is a free kayak trip for residents ages 50 and up.
Food Truck Fridays at Riverside Park runs May through September.
There's about 200 acres at Riverside Park to explore, with 2.3 miles of paved multiuse trails for year-round use. You'll also find grills, disc golf, a playground, ball diamond, and soccer fields.
Outdoor Games, Gear, and Equipment You Can Rent for FREE From Grand Rapids Gear Library
Grand Rapid Parks and Recreation
recently added skateboards to the
Thrive Outside
Gear Library. Did you know about all the cool stuff you can rent for free? Just about anything you'd need for a camping trip you'll find in the Gear Library at Roosevelt Park Gym, plus team sports equipment, clothing, picnic supplies, even gear for cold weather activities too! The Gear Library is located at the gym at Roosevelt Park at 739 Van Raalte Dr. SW in Grand Rapids. The library is open on Wednesdays, Thursdays and Fridays from 2:00 pm to 7:00 pm.