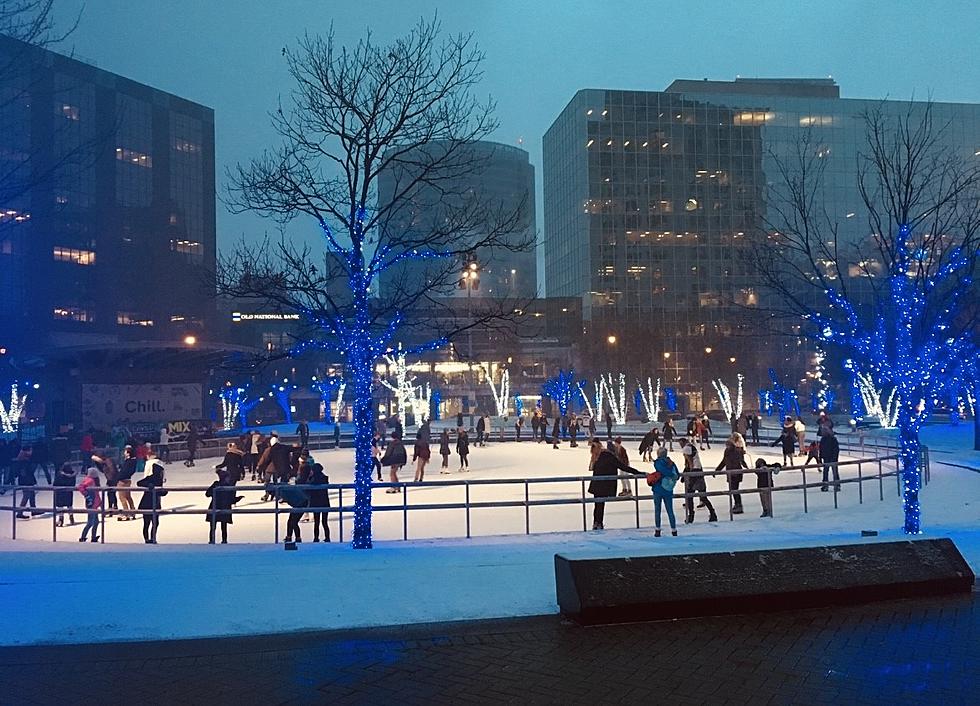 You Can't Ice Skate at Rosa Parks Circle Yet, Granite STILL Delaying Completion
Janna, TSM
Don't break out your ice skates and head to Rosa Parks Circle just yet. The winter skating season is being postponed due to construction delays.
What is Delaying Construction at Rosa Parks Circle?
The popular Grand Rapids landmark has been undergoing a $2.8 million renovation since May. The original plan was to reopen Rosa Parks Circle in September, in time for ArtPrize... and well, that obviously didn't happen.
As we told you in August, a piece of granite for seating at Rosa Parks Circle was to blame, a result of global supply chain disruptions due to the COVID-19 pandemic...and that seems to still be the case.
According to a release from the City of Grand Rapids,
Manufacturing delays with the new granite seating rings have pushed the expected completion date to February. The partners are looking into hosting possible alternative skating locations as well as offering a shortened skating season at Rosa Parks Circle when construction has been finished if possible.
Why the City of Grand Rapids Says Other Solutions Won't Work
Temporary replacements like a portable outdoor rink or synthetic ice solutions were considered, but the City says those were hindered by supply chain and cost issues.
If you're wondering why they don't just use something OTHER than granite for seating, Rosa Parks Circle is actually part of an art installation called Ecliptic; those participating in the restoration say they are committed to artist Maya Lin's original vision for the space.
Rosa Parks Circle Conservancy chair Tripp Frey said,
The granite seating rings will be more durable and require less maintenance than the concrete previously used. Ecliptic has seen more visitors than ever imagined when it was first dedicated 20 years ago, and these improvements will ensure it can be enjoyed for many years to come.
Winter Activities at GR Parks that ARE Still Happening
Despite the delay in ice skating season, the annual holiday tree lighting ceremony will still happen at the same location on Monroe Center St. Friday, Dec. 3.
Parks and Recreation Director David Marquardt said,
We know ice skating at Rosa Parks Circle is a treasured winter tradition in Grand Rapids, and we're hopeful that skating can be offered in some form this year. In the meantime, our city parks offer many other ways to enjoy the snow, get active, and explore nature.
Weather permitting, folks can enjoy the following winter activities at GR parks:
Free sled rentals and winter clothing rentals will be available beginning Dec. 4 at the below parks every Saturday from 1 to 4 p.m.
Mulick Park (1632 Sylvan Ave. SE)
Plaster Creek Park (2401 Buchanan Ave. SW)
Additional pop-up sledding events at GR parks, supported by the City's Thrive Outside initiative, will be announced soon.
The Grand Rapids Parks and Recreation Department is also offering winter activities at Indian Trails Golf Course. The trail system will be open daily from 8 a.m. to 8 p.m. for fat tire biking, cross country skiing and snowshoeing starting Dec. 6. Find information on day and season passes here.
Downtown Grand Rapids, Inc., a partner in the Rosa Parks Circle restoration project, once again plans to offer winter activities downtown, including World of Winter beginning Jan. 7. 2022.
We'll keep you posted on the progress at Rosa Parks Circle and the return of ice skating at the downtown rink.
Other Ice Skating Options in Grand Rapids Area
But what if you still want to ice skate?
Multiple facilities offer open skate times indoors:
Doing a quick Google search, I wasn't able to find any other outdoor ice skating rinks nearby though. Do you know of spots where you can ice skate outside in the Grand Rapids area?
CHECK THEM OUT: 100 years of Christmas toys, gifts and fads