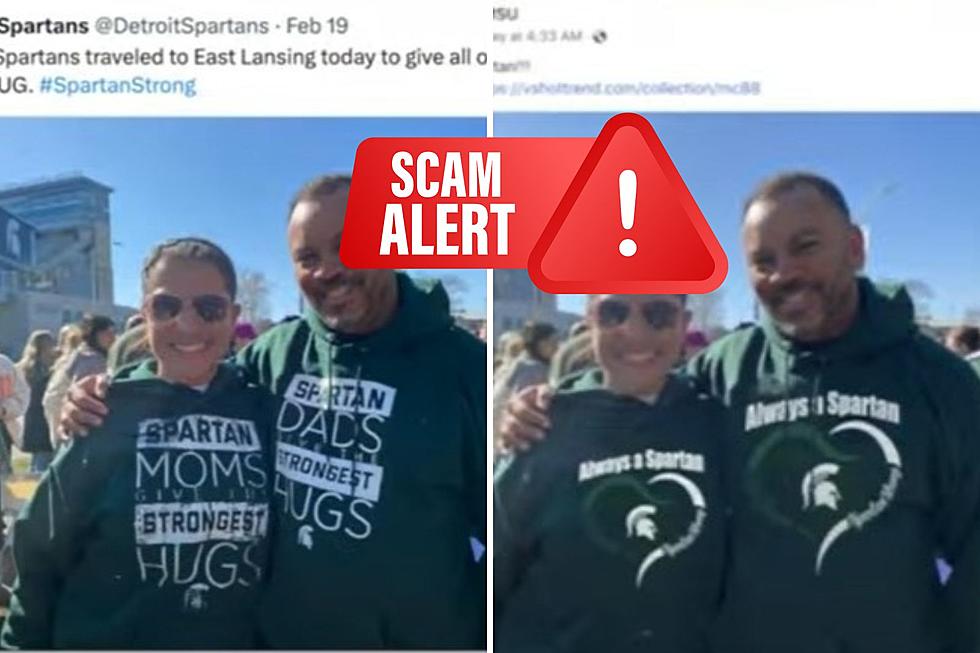 Scammers Are Using MSU School Shooting To Make A Profit
Detroit Spartans Twitter Page/Love MSU Facebook Page/canva.com
It blows my mind that there are people who are using the Michigan State University shooting to try and make a profit.
Counterfeiters
Normally what comes to mind when I think of counterfeiting is someone printing up some fake money.
Then there are the counterfeiters of sportswear and after championships to watch out for. They will go to all lengths to duplicate the official sportswear to a "T" minus one tiny little detail to try and get people's money without receiving permission to use said logos.
I couldn't tell you how many times I've seen a guy with a backpack filled with illegal concert shirts across the street from the venue I just saw a show at who's selling shirts that look almost like the ones inside for $10 or $20. I'm surprised the police allow it since they are usually directing traffic not too far from where the illegal sales are going down.
Scammers Are Using MSU Shooting To Make a Profit
If you watched the Michigan State versus Michigan game then you saw the Spartan Strong shirts that players were wearing during the warmups. So far the Spartan Strong fund has raised nearly $350,000 and more is still coming in from people purchasing officially licensed Spartan Strong t-shirts. That's officially licensed shirts, anything that has the Spartans logo on it has to be licensed through the university and not everyone online is doing that.
Steve Culp is part of the Michigan State Alumni and he went to Spartans Sunday in East Lansing to volunteer and show support around the campus like most events, random pictures were taken.
Culp posed for a picture with a friend wearing shirts that were licensed by MSU to raise money for the Spartans Strong fund.
That same picture surfaced six hours later and someone had put new logos on the sweatshirts and had a link to purchase them. Culp had received several messages from friends if he knew what was going on with his picture.
All counterfeiting is bad, but trying to get money from vulnerable people when an event like this takes place is a new low.
Where To Get Officially Licensed Spartan Strong Items
According to WXYZ, here is a list of safe vendors that are licensed to sell Spartan Strong items:
4Imprint
A. Dean Watkins
Blue 84
CDI Corp.
Colosseum
Gametime Sidekicks
Nudge Printing
Sewing Concepts
Underground Printing
Zephyr
Any item that is not from one of these companies is a scam so beware of your online purchases.
READ MORE: Porch Pirate Prevention
READ MORE: Michigan Shoppers Refuse To Buy Generic Versions of These Products