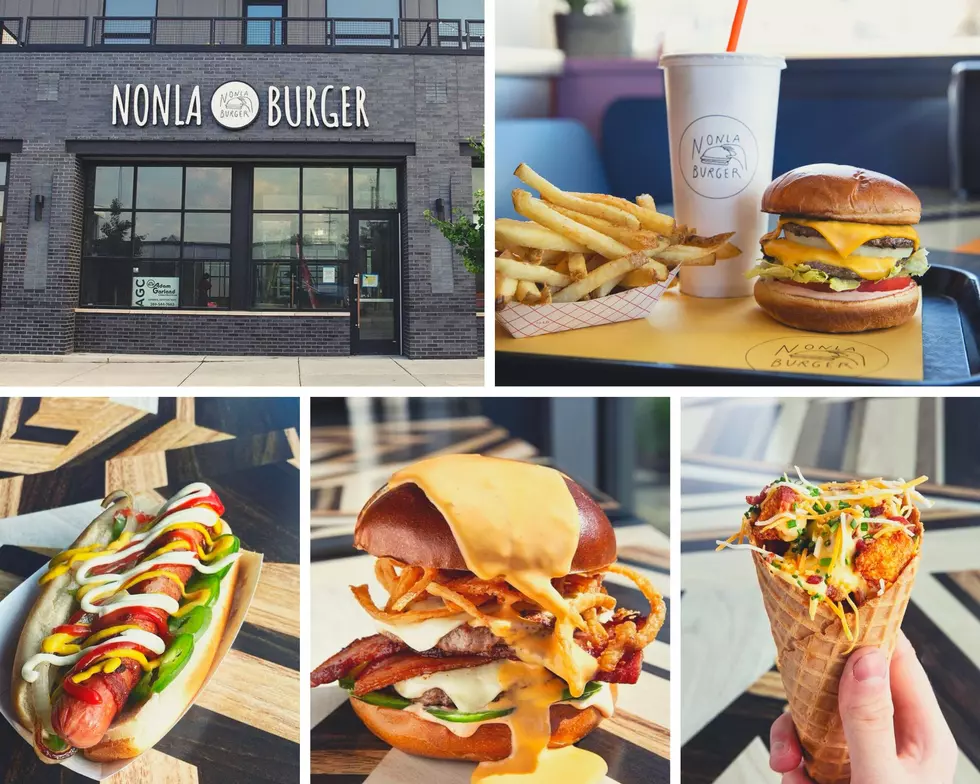 When Will Nonla Burger Open in Grand Rapids?
Nonla Burger, Facebook
A popular West Michigan burger joint has expanded to Grand Rapids - and they've announced an opening day!
Nonla Burger Grand Rapids Announces Grand Opening
This past summer we told you that Nonla Burger, which has locations in Kalamazoo and Mattawan, would be opening a new restaurant on Grand Rapids' west side.
Two couples own and operate Nonla Burger: Kyle and Natashia Monk and Johnny and Kelly Nguyen.
The new Grand Rapids Nonla Burger will be the fourth location.
Other restaurants include:
Nonla Burger - 2103 S. Burdick St. Kalamazoo
Nonla Burger - 1700 S. Drake Rd. Suite A, Kalamazoo
Nonla Burger - 24050 Front St. Mattawan MI 49071
We now have an opening day for the new Nonla Burger!
Nonla Burger is set to open at 449 Bridge St. NW Tuesday, Dec. 13, 2022 at 11a.m.
Here's a look at the new restaurant:
In a Facebook post the owners shared,
This restaurant has been a year in the making, with many bumps along the road and we've had to stay patient through the process (lol not so easy) Let's just say, we are thrilled to finally be able to share this space with you!! Woohoo!! Just like the rest of our locations, it's such a fun place to eat! See you Tuesday friends!! We can't wait!!
What kind of food does Nonla Burger serve?
Well yes, burgers of course!
The signature burger is the N.B. Double, which is 3.2oz certified angus beef patties on a white bun with two slices of American cheese, lettuce, tomato, onions and their Nonla spread. You can also order a single hamburger or cheeseburger.
Nonla Burger also offers a Crispy Chicken Sando and a Hot Chicken Sando, which is their crispy chicken hand dipped in chili oil served with house-made pickles and mayo on a toasted bun. Meals come with hand-cut fries.
Speaking of fries, the Nonla Way Fries are topped with melted cheese, grilled onions, jalapeños, cilantro, and Nonla spread.
You'll also find salads are made fresh daily and always change.
Nonla Burgers has daily specials too, featuring culinary creations from their chefs, like  breakfast sandwiches, specialty burgers, wings, poutine, and hot dogs.
For dessert, Nonla Burger offers a "Shake of the Day".
The new Bridge Street Nonla Burger is also the first in the collection of restaurants to have a bar!
Check out their full menu here.
To stay up to date with happenings at at Nonla Burger and their yummy specials, follow them on Facebook.
Looking for more new restaurants to check out? Here are 25+ restaurants that have opened in West MI in the past year:
West Michigan is a great place for foodies!
More than 25 new restaurants and bars, including Mexican restaurants, seafood restaurants, pizza joints, cocktail lounges, and more have opened up in West Michigan in the past year.
How many have you been to?
16 West Michigan Restaurants Featured on National TV
West Michigan has a great foodie scene! Through the years, national TV shows like Food Paradise, Cheap Eats, and Diners, Drive Ins, and Dives have shot at West Michigan restaurants.
How many have you visited? Which local restaurants do you think SHOULD be featured on national TV?