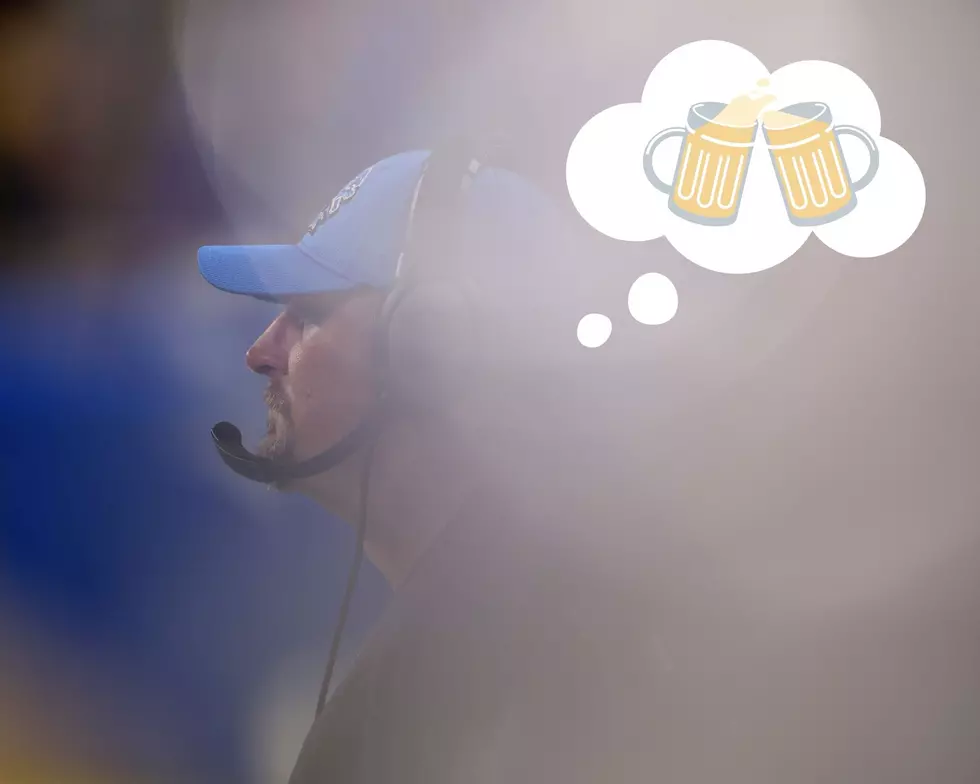 Lions Coach Dan Campbell Says Scouting The Vikings Caused Him To Drink
Getty Images/Canva
Regardless of how the Lions wind up this season, having Dan Campbell as coach is always going to be highly entertaining.
The Lions Have A Big Showdown With The Minnesota Vikings This Sunday
The Detroit Lions are fresh off a big home win over the Washington Commanders, and are now looking towards a big NFC North showdown in Minnesota against the Vikings this Sunday.
The Vikings were featured on Monday Night Football, giving the coach and his staff a chance to watch them playing live as part of their preparation.
But the Vikings were blown out by the Philadelphia Eagles, leaving some fans, including Campbell, a little blurry eyed after the late night finish.
The Lions Coach Seems To Love Having Fun With Reporters
When asked by sports reporter Will Burchfield about what he saw while scouting the Vikings on TV Monday night, Campbell, who kind of looks like a beefed up version of The Dude from "The Big Lebowski", gave a very Dude-like response.
"Normally, like any fan would. I fell over backwards in my chair drunk after the second half, I couldn't even take notes anymore. Woke up, couldn't read my notes. But I'm back in this morning, took some aspirin, we're good."
Campbell Was Known For Being A Party Machine In College
Knowing Campbell's work ethic, Burchfield realized the coach was pulling his leg, but the guys over at Bleacher Report seemed to remember some pretty hard drinking stories that made Campbell a legend during his college days at Texas A and M.
Quoting an interview Campbell's former college mates gave to The Athletic, the web site told of a heavy drinking tight end who would live up to the phrase "all-nighter":
There were plenty of nights where we'd be having a get-together and I would see that look in his eye and just be like, "Oh no." And, sure enough, (a) little time would go by and here comes Dan: "Hey, Lech, we're staying up till the sun comes up tonight." And you're just … "oh, shit, no." But you did it for Dan. … When we beat Kansas State in the Big 12 championship, I knew the second that plane landed at home what was gonna happen. Think that one went for about two days.
The Detroit Lions Throughout The Years With Collector Items
Love 'em, or hate 'em, they're still the good old Detroit Lions. Take a look back in time with some collector's items from over the years and see how the Detroit Lions have evolved over the years.