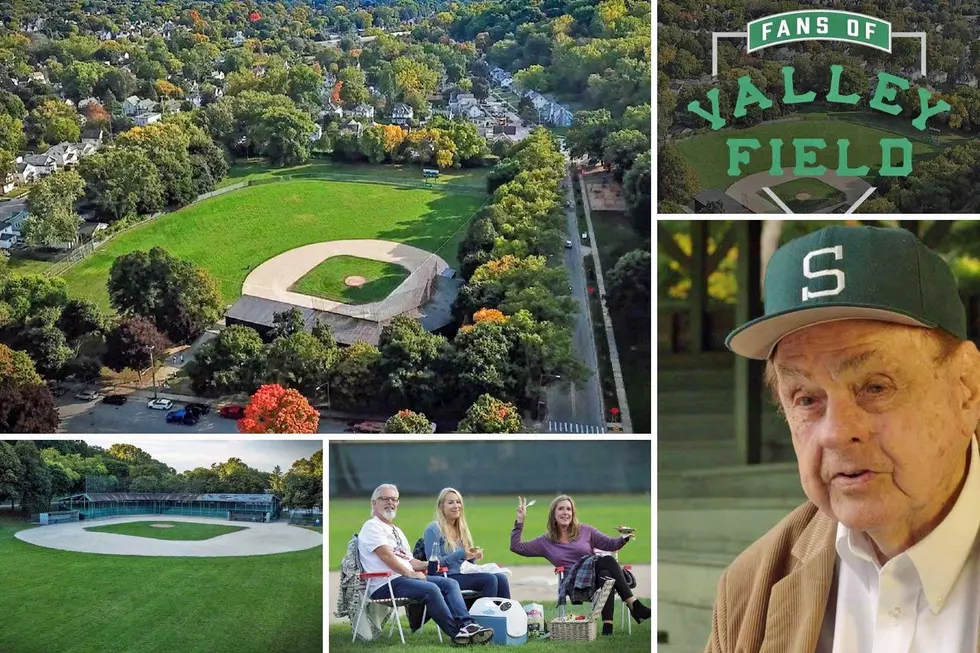 Historic Valley Field Scheduled to Host Several Events this Summer & Fall
Photos: Paul Soltysiak via Vimeo
It sits quietly in a west side neighborhood. Built back in 1937, Valley Field has been part of Grand Rapids history. The Fans of Valley Field are working hard to restore the ball park and have several events scheduled for this summer and fall.
The City of Grand Rapids will be funding a large part of the renovation project for Sullivan Field (as it is officially called today). A millage was passed late last year. The remaining costs are the responsibility of the Fans of Valley Field group through donations.
For years, Valley Field was used for city league and high school baseballs games. It was also the home field for the famous Sullivan's Furniture amateur baseball teams which won four national titles in the 60s and 70s. Before that, it was home to the Negro Leagues' Grand Rapids Black Sox in the 40s and 50s. Many west side residents may also remember going to ice skate at Valley Field in the winter.
Several major league baseball players started their careers by playing at Valley Field, including  Kirk Gibson, Al Kaline, Dave Rozema, and Mickey Stanley.
In 1996, Valley Field was officially renamed Sullivan Field in honor of Bob Sullivan. Bob was a long time sponsor of the Grand Rapids Sullivans. Like many places that end up being re-named for various reasons, many still refer to it as Valley Field.
As part of their fund raising efforts, the Fans of Valley Field have a variety of events scheduled to take place at the ball park this summer and fall. There will be everything from whiffle ball tournaments, to music, to comedy, a block party, to the return of the chili cook-off. Here is the list of events currently on the schedule:
Friday, May 20 -- Whiffle Ball Tournament
Friday, June 17 -- Listening Party
Saturday, June 18 -- Fathers' Day Catch
Friday, June 24 -- Soul Syndicate
Saturday, July 2 -- Red, White & Blue at the Ballpark - Asama Johnson & The Associates of the Blue (and others)
Friday, July 22 -- Brena
Saturday, July 30 -- Grand Rapids Symphony
Friday, August 5 -- Stone Soul Rhythm
Saturday, August 13 -- Silent Disco
Friday, August 19 -- The 6 Pak & Stand Up Comedy
Saturday, August 27 -- Westside Block Party featuring a .1K Race, Princesses, Crafts and Other Vendors, and Live Music.
Friday, September 16 -- Ballpark Jam with Gunnar & The Grizzly Boys and others
Friday, September 23 -- Lipstick Jodi
Saturday, October 1 -- Chili Cook Off with Live Music including Project 90
Additional details and ticketing information for the above events is still to come. You can keep up-to-date with the efforts of the Fans of Valley field on their website and also on their Facebook page.
Here is a great video on Sullivan (Valley) Field that was produced by the group...
Sullivan (Valley) Field from paul soltysiak on Vimeo.
If you get a chance to drive by or visit the field, you will notice that several improvements have already been made. Sullivan (Valley) Field is located at Six Street and Valley Avenue on the city's northwest side.
8 Unique MI Sports Teams, Leagues, and Clubs You Didn't Know Existed
There are quite a few unique sports leagues, teams, and clubs in Michigan. Check them all out here. From kites to Quidditch, Michigan has it all.
Michigan's Greatest Sports Traditions
Part of the allure of sports is the sense of tradition, and these Michigan traditions are something that fans look forward to every year.