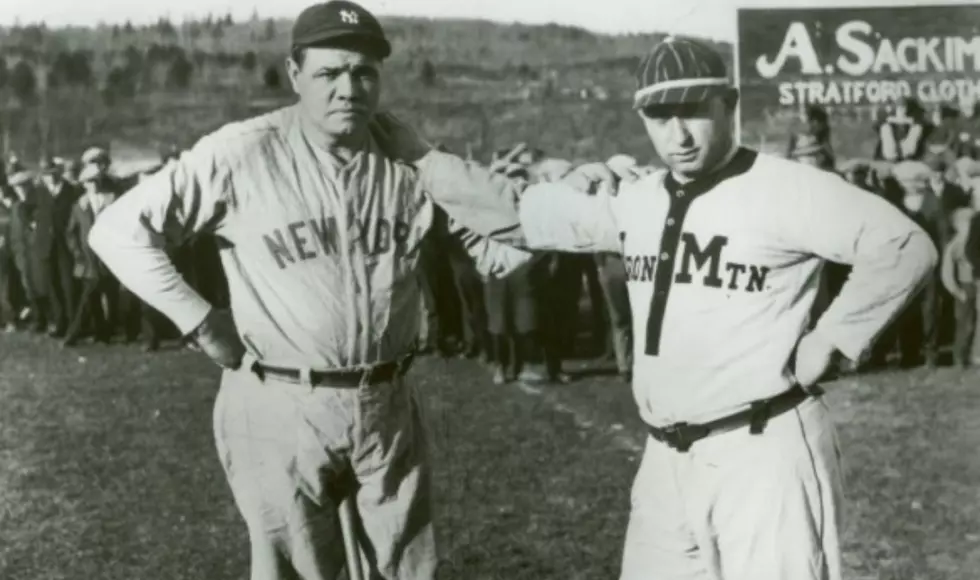 Story of How This Michigan Pitcher Struck Out Babe Ruth In The U.P.
Via Dickinson County Library (Public Domain)
There are some things in baseball that are timeless, much like the fabled "called shot" that legend has said Babe Ruth made before blasting a homerun. That story has had many different tales of what went down, but one thing that can't be denied is the fact that "The Babe" was one of the all-time greatest sluggers in the game. When people think of baseball, he's one of the most thought of names in the game, so when a pitcher was able to strike him out, it must have felt amazing.
Looking back now, it could be considered a BIG deal, and that's just what one pitcher accomplished, and it took place in the Upper Peninsula.
There is a photograph of George Herman "Babe" Ruth who is dressed in his New York Yankees jersey, posing with Nello "Fungo" Tedeschi at an exhibition game that was played in Iron Mountain on October 28, 1926. Tedeschi, one of the pitchers for the opposing local Iron Mountain team who was also a Michigan pitcher, succeeded in striking Ruth out.
Iron Mountain News detailed the game, which was held shortly after the Yanks lost to the Cardinals in the World Series. Babe would join one of the two local all-star groups for an exhibition game:
The Cardinals defeated the Yankees four games to three in the best-of-seven series, which took place from Oct. 2 to 10, 1926, at Yankee Stadium and Sportsman's Park. This was the first World Series appearance, as well as the first National League pennant win, for the Cardinals. The Yankees were playing in their fourth World Series in six years after winning their first American League pennant in 1921 and their first world championship in 1923.
The publication labeled the game as "the greatest baseball attraction ever to be staged in the upper peninsula" and would later see The Babe crush a 3-run homer but ultimately led to Ruth driving flyballs to the outfield for 15 minutes for the excitement of the crowd. The score was never recorded, but it must have been one of the most memorable moments for the U.P.
Unbreakable Sports Records and the Athletes That Set Them
There are just some sports records so amazing that it's unlikely any other athlete will even be able to approach them.