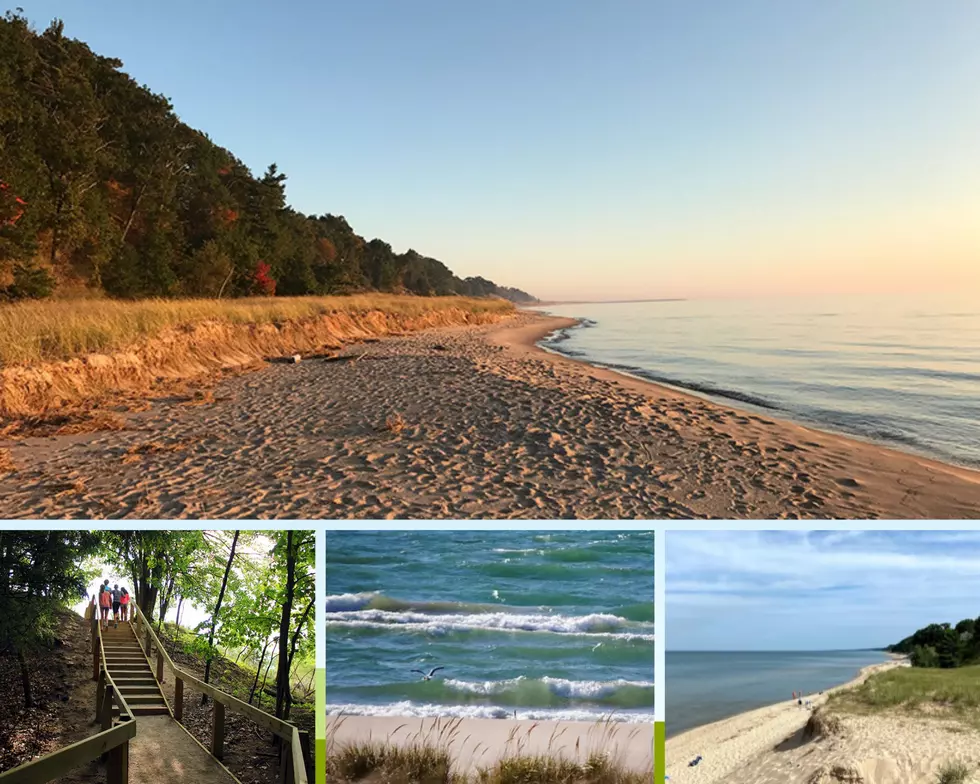 4 Secluded Lake Michigan Beaches For When You Want To Be Alone
Ottawa County/Port Sheldon/Muskegon County/ Canva
Tired of the maddening crowds along the shore in Grand Haven, Holland and South Haven?
Looking For An Out Of The Way Beach Along Lake Michigan
Pack up a picnic lunch and grab your significant other for a private picnic far from the maddening crowds along one of the most beautiful freshwater lakes in the world -- LAKE MICHIGAN!
All of these beaches are within an hour of Grand Rapids, so let's go!
OLIVE SHORES -- Ottawa County
Olive Shores is remotely located at 8555 Olive Shores Drive in West Olive, not far off the main drag of Lakeshore Drive just north of Holland, and not too far from Pigeon Lake and Port Sheldon.
Like many beachfronts in West Michigan, Olive Shores is accessible only by stairs from the parking area on the other side of the dunes, but this makes it harder to get to, and thus less frequented.
The wooded park features hiking trails and beautiful wooded acreage adjacent to the tight 738 foot long beach, which is sandy and great for swimming. There is this caveat: there are no lifeguards, so you're on your own in the water.
The park is not covered by your Michigan Recreation Passport, so it's a $7 fee for day use at the self-service station in the parking lot. Season passes for Ottawa County Parks are available just up the road at Kirk Park, which is another good beach to visit, albeit a little more popular.
MEINERT PARK -- Muskegon County
Meinert Park in northern Muskegon County is a sliver of beautiful Lake Michigan beach frontage that has everything Silver Lake State Park has, with none of the noise of all those ATVs and fewer people.
Meinert County Park is located on Lake Michigan north of Montague at the end of Meinert Road. Take U.S. 31 to the Fruitvale Road Exit, go right (west) on Fruitvale Road to Old 31, turn right (north) and follow Old 31 one (1) mile to Meinert Road, turn left (west).  The park entrance is approximately 5 miles at Lake Michigan.
Located just north of the Montague/Whitehall area, between White Lake and Silver Lake, Meinert Park has rolling dunes, a sandy beach, and plenty of camp sites, it's just not as well known (unless you're from Muskegon County!) There's even a cabin you can rent on the premises.
Fees are just five bucks for a day pass, and camping is just 32 bucks a night (click to make reservations).
NORTH BEACH PARK -- Ferrysburg
North Beach Park in Ferrysburg is a quiet retreat from the noise and the crowds of the more well know Grand Haven State Park and the adjacent City Beach.
Remotely located off North Shore Drive, North Beach Park is probably less than a mile from those two spots as the crow flies, but some days it can seem hours away thanks to its relative peacefulness.
Its 745 feet of beach front is sandwiched between private, residential beaches, giving it kind of a buffer from the louder beaches down south. It also has a beautiful dune walk  that let's you explore the North Ottawa Dunes without damaging their fragile eco system.
North Beach Park is accessible by taking the Ferrysburg exit west off US 31 on to 3rd Street to North Shore Drive. (You'll see the Volunteer Fire Department on the north side of the road). Turn west on North Shore and travel two miles to the entrance.
Ottawa County Fees apply, and season passes are available at various Ottawa County locations.
WINDSNEST PARK -- Port Sheldon Township
Located just south of Olive Shores, this beach located 7905 Margaret Avenue in Port Sheldon Township, just south of Polk Street. Windsnest features a pretty good sized playground area for the kids, and a wooden walkway to give you captivating views of the sunset.
The beach hugs the tall dune grass and stretches for miles along the sugar sands.