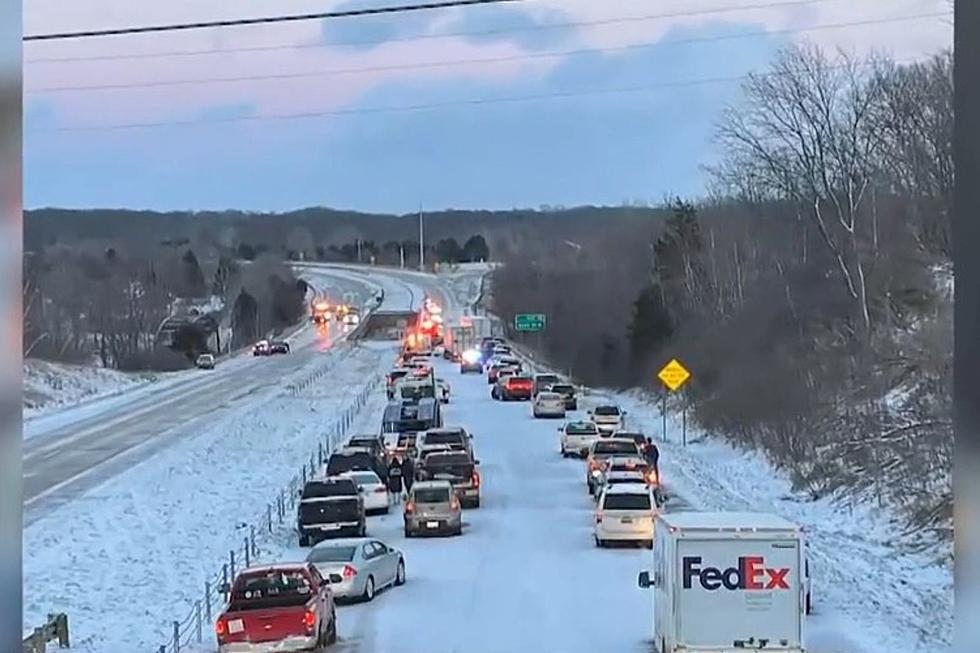 16 Hospitalized After 150-Car Pile Pileup in West Michigan
WOOD-TV
Whiteout conditions are being blamed for a 150-car pileup on I-96 in West Michigan that sent 16 people to the hospital.
The chaos began around 4:40 pm Saturday (3/18) near Knox Road in Portland Township. Portland Township is about 25 miles northwest of Lansing.
Chaos Everywhere
Emily Anderson is a Grand Rapids resident. She was driving on eastbound I-96 from Grand Rapids to Grand Ledge, and tells WOOD-TV,  "It was just chaos everywhere."
"I just remember driving down, looking in the rear-view mirror and just seeing a car fly off the side into the ditch," Anderson said. "It was honestly like you couldn't see anything but cars and just parts of cars flying off either way."
Michigan State Police officers closed both I-96 eastbound and westbound at about 5:30 pm. Both directions of the freeway were closed between Portland Road and South Grange Road until about 10:45 pm Saturday.
16 People Hospitalized, Dozens of Vehicles Damaged
Michigan State Police tell the TV station that 16 people were taken to local hospitals to be treated for their injuries. Police say no one was seriously hurt.
84 vehicles were damaged in the pileup.
66 cars slid off the freeway but sustained no damage.
Josephine Davidson, also from Grand Rapids said conditions deteriorated quickly.
"It just kind of hit whiteout, and then all of a sudden you couldn't really see it until you're about less than 100 feet," Anderson said. "And you start hitting the brakes and you try to downplay it. We just started sliding out of control and then just kind of plowed through the back of a couple of vehicles."
Check Out the Harper House, a Rare Frank Lloyd Wright Home in Michigan
The Harper House is a stunning home with an incredible view of Lake Michigan. It's believed to be one of just a few Michigan homes designed by legendary architect Frank Lloyd Wright.
There are conflicting accounts of the home's age online; it was either built in 1950 or 1959. If the latter is true, this would make it the last home in Michigan to be designed by Wright.
According to the listing, it features Tidewater Cypress and Chicago Common Brick, mitered glass corners, several pieces of built-in furniture, cedar-lined closets, and more. It is simply breathtaking.
The property is reputed to rarely go on the market, but it was just listed for sale by by Anne Gain of
@Properties
.
This $85K Grand Rapids Home Needs More Than a "Handy Person"
This price seems a little steep for a burnt shell of a home in Grand Rapids, Michigan.
These Are the Most Dangerous Stretches of I-75 in the State of Michigan
It probably comes as no surprise to you that the 10 most dangerous stretches of I-75 in Michigan are all in the Metro Detroit area.
Let's take a look.