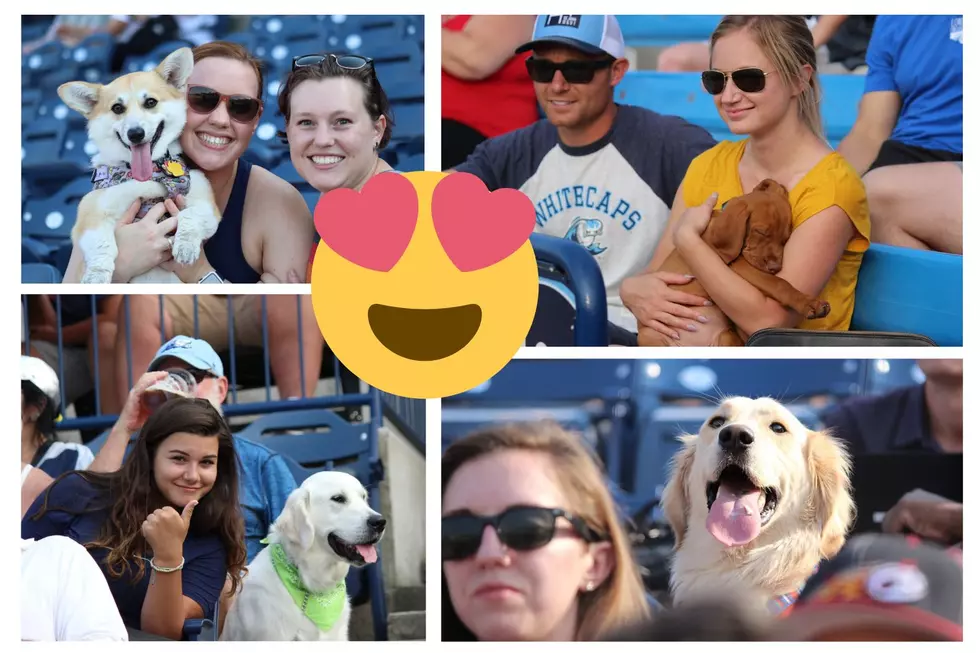 Watch the Whitecaps with Your Pup! Dog Day is Coming Up at LMCU Ballpark
West Michigan Whitecaps, Facebook
What makes a baseball game even more fun? (Aside from great weather and your team winning) - Dogs!
If you've wanted to watch a West Michigan Whitecaps game with your pup, your day is coming up!
Dog Day at LMCU Ballpark 2023
Dog Day at LMCU Ballpark is Thursday, September 5, 2023. You will not need an extra ticket for your furry friend!
The Whitecaps are asking that all dogs are up-to-date on their shots.
Game time is 6:35p.m. and the Whitecaps will be taking on the Great Lakes Loons. Tickets for the game are available
here
.
Tickets start at $10.
What Else is Happening at LMCU Ballpark Sept. 5?
May 12 also $1 Hot Dog night at the ballpark.
LMCU Ballpark is Cashless
If you haven't been to the ballpark in a while, a reminder that it's now cashless. Don't carry cards? The ballpark has kiosks that will turn your cash into a card.
Upcoming West Michigan Whitecaps Promotions
Dog Day isn't the only fun event coming up at the ballpark!
Sept. 6 is Yooper Night Ticket & Hat Package - Get a Box seat and a Whitecaps/UP themed hat for the 9/06 game against the Great Lakes Loons at 6:35 PM. Package includes your Ticket to the game and a UP/Whitecaps hat, all for just $25.
Sept 7 is Michigan Army National Guard Thrifty Thursday - $3.00 20 oz. beers $3.00 hot dogs and $3.00 Pepsi products. It's also dueling pianos night.
September 8 - The Whitecaps transform into Las Calaveras de West Michigan. The game will center on celebrating the Hispanic/ Latino culture. Be one of the first 1,000 fans through the gate and receive a Brayan Peña bobblehead.
Find out more on upcoming Whitecaps promotions here.