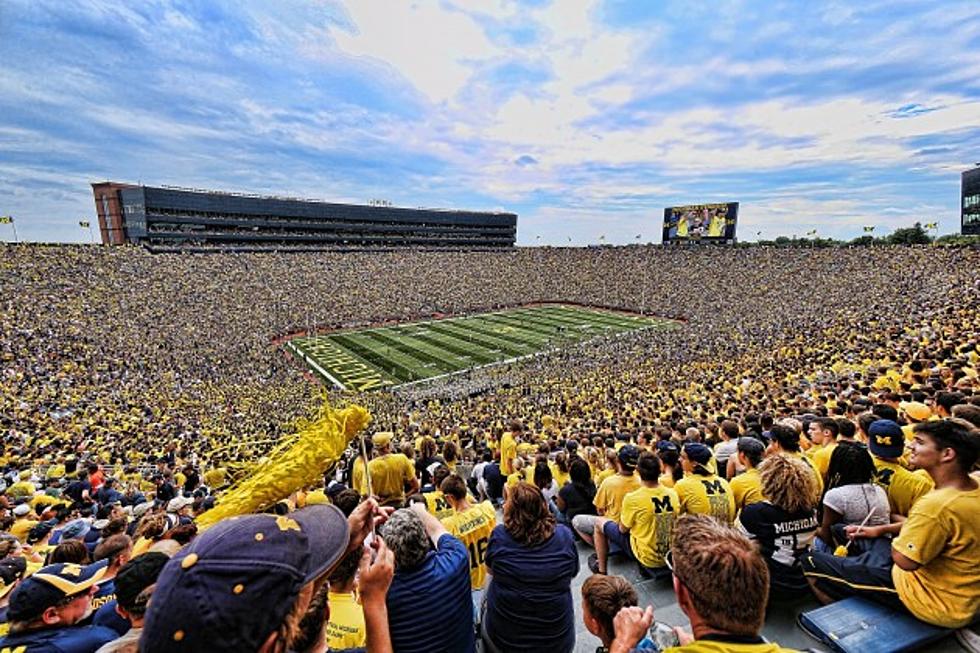 University of Michigan Taps Retired Steelcase CEO Jim Hackett as Interim AD
Michigan Stadium is home to the University of Michigan's football team and is a focal point for U-M's university community. U-M President Mark Schlissel pointed to it in a news conference today where Athletic Director Dave Brandon's resignation was announced and his interim successor, Jim Hackett, was named. (Photo: Leon Halip/Getty Images)
University of Michigan Athletic Director Dave Brandon has resigned and retired Steelcase Inc. CEO Jim Hackett is in for the interim, U-M President Mark Schlissel said in an Ann Arbor news conference this afternoon.
Hackett, a 1977 U-M graduate who played football for the Wolverines with Brandon, stepped down from Steelcase in February. He had been the Grand Rapids-based office furniture manufacturer's CEO and chairman since December 1994.
Brandon, the university's athletic director since 2010, gave his resignation, Schlissel said.
"Jim Hackett is a highly experienced and respected business leader, a man of integrity and a devoted member of our Michigan community," Schlissel said. "I am confident Jim will immediately begin the process of moving the department forward, including working closely with me to develop a plan to identify and recruit Michigan's next permanent athletic director."
Hackett, 59, is the interim AD overseeing U-M athletics while a search for a permanent replacmement is under way, Schlissel said.
He still needs approval in November by the university's Board of Regents, and said he does not plan to be a candidate for the permanent position.
"I am humbled to help during this transition period to keep our momentum as a great institution," Hackett said. "And let me add: Go Blue!"
Hackett pointed to relationships with the U-M community, including former Wolverines football coach Bo Schembechler -- who he played for -- and late President Gerald R. Ford, as being a driving force for him. He said both would be "quite certain that U-M's future is not in doubt."
Brandon, who has had a troublesome tenure in the post, did not appear at the news conference and did not issue a statement about his resignation. Before the U-M stint, Brandon had been CEO and chairman of Ann Arbor-based Domino's Pizza for 11 years.
Schlissel pointed out that Brandon had "worked extremely hard to improve Michigan's facilities" and thanked him for service. He said he did not a have timeline in place regarding a permanent replacement, noting the "fluid nature" of the situation.
While having U-M background or connections might be helpful for Brandon's eventual successor, it apparently isn't going to be a deal breaker.
In his 110 days on the job he'd learned about the "Michigan way," said Schlissel, previously the provost at Brown University in Providence, R.I. "You can learn the values of this great university."
He said that includes having students remain a focal point and better integrating athletics into the overall university.
"They're not temporary residents of the Big House," Schlissel said. "The Big House is their house."
In addition, he said he would not be making any determinations himself on the future of Wolverines football coach Brady Hoke, whose team is off to a 3-5 start this fall and is 29-18 in his four-year tenure. Michigan hosts Indiana for homecoming on Saturday at Michigan Stadium.