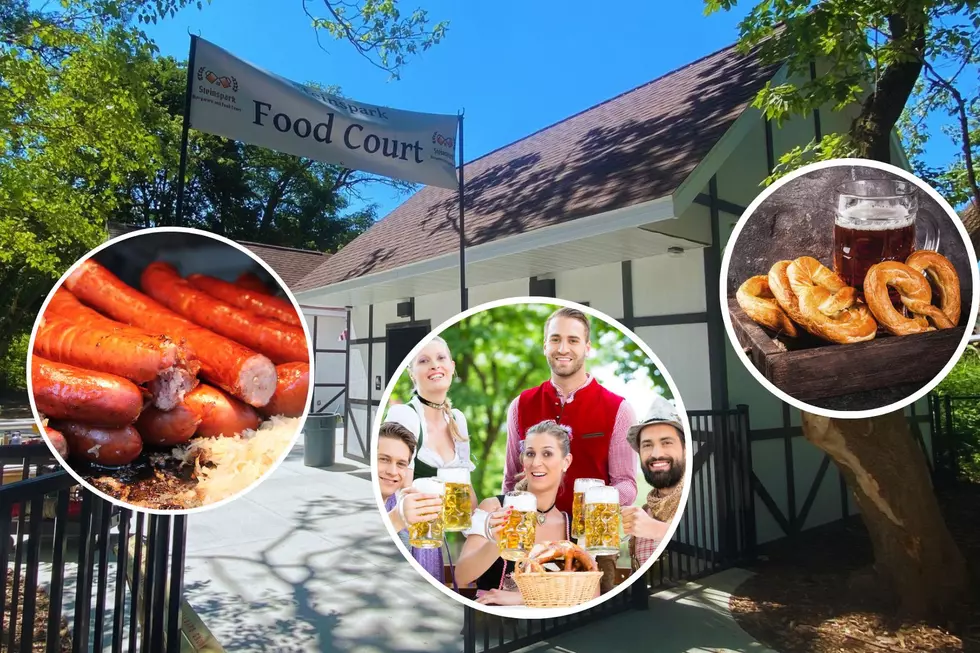 Authentic German-Style Biergarten, Food Court Opens in West Michigan This Week
Steinspark Beirgarten, Facebook/ Gettystock/ Rich Smith, Unsplash
A new spot to grab a pint and a bite outdoors is opening up in West Michigan!
Steinspark Biergarten and Food Court to Open in Portage
We first learned that's Steinspark, an authentic German-style biergarten and food court, would be coming to Kalamazoo County several months ago.
Back in June the new venue shared the progress they were making:
After some construction delays, it sounds like the all-outdoor hospitality space is finally set to open this week -  just in time for to enjoy the last bit of warm weather in West Michigan!
Steinspark Biergarten will begin serving food and drinks to the public at 2603 E. Milham Ave. in Portage this Friday, September 16, 2022.
The outdoor venue is set up with Oktoberfest-style picnic tables and benches under the shady canopy of mature trees. According to their website, there will also be foosball tables, cornhole, a fire pit, and occasional live entertainment.
MLive reports that the man behind Steinspark Biergarten is Norbert Gimmler, who is orginally from Germany. He's lived for more than 20 years in West Michigan, where he worked as a food process engineer at The Kellogg Company and also has experience with home-brewing (though the beer at Steinspark will be from a distributor). Gimmler told MLive about his new venture,
I just figured there's something missing here. Which is something I really enjoyed when I grew up in Germany, biergartens. So I thought if nobody else does it, I'll do it.

 
Food and Drink at Steinspark Beer Garden
Steinspark will be open for lunch and dinner May through October. Guests will have the option to purchase German-style fast casual dishes from the Steinspark Kitchen or enjoy bites from food trucks that are welcome on site.
Gimmler told MLive he'll be using his own recipe for bratwurst. There will also be a schnitzel kitchen.
The Steinspark Kitchen menu includes handhelds like the Schnitzel Burger, Cordon Bleu Burger, Founders Beer Bratwurst, Currywurst, and Bavarian Soft Pretzels.
Full meals are also available, like the Jägerschnitzel - A thin, breaded pork cutlet with mushroom cream sauce, and a side of French Fries or Fried Spätzle; and The Steinspark Meal - One Steinspark Original Brat with fried Spätzle and Hessisch Sauerkraut, or Cole Slaw.
For sides, munch on Loaded Pommes Frites, Loaded Pan-Fried Spatzle, Cucumber Salad, Hessisch Sauerkraut, and more.
Check out the full Steinspark Kitchen menu here.
So what about drinks?
Local brews like Bell's Oberon and Two Hearted will be available on draft, plus German-style favorites like Bitburger Pilsner, Hofbrauhaus Oktoberfest, and Gaffel Kolsh. You can also sip on bottled beer, wine, and mixed drinks. See Steinspark's drink menu here.
While we know Steinspark Biergarten and Food Court opens Friday, exact hours have yet to be announced. Follow the new outdoor venue on Facebook for updates!.
Incredible MI Breweries You Have to Visit
Michigan is an absolute Mecca for beer lovers! Check out some of our favorite breweries around the state from A to Z...Any you would add? Let us know!
25 Local Breweries to Try During Your Next Visit to Grand Rapids
Michigan is filled with 100's of great craft breweries. Both large and small companies, there is no beer shortage here. Check out 25 breweries in Grand Rapids here.
15 Lansing Area Craft Breweries
The Lansing Area features A wide variety of Craft Beer Breweries