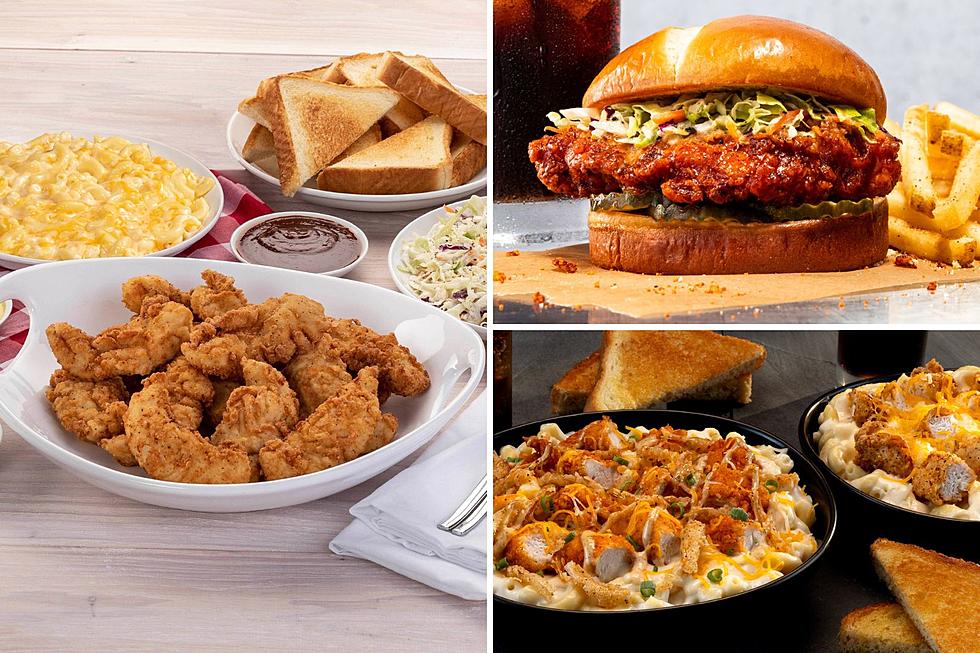 Southern Hand-Breaded Chicken Restaurant to Open 14 Locations in Michigan
Slim Chickens, Facebook
Chicken tender lovers, get pumped!
A Southern Chicken restaurant chain is getting ready to open multiple Michigan locations.
Slim Chickens is Coming to Michigan
Slim Chickens is planning to open 14 chicken joints in The Mitten State coming up soon.
The first Slim Chickens opened in 2003 in Fayettville, Arkansas. The chain now has more than 240 locations nationwide and in the UK.
Slim Chickens' founders say,
Our mission was (and is) simple: to make the best hand-breaded chicken tenders using only the freshest ingredients, served in a friendly atmosphere where people can relax and feel at home.
Slim Chickens is know for its hand-breaded, cooked-to-order chicken. You'll find wings, chicken tenders, chicken sandwiches, wraps, salads, and chicken and waffles.
There are also Mac and Cheese with Chicken Tenders bowls. Sides include French Fries, Mac and Cheese, Coleslaw, Potato Salad, Fried Okra, Fried Pickles, and Fried Mushrooms.
Slim Chickens offers 17 house-made dipping sauces.
The dessert menu includes Milkshakes, Brownies, and Mason Jar Desserts.
Check out the full menu here!
Where are Michigan Slim Chicken Locations?
The only two current Slim Chickens locations in Michigan are on college campuses - Oakland University in Rochester and at Central Michigan University.
According to QSR Magazine, new Slim Chickens restaurants will be opening up in Grand Rapids, Lansing, Kalamazoo, and "more key markets throughout the Great Lakes State."
When is Slim Chickens Opening in Michigan?
The first of the 14 new Slim Chicken restaurants is expected to open in Grand Rapids in spring or summer 2024, What Now Detroit reports.
After that, the goal is to open at least one new Michigan location each year.
We'll update this post as we learn more!
For more on Slim Chickens, follow them on Facebook.
The Most Popular Fast Food Restaurants in Michigan
What are the most popular fast-food restaurants here in Michigan? If you're automatically assuming that the chain with the Golden Arches has the most locations, you're in for a shock.
As you take a look at the pics below, see if you can figure out which location we've featured. All pictures are from the greater Flint area, and we've left in just enough background for you to be able to make an educated guess.
The answers are below.
By the way, the ranking is based on the restaurants with the most locations in The Mitten, based on data from the Friendly City Lab at Georgia Tech. Their numbers are based on data compiled in 2021, so some numbers may have fluctuated since then.
Gallery Credit: George McIntyre
Popular Chain Restaurants Michigan Needs Across The State
It's a crime these chain restaurants aren't in Michigan.
Gallery Credit: Jacob Harrison