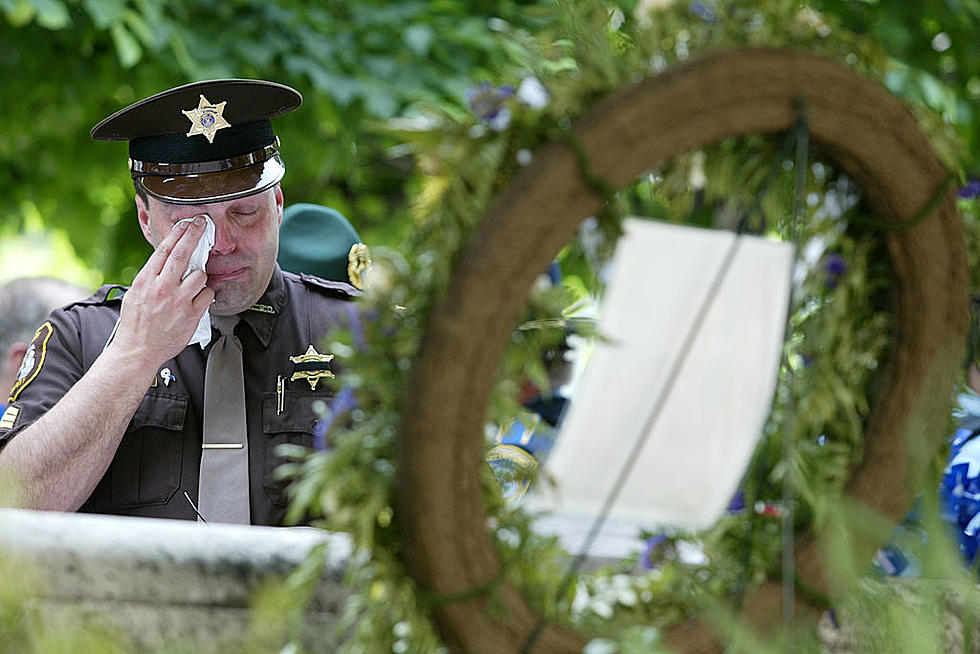 Six Michigan Police Officers Killed in 2016 Honored for Service
Alex Wong, Getty Images
Six police officers who lost their lives in Michigan last year are among those being honored today as a part of National Law Enforcement Appreciation Day.
Law enforcement officer fatalities nationwide rose to their highest level in five years in 2016, with 135 officers killed in the line of duty. Six Michigan officers were killed in 2016, making Michigan the fifth deadliest state for law enforcement officers behind Texas (17), California (10), Louisiana (9) and Georgia (8).
Detroit Police Officer Myron Jarrett, 40, was killed in a hit-and-run accident during a routine traffic stop. He was an eight-year veteran of the Detroit Police Department and was a father of four.
Detroit Police Sgt. Kenneth Steil, 46, was shot in the shoulder area while pursuing a suspect who was believed to have already shot his father and been involved in carjackings.  He was a 20-year veteran of the department and is survived by his wife and two boys, ages 3 and 5.
Wayne State University Police Officer Collin Rose, 29, was shot in the head while investigating possible thefts of navigation systems from vehicles. Rose was engaged to be married. Rose's killer is still unknown and there is a $32,000 reward for any information leading to the arrest and conviction of the shooter.
Berrien County Bailiff Joseph Zangaro, 61, was head of security for the Berrien County Courthouse and was killed when a prisoner disarmed an officer and fired at bailiffs. Zangaro had worked in the Courthouse since May 2004.  Zangaro was a retired Michigan State Police First Lieutenant and is survived by his wife, two daughters and grandchildren as well as his mother, sister, and nephew.
Berrien County Bailiff Ronald Kienzle, 63, was a bailiff at the Berrien County Courthouse and was killed when a prisoner disarmed an officer while entering a courtroom and fired at bailiffs. Kienzle had been with the Berrien County trial court since April 2005 after retiring as a sergeant from the Benton Charter Township Police Department. He previously served in the United States Army. Kienzle is survived by his two daughters and grandchildren.
Branch County Deputy Mike Winter, 39, was a Branch County Deputy assigned to the sheriff's posse who riding in the Quincy Memorial Day Parade when the horse bucked, causing Winter to fall to the ground, hitting his head. Winter had been a deputy with the sheriff's office and a member of the mounted patrol for five years and was a veteran of the United States Navy. Winter is survived by his wife and daughters.