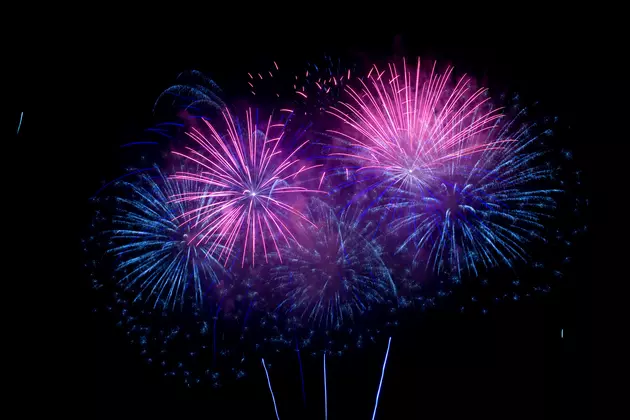 Shooting Pics of Fireworks With Your Phone is Easy
Thinkstock/Oleksii Sagitov
So, you're coming downtown this Saturday night for the annual Amway Family Fireworks. They'll be breathtaking, of course, but, you'll try to shoot pictures with your phone, and, well, your pics will not be breathtaking. What can you do?
Our news partner, WZZM, published a story from Jefferson Graham, USA TODAY, with  some great tips to make your photos a bit more memorable using your smartphone.
•Burst mode: Capturing flying objects and stopping the action is a tough thing to do in any situation. Luckily, there's a setting for that. Burst mode is available on both iPhones and Android phones (the Samsung Galaxy series). It's probably the most-underutilized feature on smartphones. To stop the action, just keep your finger down on the button and you'll get 10 or more shots, in quick succession. At least one of these is more likely to have stopped the action than if you had just shot one of them. Highly recommended.
•Shoot video only: The safest, most reliable way to capture the action is to shoot video. Moving pictures of fireworks are more impressive than just stills anyway(watch the accompanying video for proof), and it's so easy to do. Just click on the video and let it roll. If you want to get fancy, add some fun touches such as fireworks in slow motion. Or, if you're really inspired, do a time-lapse. Both are simple to do – just switch from video mode to one of the other choices from iPhone and Android phones.
If you do time-lapse to see the fireworks sped up, you'll need a tripod. This is mandatory, as you can't handhold the camera for 10 minutes without seeing lots of camera shake. You can pick up a cheap tripod at a Walmart or Target for $25 or so (along with an adapter to fit the smartphone) or a small Gorillapod from Joby, which can be attached to nearby objects, such as a tree branch or a pole.
•Get stills from your videos: The easiest thing to do is to make a screen shot from your video. (This is usually done by holding the power and side buttons of iPhones, or hold the power and volume button down at the same time on Androids.) If you're really inspired, recent iPhones let you shoot stills at the same time as video by clicking the white shutter button as you record the video. But this isn't recommended, as the pressure of you clicking the shutter will probably make your video shakier, and thus, less fun to watch.
•Composition: Put something in the foreground. As USA TODAY staff photographer Robert Hanashiro notes in the accompanying video, fireworks are a lot more interesting to see with a landmark in front of it. Think of iconic shots such as the U.S. Capitol building, with fireworks on all sides, or the New York City skyline.
•Live photos: One overlooked feature of recent iPhones is the Live mode feature, which takes three-second mini-movies. Those are hard to share, but several other Live options include fun effects such as a loop that shows the clip over and over, or backward.