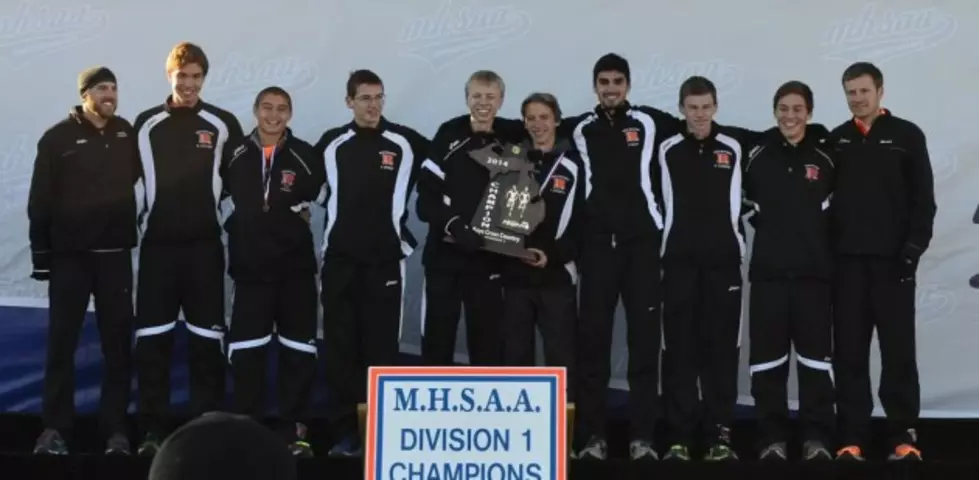 Rockford High School Boys' Cross Country Runs to Shared Honor as Athlete of the Week
Rockford High School's boys' cross country team celebrates capturing the Michigan High School Athletic Association's Division 1 Lower Peninsula state title at Michigan International Speedway in Brooklyn on Saturday. (Photo courtesy Rockford High School Boys' Cross Country)
Earning Rockford its third state title in the sport -- the other was in 2000 -- were Isaac Harding, Cole Johnson, Paul Burke, Grayson Harding, Grant Gabriel, Colin Reichenbach and Kirk Dickson.
Isaac Harding, a junior, finished fourth overall in 15 minutes, 23.2 seconds over the 5,000-meter course in leading Rockford to its first state title since Dathan Ritzenhein was on campus for the Rams. Johnson, a freshman, followed up where he has been all season as the No. 2 runner for the Rams with 16th place in 15:40.9.
Other Rockford scoring finishers were Burke, a senior, with 57th in 16:13.2; Grayson Harding, a junior and Isaac's twin brother, with 58th in 16:13.5; and Gabriel, a junior, 102nd in 16:30.1. Reichenbach, a senior, was 169th in 17:01.6; and Dickson, a senior, was 207th in 17:22.6.
"The boys were dedicated to their craft and worked extremely hard to achieve this feat," Coach Andrew Martin said. "We've developed a system and our kids have bought into it."
The title was particularly gratifying for Martin, a Rockford High Schooland University of Michigan alum and current Rockford High School English and social studies teacher. He has been associated with Rockford cross country for 15 out of the last 19 years, having been on Rams state runner-up squads in 1998 and 1999.
"This was really fun for me," he said.
The Rams made it fun for themselves by entering the state meet on a roll, having captured the Ottawa-Kent Conference Red Division title at Riverside Park in Grand Rapids and the Division 1 regional title at Grand Traverse Resort in Acme.
Rockford has been a hardworking contingent led by Harding and Johnson, with the Rams assimilating a freshman phenom whose time was better than Ritzenhein as a freshman at the state meet.
"We knew he was going to be good, but we had no real idea," Martin said of Johnson, who clocked 4:48 in the 1,600 as an eighth-grader. "We had to have a sit down early on and talk about that" with the team.
It worked out, with Isaac Harding not put off about having a teammate on his shoulder.
"The two of them (Harding and Johnson) had quite a gap over the rest of the team," Martin said. "But Isaac wasn't bothered by it. He said: 'He's not going to be at me, so don't worry about it.' ...
"It's (been) a good competition for us."
Competition has been what Rockford cross country is about, with the team's 48 members vying for the seven varsity spots. However, the top seven had a consistency which Martin and Assistant Coach Joshua Miller never had to be bothered by with Reichenbach and Dickson fending off any would-be varsity wanna-bes.
It was a tight-knit contingent whose ability to pack it in led to its successes this fall.
Martin said the Rams figured out they had a shot at doing well at state at the Michigan State University Invitational in East Lansing with a runner-up finish behind Mott on Sept. 12. The Rams also won other meet titles this season at the Portage Early Bird, Brett Clement Bath, Sparta, Cougar Falcon and Coaching Legends invitationals in addition to both OK Red jamborees.
"They get it. They're smart; they're fun and they get down to business when they need to," Martin said of the team.
In addition, the team received academic all-state honors from the Michigan Interscholastic Track Coaches Association with a collective 4.0 grade-point average. Also, Burke is looking to attend college and run next fall at Lake Superior State University, Martin said.