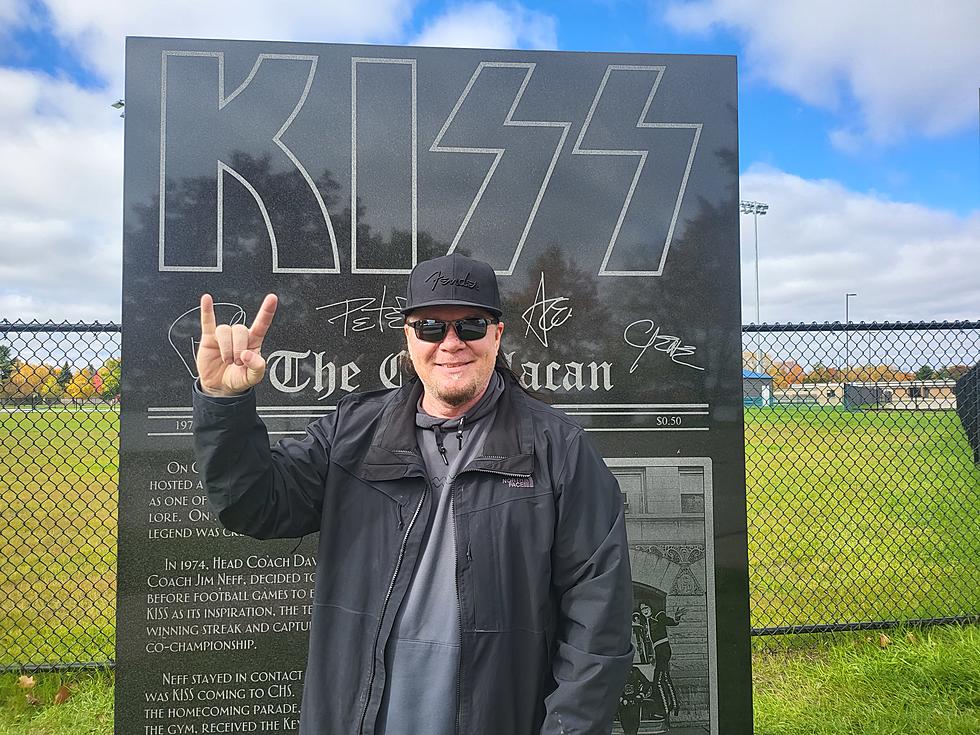 KISS Made Rock 'N Roll History When Visiting Cadillac Mi In 1975
Tommy Carroll/TSM
A Cadillac High School football coach played KISS songs for the team which led to the band making a historic visit to the city which became part of rock 'n roll history.
KISS in Cadillac Started When a Football Coach Wanted to Turn the Season Around
In 1974, Cadillac High School head football coach Dave Brines and Assistant Coach Jim Neff wanted to turn the team's season around and decided to play the music of KISS before football games to energize the team. This led to a seven-game winning streak and they captured a conference co-championship.
As you can see above the KISS music worked. Neff kept in contact with KISS and the band decided to be a part of their homecoming parade, performed at the gym, received a key to the City of Cadillac, and left in rock star fashion from the football field via helicopter in 1975. This is one of the most iconic moments in rock 'n roll history.
The team, the marching band, the cheerleaders, the citizens, and even members of community leaders all wore KISS makeup to commemorate the occasion.
What KISS did I don't think has ever been done before, and will more than likely never be done again. The impact the band made on Cadillac, Michigan has endured the test of time and remains a part of the band's iconic history as well as a moment in time the City of Cadillac has never forgotten.
Kiss Monument in Cadillac
I went to the final KISS show in Detroit and I thought I would round out a lifetime of supporting the band by making a visit to Cadillac where their legendary visit took place. I went on a leaf-viewing tour that led me to the KISS monument that stands in front of Cadillac High School and I grabbed a few pictures.
Take a Look Below at the Monument From KISS Visiting Cadillac Michigan
Kiss Monument in Cadillac Michigan
To commemorate the visit Kiss made to Cadillac, Michigan in 1974 when the band received the key to the city and were a part of the Cadillac High School Home Coming Parade. There stands a monument in front of the high school that is a part of the cities history and has a place in rock 'n roll history.
Gallery Credit: Tommy Carroll
Kiss Visit Cadillac Michigan in 1975
Kiss made an iconic visit to the City of Cadillac, Michigan in 1975. The football coaches started playing Kiss music before games to pump up the team which turned their season around and won a championship. Kiss received the key to the city and spent a day taking photos with fans, being a part of the homecoming parade, performing in the gym, hanging out with football players, the marching band, the mayor, and every fan within a few hundred miles of Cadillac.
Gallery Credit: Tommy Carroll