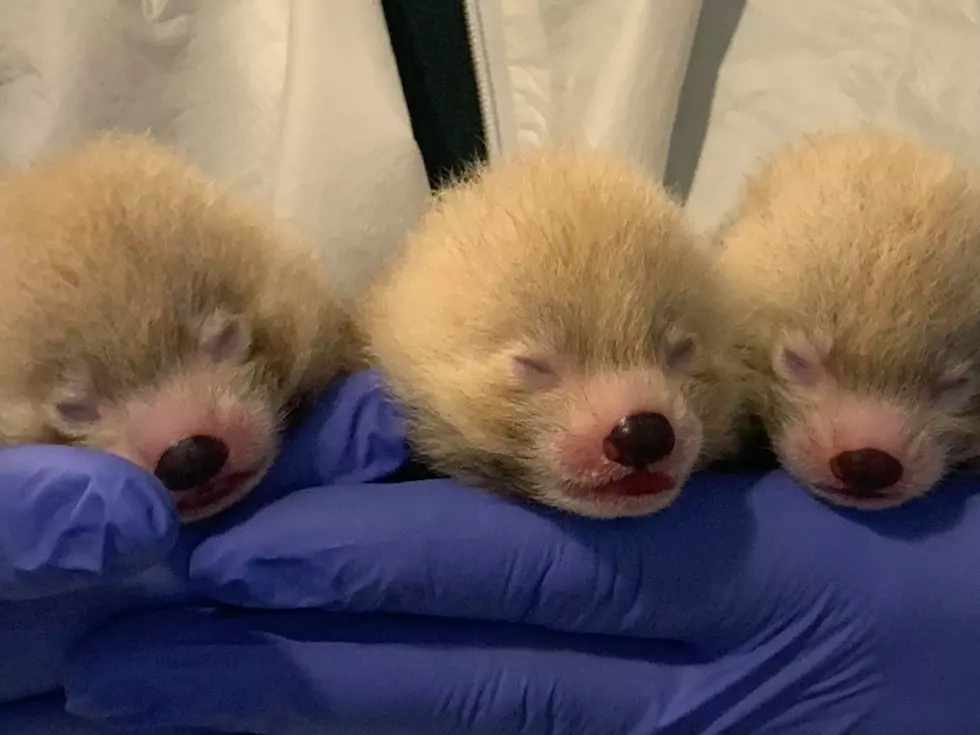 John Ball Zoo Shares First Photos of Baby Red Panda Triplets
John Ball Zoo/ Facebook
Can you even handle the cuteness?!
Grand Rapids' John Ball Zoo has shared some of the first photos of three red panda cubs born last month to parents Wasabi and Wyatt.
The zoo says a doctor recently performed the first neonatal examination of the babies, and that allowed the zoo to get close up photos of their sweet little faces.
And the three tiny cubs all have a clean bill of health! The zoo checked to make sure  each little one is growing and developing normally and that they are all at healthy body weights. They listened to their hearts, checked their skin, coats, and inside their mouths.
What the zoo did not reveal yet is whether the cubs are male or female. They say to stay tuned for that announcement!
The three little ones were born at the zoo June 25, 2020.
They are mom Wasabi's first cubs; dad Wyatt fathered two other cubs previously.
John Ball Zoo said the birth is very exciting and significant for the zoo and the red panda species. Red pandas are endangered and it is believed there are less than 2,500 adult red pandas left in the wild.
The SSP is one of the Association of Zoos & Aquarium's many conservation programs. The SSP's primary role is to serve as a breeding program for selected endangered or threatened species. The goal is to maintain a healthy and genetically diverse population for these animals in order to increase their numbers.
John Ball Zoo shared the above video of Wasabi and her cubs in the maternity den soon after they were born.
To stay updated on the we can stay updated on the red panda family, follow John Ball Zoo on Facebook and Instagram.
Enter your number to get our free mobile app
PHOTOS: Family Brings Ranch Animals to Visit Residents of Assisted Living Center