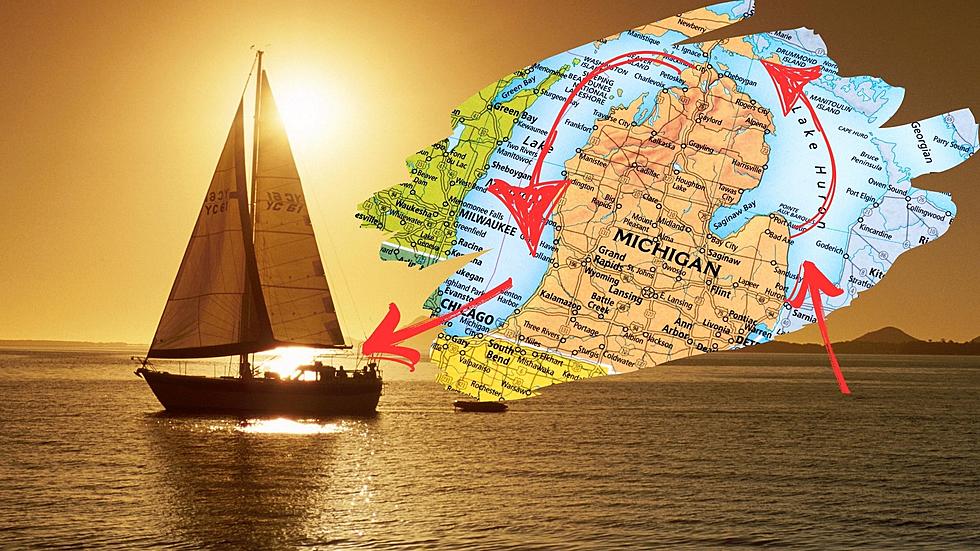 America's 'Great Loop' of Water Ways Travels Through Michigan
Canva
Michigan is, of course, the Land of Lakes. If not for our hundreds of beautiful inland lakes, our three Great Lakes sure make it an impressive aquatic state to live in.
But I just found out that Michigan - specifically the waterways that pass through, and around Michigan - are part of a much larger loop that practically encompasses the entire Easter part of the country, from the Mississippi River, to the Atlantic Ocean.
I was looking through cool things you can do in Michigan recently, and while I'm not much of a "boater," I decided to look at some possible boat trips I could take on the Great Lakes. And while I was in one page, I found something called "America's Great Loop Cruisers' Association."
Essentially, it's a group of people that travel a loop of waterways that you could actually take your boat on, and encircle the majority of the Eastern United States, without ever coming off the water. And actually, there are two trips you can take, one of which is a little shorter. But the agreed-upon "Official" loop is almost exactly 6,000 miles total.
If you wanted to start here in Michigan, and take the trip counter-clockwise, You could put in on either Lake Michigan or Lake Huron, and then start... "rowing."
Your trip would first take you into the Illinois River at Chicago, and dump you into the Mississippi River. Travel that all the way into the Gulf of Mexico, then follow the coast line around Florida, up the eastern Seaboard, and into the Hudson River at New York City.
From there, it's a trip up the Hudson through New York, and then continuing north into the Oswego Canal that takes you into lake Ontario, briefly touching Canadian waters in and around Montreal.
From there, it's simply up "river" through the Great Lakes Waterways until you're back home in Michigan.
So how long does this trip typically take people? Well, most people take the trip leisurely, and can spend almost a year working their way through the waterways.
Abandoned Lake Life: Michigan's Old Decaying Boats
Boats from around the state of Michigan discovered, abandoned near water and on land.
Detroit River Boat Graveyard