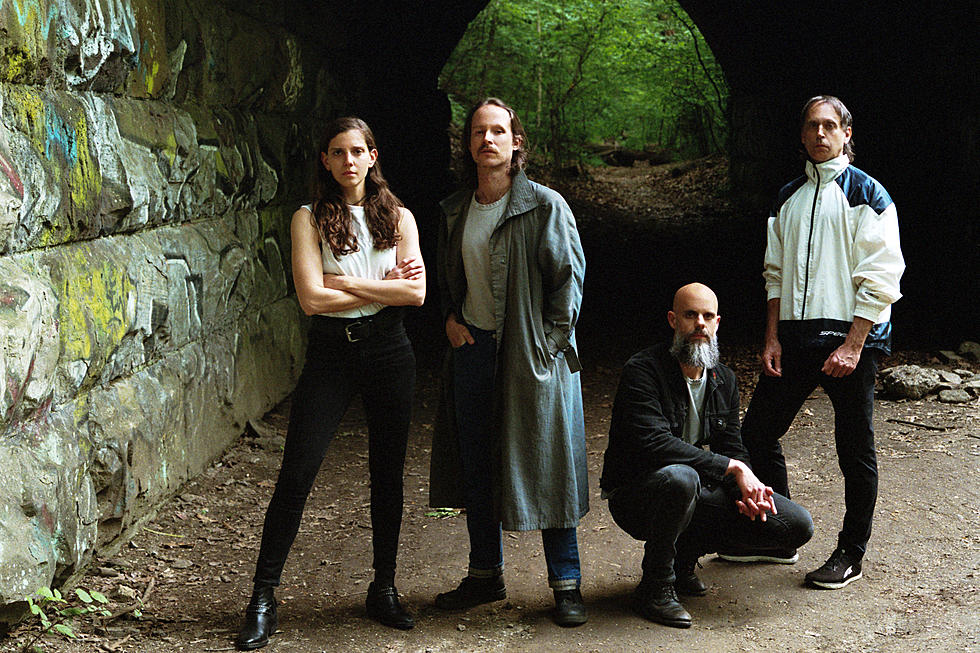 John Baizley Discusses New Baroness Album, 'Stone' + How the Band Gave Up Control – 'We Had to Let the Music Speak Through Us'
Ebru Yildiz
On the night of the release of Baroness' sixth studio album, Stone, frontman and founding member John Baizley joined Loudwire Nights to celebrate his band's new music and dive deep into the LP's creation.
"We made this record ourselves," Baizley explained to host Chuck Armstrong on Friday night (Sept. 15). "It's been absolute madness ... I got so exhausted before today just waiting, having that anticipation of needing the record to be out and wanting to talk to people about it so badly."
As opposed to their previous records, Stone marks the first time that Baroness handled producing themselves.
Not only that, but they kept everything about the record to themselves, too. Whether it was promotional materials or music videos, the only people who had a hand in the creation of the album were the four members of Baroness.
"This is almost entirely a self-made, self-directed release. The fact that we've gotten ourselves together, the fact that our lineup is stable now for the first time in our history and we've put so much hard work and care into this release, I couldn't be more excited."
That excitement marks a significant part of the record-making process for Baizley as it follows a simple rule he has implemented since day one.
"I would like to think that everybody adheres to this rule, but our record is never done until we say it's done. We'll never rush."
How Baroness Gained Control By Giving It Up
While Stone represents the moment in Baroness' life that they've exerted the most control over an album, Baizley also says they relinquished much control, too. While that may seem like a paradox, the fact is they didn't relinquish that control to any outsider, but to each other.
"In order to make it successful, we had to let the music speak through us," Baizley admitted to Chuck. "I think that language can sound a little poetic, but in a tangible, scientific way, when you relinquish what you as a musician perceive as control...you create something that's twice as powerful as the sum of its parts."
Baizley told the Loudwire Nights audience that this is something the band has been working on for a long time. He believes that each person allows the character of the others to shine brightly, so much so that no one member is the focal point.
"You have to trust your bandmates and you have to trust the idea that music is happening."
READ MORE: Zakk Wylde on Black Label Society's 25th Anniversary, Playing With Pantera + More
This trust led Baizley to describe a "presence" that he felt in the room with his band as they created Stone. He called it indefinable and mysterious.
"I think it's what religious people feel. You know, that presence in the room, that omniscient surrounding force. I assume that's what it feels like because the ecstasy that I get from playing this music is no different seemingly."
What Else Did Baroness' John Baizley Discuss on Loudwire Nights?
The connection between the artwork of Stone and its predecessors
Why he thinks each Baroness album is a snapshot of specific time periods—and why that's important to him
How he pushes himself to not fall into a pattern of making the same album over and over
Listen to the Full Interview in the Podcast Player Below
John Baizley joined Loudwire Nights on Friday, Sept. 15; the show replays online here, and you can tune in live every weeknight at 7PM ET or on the Loudwire app; you can also see if the show is available on your local radio station and listen to interviews on-demand. Stream Stone at this location and then check out Baroness' full tour schedule.
Every Artist That's Opened for Metallica Over the Last 10 Years
These are all of the acts that have opened for Metallica over the last 10 years.
The Weirdest Things People Have Done in a Mosh Pit
Everyone has an odd story from their time served as a pit veteran or warrior, whether it's actual sex acts happening in the mosh pit, or someone riding in on their motorcycle, we're sure some of these stories we're about to share are just half of the crazy stuff that's been seen down in the depths of the pit.