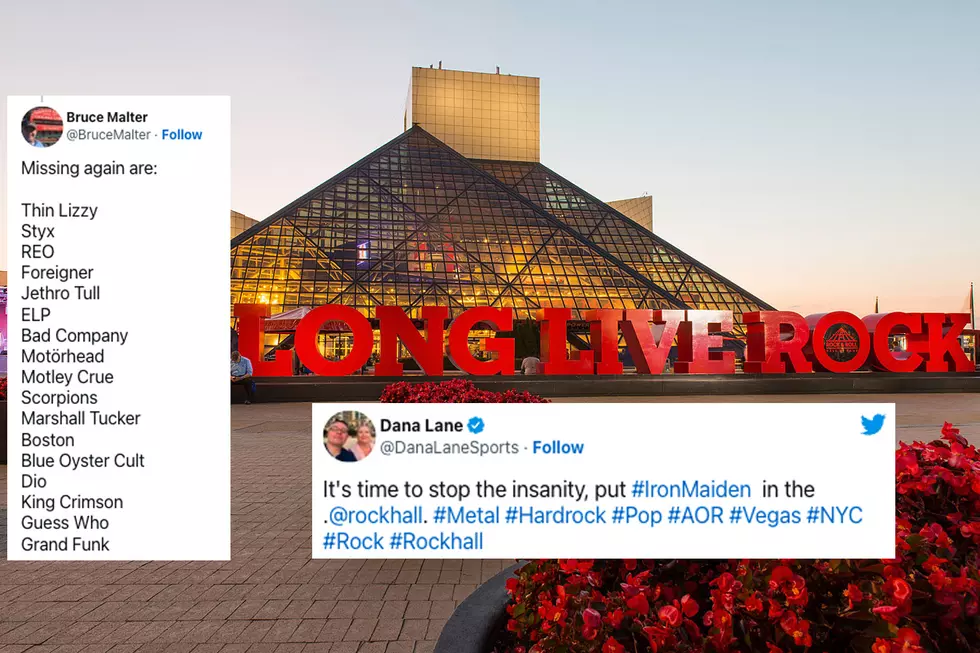 Fans React to 2023 Rock and Roll Hall of Fame Nominees
Duane Prokop, Getty Images / Twitter: @BruceMalter / Twitter: @DanaLaneSports
The Rock and Roll Hall of Fame unveiled their 2023 nominees earlier this morning (Feb. 1) and fans, as usual, have had a lot to say about the potentials who will be enshrined later this year.
Despite the Hall issuing a new definition of what they consider to be rock music, this year's list of nominees — style wise — doesn't deviate much at all from how things have gone in the past. Rather than further opening the parameters for immediate future classes, this updated definition of rock seems to more comfortably apply to previously inducted artists that didn't fit under music fans' traditional understanding of rock 'n' roll.
For years, soul, gospel, R&B, rap, hip-hop, country, pop and electronic artists have all been either nominated or inducted, spurring outrage from those with a rigid idea of rock music.
Now, the Hall sees rock as music that "moves youth culture" and that may certainly open the scope further down the road another decade or two.
This year, there wasn't as much hostility directed at the Rock Hall, at least not from hard rock and metal fans. After long overdue exclusions in Deep Purple and Judas Priest, some of the biggest grips coming from the heavy music community have dissipated.
Still, many are hopeful that Iron Maiden will be acknowledged for their 40-plus years of world dominance and continued relevance. "It's time to stop the insanity," wrote one fan on Twitter, arguing in favor of the Brits' heavy metal legacy.
There's also a lot of hope that Soundgarden and Rage Against the Machine will get in as well, especially when weighing their significance in changing the ride of rock throughout the 1990s in particular.
And, of course, there were still plenty of obvious snubs as one Twitter user points out, naming 17 should be shoo-ins for everlasting recognition within the Hall's pyramid — Motorhead, Dio, Scorpions... the list goes on and on.
Before we get to the rest of the fan reactions, here's a look at all of this year's nominees:
Kate Bush
Sheryl Crow
Missy Elliott
Iron Maiden
Joy Division/New Order
Cyndi Lauper
George Michael
Willie Nelson
Rage Against The Machine
Soundgarden
The Spinners
A Tribe Called Quest
The White Stripes
Warren Zevon
Fans React to 2023 Rock and Roll Hall of Fame Nominees
30 Hard Rock + Metal Acts Who Deserve to Be in the Rock and Roll Hall of Fame