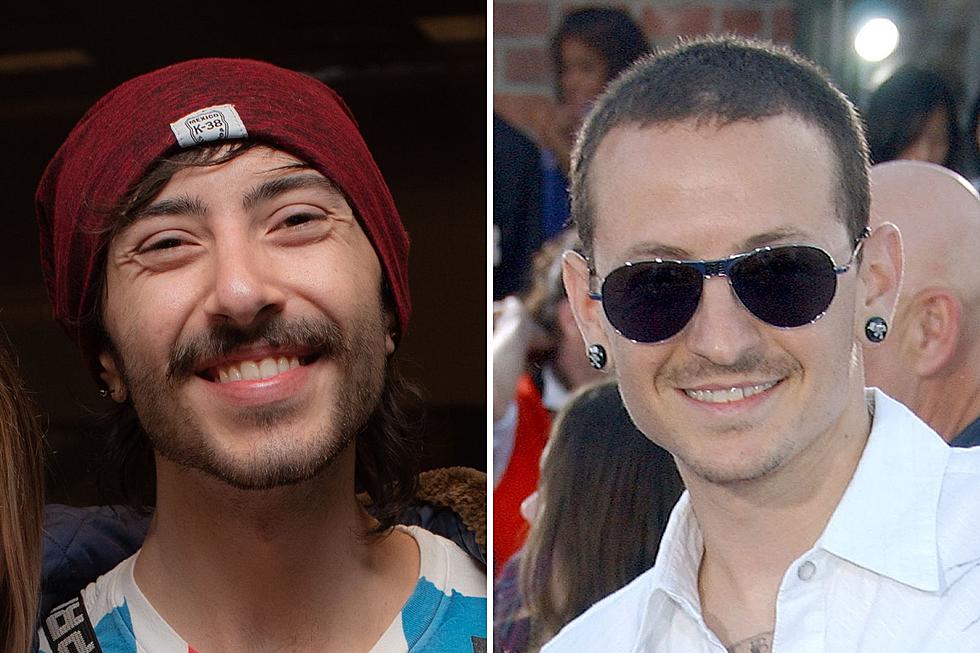 Draven Bennington Wants to 'Change the Narrative' Around His Late Father
Ella Hovsepian / Gregg DeGuire, Getty Images
This week, Draven Bennington, the 21-year-old son of the late Linkin Park singer Chester Bennington, made his wide debut as a recording artist with the song "F_w_Me" under the name RVRND. Now, Draven's opened up on how he wants his father to be remembered.
RVRND'S "F_w_Me" is also featured in the first episode of Family Legacy, the Paramount+ series that premiered April 25 and, in addition to Draven, features fellow musical offspring Andrew Hagar (son of Sammy Hagar), Briahna Fatone (daughter of *NSYNC's Joey Fatone) and Quincy Brown (son of Sean "Diddy" Combs).
But now that he's making music himself, Draven wants listeners to focus on the good aspects of his dad's life that preceded the Linkin Park rocker's 2017 death.
"I think the best thing is when people are reaching out to me and just letting me know how much he's changed their life through his music," Draven tells Hollywood Life. "I don't know why, but that makes me really happy. What he did and his creative outlet had such an impact on so many different people, and it was able to just save so many people. I think that is the number one thing that I want people to remember him for, and then also just the amount of good times."
How Draven Wants to 'Change the Narrative'
To that end, the young musician continues, "I kind of want to change the narrative. I think that we focus too much sometimes on the very end of everything when there was his whole life and he had so many amazing things happen. The text messages that I get of people saying, 'I was backstage and we had the best conversation with your dad and he was so sweet.'"
Draven adds, "That's the stuff that I want people to remember. I don't want people to sit and focus on the end all the time. Although I do think it's a good conversation to have. I think it's a necessary conversation to have, but shouldn't be the thing we remember him as."
READ MORE: 15 Times Linkin Park's Chester Bennington Sang the Emotions We Were Feeling
As for the talented 21-year-old, he carved his own path toward artistry, which included some familiar creative growing pains along the way.
"For the longest time, I wanted to be an engineer or something like that," Draven explains. "Very, very, very opposite. But then it took just me realizing that I don't enjoy that type of work either. I don't find myself being happy when I'm sitting at a desk all day. So I'm like, okay, what can I do?"
He shares, "Funny story is I started with photography and graphic design thinking, okay, that's somewhere in between art and a serious job and everything like that. … That's when I seriously started taking art for myself and doing my own stuff and just expressing my own passions. Ever since then, I've just head-dived straight into that."
Draven + RVRND Say 'F_w_Me'
RVRND, Draven's project with the producer Manny the Drummer, shows the evolution of popular music from early Linkin Park hits to today's hybrid musical models that Linkin Park precipitated. The electronic elements of "F_w_Me" are unmistakable — combined with Draven's rap cadences, the similarities between him and Chester are impossible to overlook. And these days, Draven can look back on his father's work and smile.
"Everything he's made is special to me for just the reason that it's a part of him that's still here," Draven says. "I feel really lucky in my situation with having his music and so many videos out there that we have so much footage that I can go back and, when I'm missing him, I can watch that and see him doing what he loved the most and just being happy about it."
Below, see a list of the rock and metal bands that are touring in 2023. Sign up for the Loudwire newsletter and download Loudwire's app for more rock/metal news.
RVRND, "F_w_Me"
Your Guide to Rock + Metal Bands Touring in 2023
Check out over 200 rock and metal bands' touring schedules for 2023.