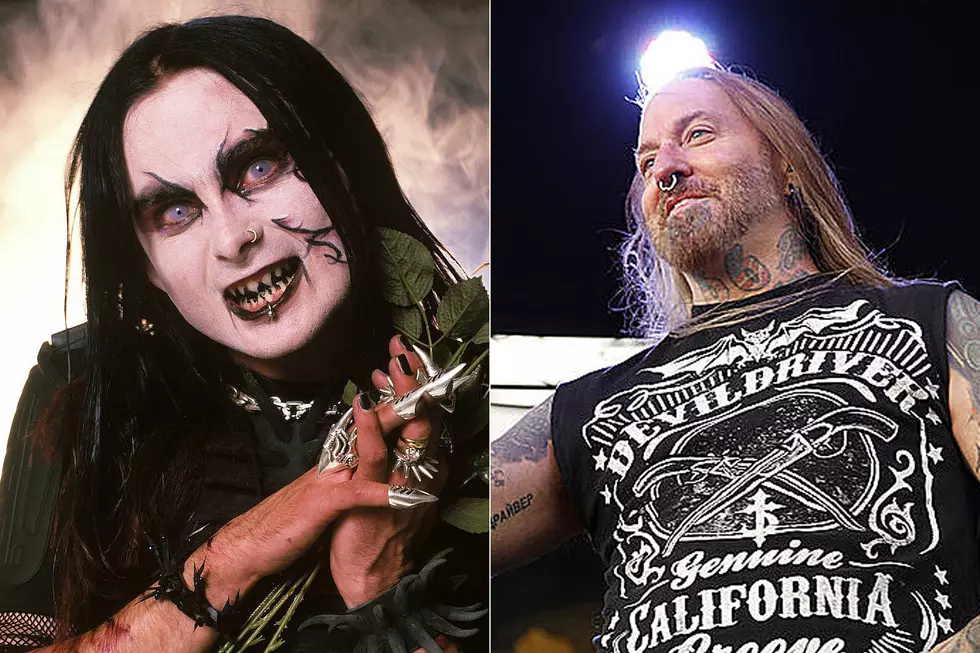 Cradle of Filth + DevilDriver Reveal 2023 U.S. Co-Headline Tour Dates
Mick Hutson/Redferns, Getty Images / Alex Kluft Photography
Two of extreme metal's biggest acts will be teaming up on tour in 2023 as Cradle of Filth and DevilDriver will head up the "Double Trouble Live" trek.
The tour will primarily take place in the southwest and western U.S., rolling out during the month of March with a kickoff March 8 in Tempe, Arizona and a conclusion a few weeks later on March 26 in Albuquerque, New Mexico. All of the dates, cities and venues can be viewed toward the bottom of this post.
"Cradle Of Filth are maniacally looking forward to this two-pronged headline assault with fellow noisemongers DevilDriver. Frontman Dez has been a friend for years and a brilliant manager to boot, and to head out on the road for what promises to be the first leg of the 'Double Trouble Live' world tour with him and the band was an opportunity far too good to pass on," says Dani Filth.
He adds, "We are chomping at the bit to get out on the West Coast again after our very successful run supporting Danzig last summer, and this eclectic tour package is so heavy it's literally going to GRIND faces to a pulp. Which, in this line of work, is a good thing! So, see you guys (and ghouls) out on the road for what promises to be twelve devastating nights of musical mayhem and debauch! Definitely a killer tour not to be missed!"
DevilDriver's Dez Fafara adds, "I have been a fan of Cradle of Filth since the early 90s, and over the years I've not only had the opportunity to become great friends with Dani and the band, whom are all wonderful people, but also to manage their career alongside my wife Anahstasia, who is CEO at Oracle Management. When presented the opportunity to go out on what is DevilDriver's first shows in almost three years and co-headline with the mighty Cradle Of Filth on this first run of what is now a world tour, it could not be passed on!"
He continues, "I'm looking forward to not only crushing stages with DevilDriver, but also watching Cradle of Filth nightly on the side of the stage. Get the fuck ready - this tour will be the one not to miss this year and tickets will go quickly! Get the fuck in the pit - this one will be vicious!"
Tickets for the "Double Trouble Live" tour will go on sale this Friday (Jan. 13) at 10AM local time. And for those in the Eastern U.S., a second tour leg is expected to be revealed later this year.
Cradle of Filth / DevilDriver "Double Trouble Live" 2023 U.S. Tour
March 8 - Tempe, Ariz. @ Marquee Theatre
March 9 - San Diego, Calif. @ Observatory North Park
March 11 - Santa Ana, Calif. @ Observatory
March 12 - Sacramento, Calif. @ Ace of Spades
March 14 - Seattle, Wash. @ Showbox
March 17 - Salt Lake City, Utah @ The Depot
March 18 - Colorado Springs, Colo. @ Sunshine Studios
March 19 - Denver, Colo. @ Summit Music Hall
March 21 - Houston, Texas @ Warehouse Live
March 22 - Dallas, Texas @ Amplified Live
March 23 - Austin, Texas @ Come and Take It Live
March 26 - Albuquerque, N.M. @ Revel
Your Guide to Rock + Metal Bands Touring in 2023
Check out over 100 rock + metal bands' touring schedules for 2023.