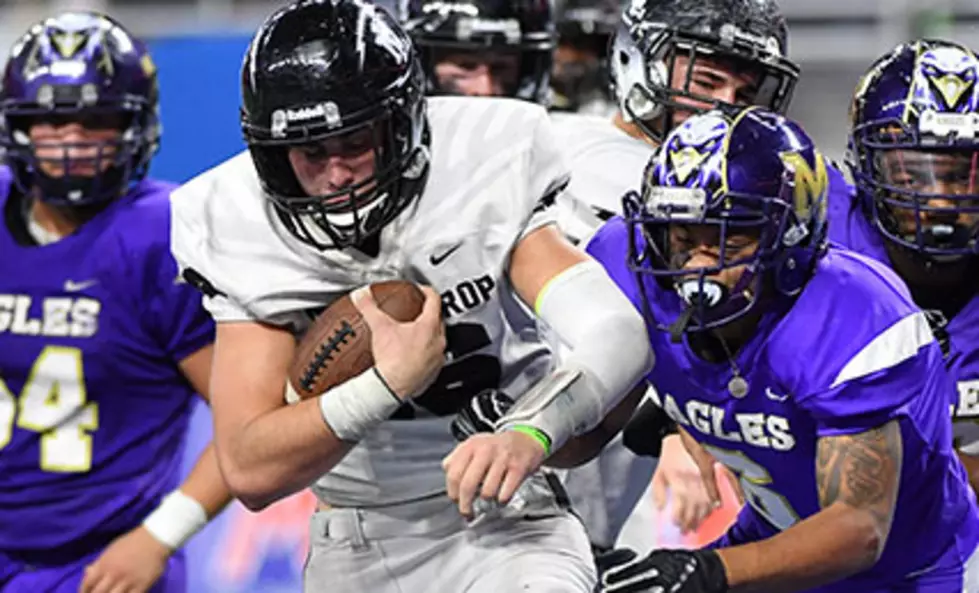 High School Playoff Schedule For Round 2
MHSAA
The district semi-finals are on tap for this weekend, and once again, CoVid-19 has already decided a few games.
Some good games on tap for this weekend, including one that was highly anticipated during the regular season, but never came about due to CoVid.
Rockford was supposed to play Hudsonville back on September 11, but it was cancelled. Those two OK Red rivals will finally get their chance Friday night at 7pm in Rockford.
Meanwhile, Grandville will host Traverse City West in the other district semi-final. That game will also be Friday night at 7pm. This game should light up the scoreboard as both teams went over 60 points last week.
The winners of those two games will meet in the championship for Division 1's Region 1 District 1 next weekend.
In Division 2, Forest Hills Central gets a tough draw, having to travel to Muskegon to take on defending state champion and undefeated Mona Shores. That game will be Friday at 7pm.
The other semi-final in that district will feature two upstarts, Caledonia and Lowell.
Caledonia is still not even above .500 after upsetting Jenison 21-14 last week. While Lowell stunned undefeated favorite Byron Center on the road, 35-28 to just get above the even mark at 4-3. that game will be at Lowell Friday at 7pm.
In Division 3, things have gotten a little strange due to some forfeited games because of CoVid.
East Grand Rapids will host Holland, who failed to win a game in the regular season, but advance in the playoffs when an outbreak in Zeeland forced Zeeland East to forfeit. That game will kick off at 7pm Friday at Pioneer Field in EGR.
That same outbreak has forced Zeeland West to forfeit their second round game with Middleville Thornapple Kellogg, so the Trojans advance, and will await the winner of the Holland-EGR game next week.
Also in Division 3, Cedar Springs will travel over to the lakeshore to take on Muskegon High Saturday on 1pm at Hackley Stadium.
In Division 4, the big game will be a renewal of the South Christian-GR Christian rivalry. That game will be played at Byron Center High School Saturday at 7pm.
In the other Division 4 district. Spring Lake will host Forest Hills Eastern, and Coopersville will travel to Whitehall. Both those games will be Friday night.
Both Grand Rapids Catholic schools will be in action in Division 5. Catholic Central, the defending state champions will host Belding Friday night at 7pm, while across town, West Catholic will host Portland Friday night at 7pm.
And in 8-man football, Tri-Unity Christian will travel to Colon to take on the Magi, that game will kick off on Saturday at 11am.
KEEP READING: See how sports around the world have been impacted by the coronavirus