GRD's Irish Penpal — Katherine Gannon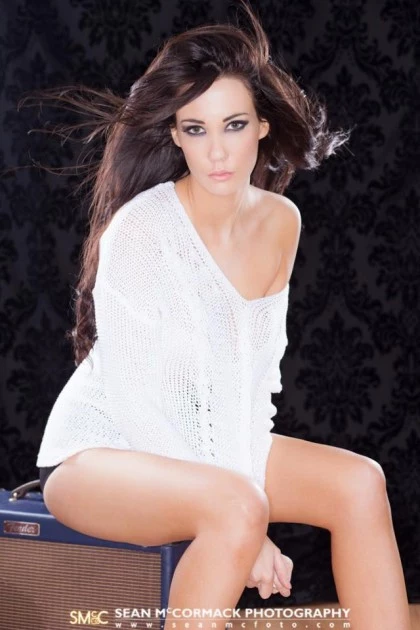 So its Valentines Day and I got into the spirit a few weeks before hand by doing a photo shoot with a local Photographer - Sean Mc Cormack and makeup artist Samantha Craughwell who I've worked with on many occasions. Prior to Valentines Day, these photos were published in National Irish Newspapers to support a charity I am the leader of in My University (NUIG) - The Irish Society For Autism.

My brother has Autism, thus my interest in supporting, and the newspapers were interested in doing a story on what I was getting up to this Valentines Day - where I was selling little teddy bears around the University to promote awareness of the cause. After that, I headed out to dinner with two also single female friends!
But what would I be doing if I was in the US? Well that's a broad question, for starters I might have an American boyfriend bringing me Roses! Would I even be in University? My knowledge of the American College system tells me that most parents who have hopes of their child continuing education after high school - which we call "secondary school" the saving for tuition fees starts around the same time that child starts kindergarten - we call this "junior infants" . Wheras in Ireland, entry to college is based on your grades in secondary...sorry high school! There are very little cases of fees for Irish colleges in comparison to states, however it puts a lot of pressure on the student grade-wise as everything depends on one week of exams you take at the end of the 6 years, then your points are added up eg A1=100 points, D3= 45 points and if the course you require is more than five points out of your final grade, you usually have to repeat the entire final year if you want to go to college!
So who knows, here I am 4 months away from having my degree in Sociology,Politics and Philosophy, the chances of me being in the same place if I were in the states is slim. But this could also be a bad thing. "America is the land of opportunity" -this is an understatement when you are from a tiny little green Island that never stops raining and is in recession. I would probably say the smallest town in Michigan holds more opportunities to the biggest town in Galway - my county. Career Wise, I believe I would have started a lot sooner if I were born and raised in the states. Full time modelling careers are slim in Ireland, extremely slim, the entire industry is completely different, from what I have seen anyway. I tried when I was younger, but at the time, few agencies would take models under the age of 16, and I was ready to strut as soon as I could crawl. Also, upon visiting the states last summer for the Miss Galaxy International Pageant, my ideas about children's pageants was completely transformed. In Ireland this is completely frowned upon with many Irish people basing all their knowledge on the "Toddlers in Tiaras" TV Show. But this is not how it was at all when I met the children at Galaxy. These little girls had so much fun, it was more like a school play, no horrible mothers telling their children they didn't look pretty without fake tan and make Up on ! It was a fun experience for the children here, something that's not for everyone, but I know I would have enjoyed when I was a little girl.
There is SO MUCH I would love to do if I lived in the states, work with the charities I support on a larger scale - Autism, Make-A-Wish Foundation, So many internships I could apply for, The Disney Sudent Programmer, Pool parties that we can NEVER have in Ireland due to the freezing weather!
However, I am fortunate enough to be a US Citizen thanks to my dad (thanks daddy! ) so plans of a visit soon is defo on the cards in the future!
Until then - Gach mo ghrá Grand Rapids - All my love to Michigan,
Do you want to ask our Irish friend Katherine a question?