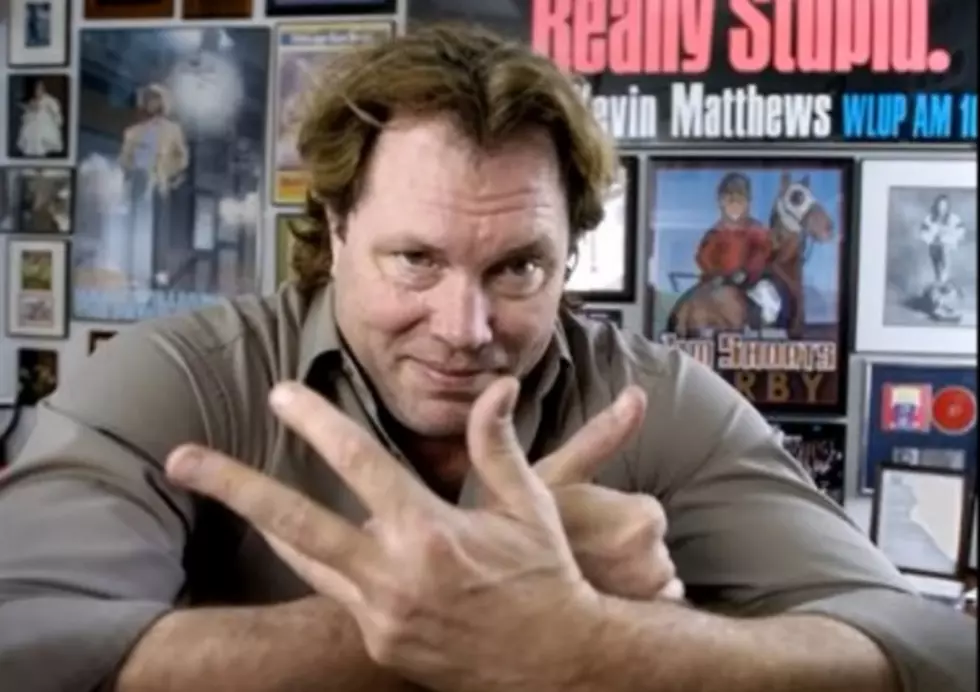 GR Legend Kevin Matthews Nominated For Radio Hall Of Fame
EverythingOrNothing via YouTube
Kevin, and of course his faithful sidekick 'Jim Shorts' could be headed to the Radio Hall of Fame in Chicago.
Kevin Nominated Along With Another Former Grand Rapids Great
Kevin Matthews in the Radio Hall Of Fame...what are ya, goofy?
The Museum of Broadcast Communications announced Monday the selection of the Radio Hall of Fame 2022 nominees. Among the 24 were two personalities who got their start here in Grand Rapids: Kevin Matthews, who got his start at WGRD, and later took his show over to WLAV, and Laurie DeYoung, who was paired up with Tony Gates prior to Kevin at WLAV, who moved on to host her own show in Baltimore.
Kevin, who never really had a co-host, outside of the voices he created in his own head, dominated the ratings in morning drive at WLAV, even getting his voice into space, waking up the astronauts on the Space Shuttle for NASA.
Larry Wert, his manager at WLUP in Chicago once said it best, "(Kevin) had a circus going on in his head."
Kevin Launched His Career At WGRD
After serving for a time as an intern at WCUZ (where morning show host Andy Rent said he was 'weird'), Kevin got a job doing overnights at WGRD where he pushed the boundaries of radio, much to the chagrin of management.
Eventually he moved over to WLAV, where his creativity spurred the imagination of the rock listeners and he began to take off in the ratings.
Looking to move up, he took a job at KWK in St. Louis, where he lasted about a year before being fired. At that time he began calling into the afternoon Steve and Gary Show on the Loop in Chicago impersonating President Reagan.
Steve Dahl, one of the hosts was impressed enough to get him on board the powerhouse rock FM for weekends and late night shifts. In 1987, the Loop began simulcasting on their AM sister station, which spun off it own programming, with Kevin following Jonathan Brandmeier's highly rated morning show.
Matthews Was ON The Ground Floor Of What Was Ground Breaking In Chicago
The AM Loop became a groundbreaking AM station that hosted talk shows that broke the mold of a what a talk show could be in the late '80s. Anyone who has ever heard or yelled the words "Free Bird!" at a concert may owe that to an inspired "Kev Head", which is how he referred to his fans.
The Chicagoist described it like this:
The late 80's were probably the last great era in Chicago radio. In 1985, WLUP bought a floundering Christian radio station broadcasting at 1000 on the AM dial. Two years later they loaded it with an all-star lineup of Jonathan Brandmeier in the mornings, Steve Dahl and Garry Meier in the afternoons, and a young hotshot personality/impressionist from Grand Rapids named Kevin Matthews manning middays. After Steve and Garry, the station would simulcast with WLUP FM and re-air Dahl and Meier's show during the witching hour.
With its big signal which covered most of the upper Midwest, AM 1000 allowed many of Matthews old GR fans to tune in to see what he was up too, which was usually a lot of strangeness.
Kevin went back to hosting mornings on the FM Loop, 97.9 in 1993. That show was simulcast for awhile on WGRD. Kevin's show was moved back to the AM before he was let go by the Loop in 1998. He was immediately hired by WXCD, and later worked with Dahl again at Classic Rock WCKG.
Kevin Returned Grand Rapids in 2005, And Returned To Faith In 2019
Matthews returned home to Grand Rapids in March 2005 for an over five year run at WLAV, after being let go there, he hosted a podcast for the Steve Dahl Network.
Kevin was diagnosed with multiple sclerosis in 2008, and wrote a book about his life and his devout Catholic faith in 2019 called 'Broken Mary: A Journey Of Hope'. The book features a touching tale of Kev rescuing a broken statue of Mary from a dumpster, and how it set him off on a renewed journey of faith which gave him hope when dealing with his illness.
Listen to the story of 'Broken Mary'.
Kevin has a YouTube page, where you can listen to a lot of his old bits from his radio days. In addition to his page, countless Kev Heads have shared his bits there, giving you tons of Kevin's bits from over the years. You can hear why he had such a devoted following over the years, and how he experimented with the medium of radio.
2022 Radio Hall of Fame inductees will be announced Monday, July 25th, and honored in-person at the 2022 Radio Hall of Fame induction ceremony on Tuesday, November 1, 2022, in Chicago
I hope he gets in. Kevin has been an inspiration to many not only in radio, but in their journey with faith as well.
Kevin also did stand up comedy, and hosted shows around the Midwest, highlighting the cavalcade of characters that came in and out of his show, many of them Kevin in costume.
Here's an interview he did with comedy legend Bill Hicks, who passed away in 1994.
Celebrating The 25th Anniversary Of The Red Wings Stanley Cup Victory
The 1997 Red Wings broke 42 years of futility by winning the NHL's Stanley Cup on this day back in 1997, setting off furious celebrations in the Motor City
The House Where "96 Tears" Was Recorded