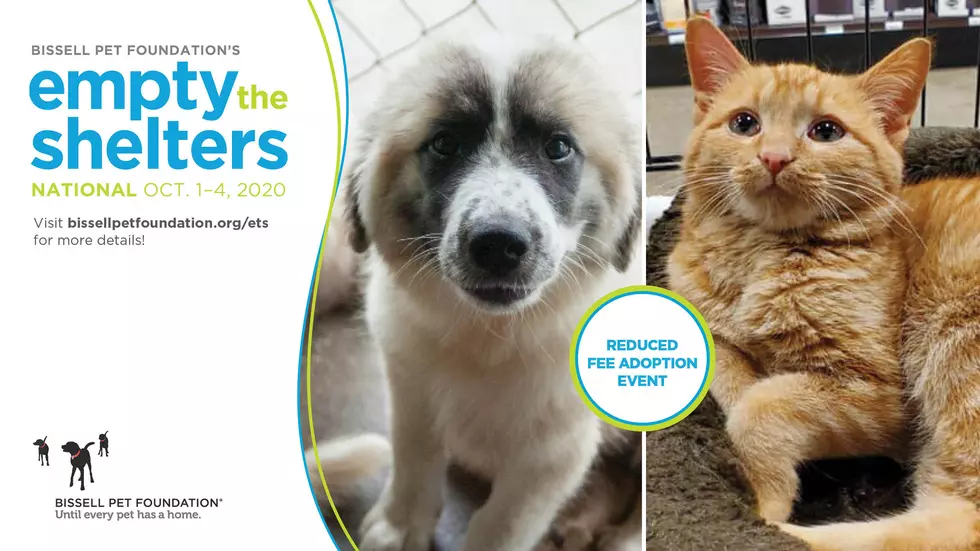 Empty the Shelters is Back in West Michigan Oct. 1-Oct. 4
Courtesy of BISSELL Pet Foundation
If you've been contemplating getting a pet or maybe you suffered the unfortunate situation of losing a pet recently, now is the time to add some love in your life.
BISSELL Pet Foundation announced they are hosting another Empty the Shelters across Michigan from October 1st to October 4th. The event will be held in 33 states with 160 shelters to offer reduced adoption fees. 45 shelters in Michigan will be participating including the following on the west side of the state:
Wishbone Pet Rescue Alliance - Allegan
Companion Cats, Inc. - Battle Creek
Wishbone Pet Rescue Alliance - Douglas
Heaven Can Wait Animal Haven - Ferrysburg
Humane Society of West Michigan - Grand Rapids
Kent County Animal Shelter - Grand Rapids
Ionia County Animal Shelter - Ionia
Kalamazoo Animal Rescue - Kalamazoo
SPCA of Southwest Michigan - Kalamazoo
Faithful to Felines - Muskegon
Humane Society & Animal Rescue of Muskegon County - Muskegon
Al-Van Humane Society - South Haven
Harbor Humane Society - West Olive
Each shelter has different hours and different requirements when adopting so make sure you check the procedures with the individual shelter you'll be adopting from.
2020 saw an increase in the number of pet adoptions due to the pandemic and being forced to quarantine. In fact, this is the sixth Empty the Shelters event this year.
Animals will only cost $25 or less (with the rest covered by BPF) and all cats and dogs will be microchipped, spayed/neutered, and up-to-date on vaccines. BISSELL will also cover the costs of animals that are foster-to-adopt one week after the event dates.
Since 2016, when the event first began, BISSELL Pet Foundation has helped 40,550 shelter animals get into forever homes.
Enter your number to get our free mobile app
Working From Home With Pets