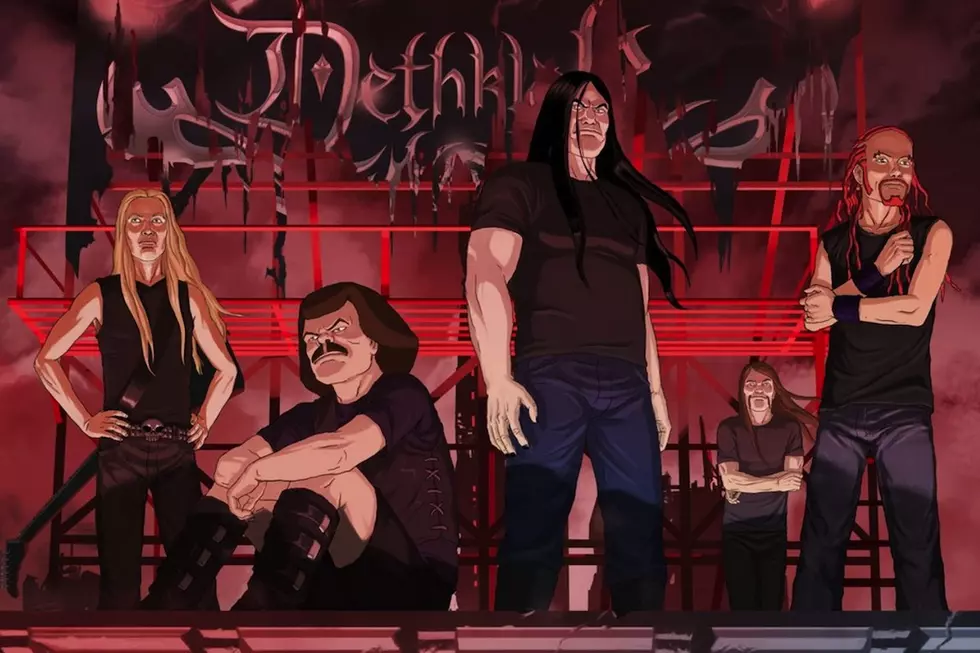 Watch Dethklok Perform First Show in Five Years
Adult Swim
Dethklok returned to the stage for the first time in five years over the weekend, headlining the 2019 Adult Swim Festival over popular hip-hop artists Jamie xx and Vince Staples.
Dethklok have barely performed live since Metalocalypse left Adult Swim. The show's one-hour rock opera finale, The Doomstar Requiem, aired in October 2013, capping off an extremely successful seven-year run at Adult Swim. Dethklok have only performed twice since then — at the 2014 Festival Supreme and last weekend's Adult Swim Festival.
Bassist Bryan Beller was unable to take the stage with Dethklok, as he was on tour with his band the Aristocrats in Europe. "Imagine my frustration and disappointment about that, because I love the Dethklok gig, it's so much fun. It's such a great show [Metalocalypse], and of course I wish that it was still going on," Beller tells Sticks for Stones. "As far as Dethklok and Brendon Small and another season, that's above my paygrade… It has to with the television network and Brendon and I just can't comment on that, but of course, I hope and wish that it happens, I think just like many of the fans."
Brendon Small and his human version of the cartoon band pummeled fans with 19 songs, including two which had never been performed before, "Impeach God" and "Comet Song."
"Thank you so much for hanging out tonight," Small tweeted after the show. "That was a lot of fun. #DETHKLOK"
Watch fan-filmed footage of Dethklok's first performance in five years in the clip above.
50 Most Important Metal Bands in the 21st Century