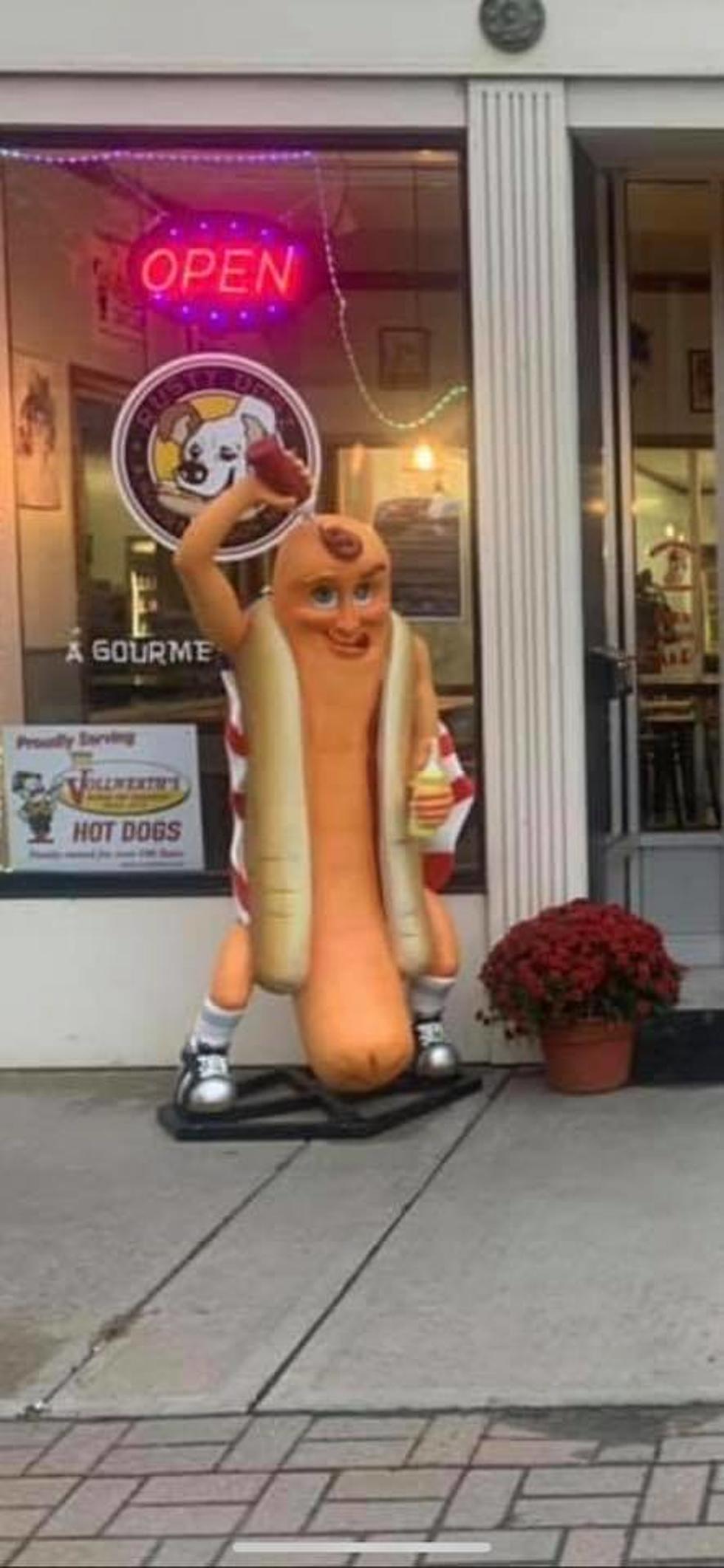 'Big Wein' Is Back Home, But Where Did He Go?
Rusty Dogz via Facebook
A giant weiner outside of a Cheboygan hot dog stand disappeared last week. He's been returned, but where did he go?
'Big Wein', the nearly six foot tall hot dog that has graced the sidewalk space in front of Rusty Dogz hot dog stand in Cheboygan has been found.
The plastic weiner, who has been putting ketchup on himself for years in the northern city along Lake Huron, disappeared the weekend of September 25, and his owners put out an APB for him, and also offered a reward of $100 and free hot dogs for whoever brought him back, no questions asked.
He was found by the Cheboygan Police Department, although no details were provided. Perhaps someone called in a tip? At any rate, the officers bringing him back to the shop were given some free dogs in appreciation.
So where did 'Big Wein' go? Well, perhaps he just wanted to see the town. It gets boring sitting on the sidewalk greeting customers all day. It's a thankless job, and probably offers little perks.
But may I offer another theory?
'Big Wein' may have been taken by a hot dog purist who was disgusted to see poor 'Big Wein' pouring ketchup on himself. Everyone should know by now that ketchup on a hot dog, especially in Michigan (where Coney is king) is verboten.
Now, can we consider painting that crap he's pouring in his head yellow? Thank you.
All kidding aside, apparently, several people were involved in the heist, and it appears one person was video recording it, so there may be evidence out there.
That being said, next time you're in Cheboygan, stop at Rusty Dogz and have a couple. They're delicious, I went there when I was on vacation earlier this year.
MORE: The Ten Most Beautiful Campgrounds in Michigan