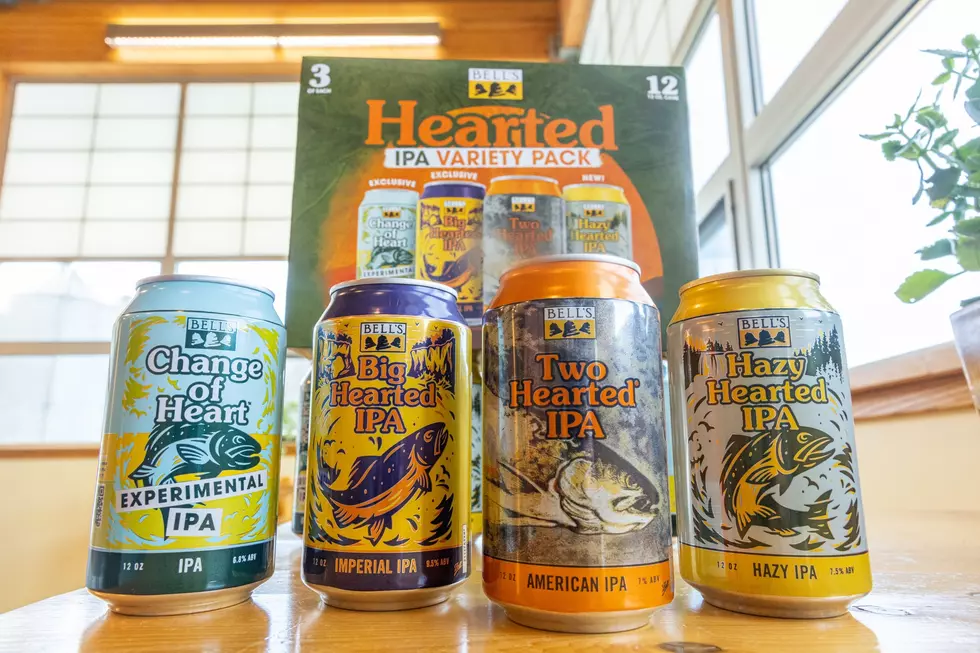 Bell's Expands Famous Two Hearted IPA Brand with 3 New Beers
Bell's Brewery, Facebook
Bell's Two Hearted lovers, rejoice! You're getting three new brews to try.
The Comstock, Mich., based brewery has announced a new variety pack that will expand it's line of Two Hearted IPAs.
What is Bell's Two Hearted?
Two Hearted is Bell's Brewery's iconic American IPA. They say it's "bursting with refreshing hop aromas" and "suited for adventures everywhere."
Named after a river in Michigan's Upper Peninsula, Two Hearted is made with dry Centennial hops and is 7% ABV.
For multiple years in a row, Two Hearted has been named the top beer in the country by Zymurgy.
In 2022, Two Hearted made Untappd's list of "The Top 10 Craft Beers With the Most 5-Star Check-Ins of 2022". The Michigan IPA came in at No. 4 with just over 5.8K five-star check-ins.
According to Untappd, Bell's officially brewed the first batch of Two Hearted in 1997, but only as a winter seasonal. In 2003, Two Hearted became a year-round offering.
This year on August 15, Two Hearted celebrated its 25th birthday.
And now, Bell's is releasing three more Two Hearted IPAs!
Bell's Brewery Announces Variety Pack with Three New Two Hearted IPAs
This week, Bell's shared to social media,
After 25 years of IPA Perfection, we took everything that makes Two Hearted special and brewed three new, distinct IPAs.
In 2023, enjoy one new release, one exclusive and one experimental, all alongside the iconic IPA you know and love. How's that for variety?
The Hearted IPA variety pack will be available this week and includes Hazy Hearted, Big Hearted, Change of Heart, and original Two Hearted (which note, now is called Two Hearted IPA, instead of Two Hearted Ale.)
Hazy Hearted - Tropical and fruity hazy IPA at 7.5% ABV.
Big Hearted - Imperial IPA with citrus and berry hop aromas at 9.5% ABV.
Change of Heart - Cold IPA with fruit-forward and piney notes at 6.8% ABV.
Hazy Hearted IPA will be available in six packs in Michigan soon.
Other beers in the Two Hearted line are Light Hearted and Double Two Hearted, which has 2.5x times the hops of the original.
Bell's Brewery also says they'll have a new lineup of beers coming this spring!
Zymurgy's 2020 Top Ten Beers In The U.S....In Their Own Words.
Bell's Brewery Again Tops Zymurgy's 2020 Top Ten Beers In The U.S With Two Beers
Incredible MI Breweries You Have to Visit
Michigan is an absolute Mecca for beer lovers! Check out some of our favorite breweries around the state from A to Z...Any you would add? Let us know!