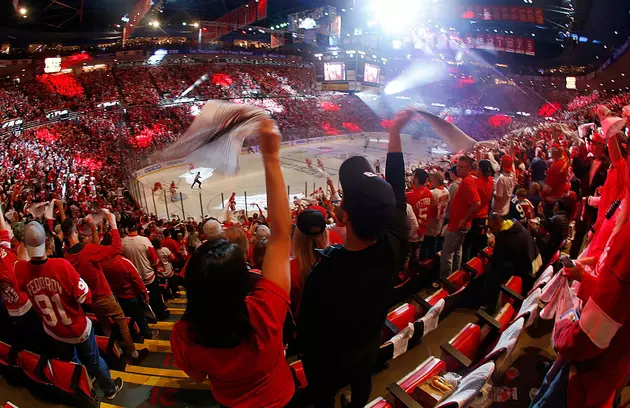 You Can Sign a Petition to Change New Home of Red Wings from Little Caesars Arena to Caesars Colosseum
Current home of Red Wings, Joe Louis Arena. Gregory Shamus/ Getty Images
Arena authorities announced today that the new home to the Detroit Red Wings will be called "Little Caesars Arena". Some fans do not seem to be fans of the new name of the "Baddest Bowl in Hockey".
There's now a petition to change the name of the arena to "Caesars Colosseum" instead.
The name for the $627 million project was unveiled at an event inside the arena construction site this morning.
The Detroit Free Press reports that Christopher Illitch, CEO of Illitch Holdings, and representative for the family, which owns both the Detroit Red Wings and Little Caesars said,
"For our organization, this is more than just about money. This is our hometown. This is a legacy business. This platform for this brand makes perfect sense. It will really help the company."
Christopher's parents, Mike and Mary Illitch, opened their first Little Caesars in suburban Detroit in 1959.
Some fans are not too fond of the new name, responding with comments like these on The Detroit Free Press Facebook post announcing the new name:
They could've done MUCH BETTER. Better Made Arena would've at least been funny. The Gordie Howe Arena would've been a winner. Little Caesar's is lame."
Seriously??? Corporate America at its finest. That name sucks ass, it's not even a name, it's a brand. It's advertisement. There are plenty of Wings this could have been named for, or even the Ilitches"
For fans truly not feeling the name, you can sign the petition to change it to "Caesars Colosseum" here.
The creator of the petition writes:
The Detroit Red Wings are a legacy in the National Hockey League and deserve a legendary arena! They are getting that in the 2017-2018 season, but it will be called Little Caesars Arena, which has a terrible ring and will be the laughing stock of the NHL. Petition to rename it Caesars Colosseum, which will still pay homage to Little Caesars, but will sound better (AND TOUGHER) for the deserving team!!"