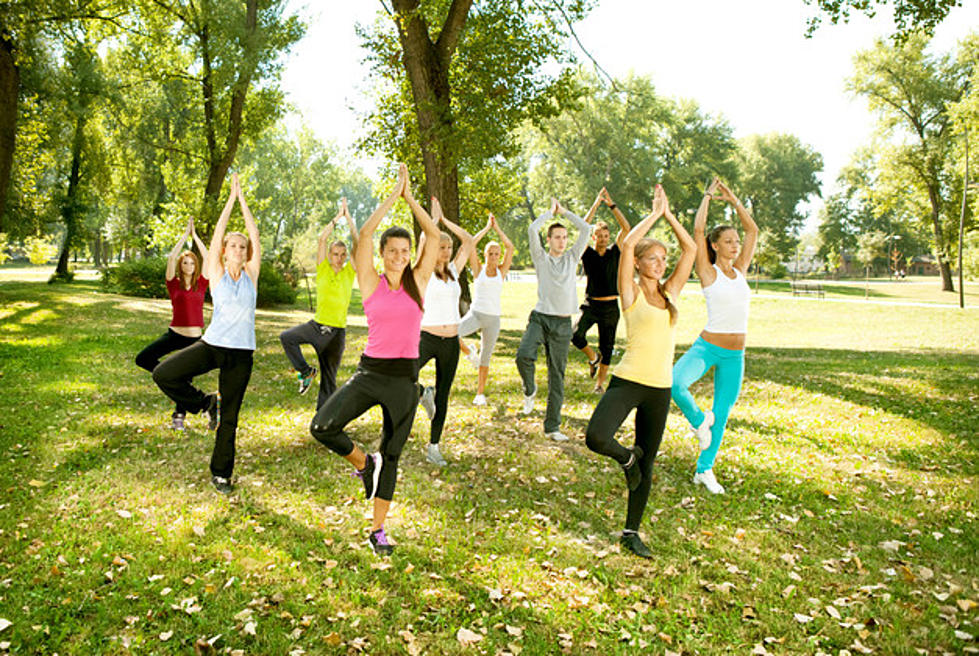 Yoga Classes And Five Other Things You Can Do For Free in West Michigan
Igor Mojzes
I've been doing yoga at home alone using Youtube for years. After one time of spending money and going to a class in person, and feeling judged by everyone there, I realized I'm better to wobble and fall over at home by myself. But, yesterday I took the leap and joined a free Yoga class put on by the city of Grand Rapids, and I think maybe I've finally found something that works great for me.
So if you're like me and you've always been curious about what classes are available but haven't been brave enough to take the plunge, here are some great options for Yoga, Workouts and Courses you can take for free right here in West Michigan.
Yoga Mondays at Mulick Park
Monday Nights from 6 to 6:45 p.m. (1632 Sylvan Ave. SE) 
Every Monday through August 29th, you can join a group of people for an easy flow in the park. This is the class I went too, and everyone is so friendly and non-judgemental, you may even make a friend in the process.
This course, just like the other Yoga Classes offered by the Grand Rapids Parks Department is great for beginners, and Mulick park is centrally located just minutes away from Alger Heights, with lots of easy parking.
Free Online Art Class based in Grand Rapids
(Thursday Nights at 8pm, but you have to RSVP on eventbite)
Want to participate in a community event but find yourself unable to get out, or maybe you just want to stay in those PJs? This art class is great for artists and aspiring artists of all ages.
It's all on zoom, so you can participate from anywhere for free. You will need a few art supplies to participate, but otherwise this is a great way to save cash on gas and do something fun with others.
POUND
Thursdays on The Blue Bridge from 5:30 to 6:15 p.m.
Get moving with this fun and unique workout experience. According to their description, Using Ripstix (lightly weighted drumsticks engineered specifically for exercising) POUND transforms drumming into an incredibly effective way of working out.
Instead of listening to music, you become the music in this exhilarating full-body workout that combines cardio, conditioning and strength training with yoga and pilates-inspired movements. Designed for all fitness levels, POUND® provides the perfect atmosphere for letting loose, getting energized, toning up and rockin' out!
STEM Wednesdays
Three Rivers Public Library, Wednesdays through September at 11am
Get the kids out, stretch those legs, and learn something new. Every Wednesday, the Three Rivers library offers a class for kids to learn more about science and technology
Each week has a different theme, so if you think your kiddo would love a specific theme you can check ahead, or become well rounded by checking them all out each week. You can learn more about each week on their eventbrite page.
Left To Write Creative Writing Class
Multiple Days of the Month, Hackley Public Library in Holland
If you enjoy creative writing, you'll love Left to Write, HPL's own creative writing group! Here you can participate in writing exercises, share your own stories, and meet other creative writers. This group provides a low-key atmosphere for writers of all experiences, everyone is welcome!  Remember to bring a pen and paper.
You'll have two chances to enjoy Left to Write each month (2nd Wednesday of each month from 3:30-4:30, and the 4th Tuesday of each month from 5:30-6:30).  Feel free to come to one or both, whenever you're able to! learn more on their website.
Sunrise Yoga at Indian Trails Golf Course
Wednesday mornings (2776 Kalamazoo Ave. SE) from 6:30 to 7:15 a.m.
Sometimes you just need a gentle flow to start your day, and the end of the day classes aren't working for your schedule.
You can join this free weekly class (then grab a tee time after) and enjoy the sunrise as you greet your day with some relaxing yoga by the links.
So don't let gas prices breaking your budget keep you from having fun this summer.
12 Summer Activities Michiganders Love
Summertime in Michigan calls for cookouts, swimming, boating, golfing, and more. You don't have to far to enjoy it - just simply go outside.