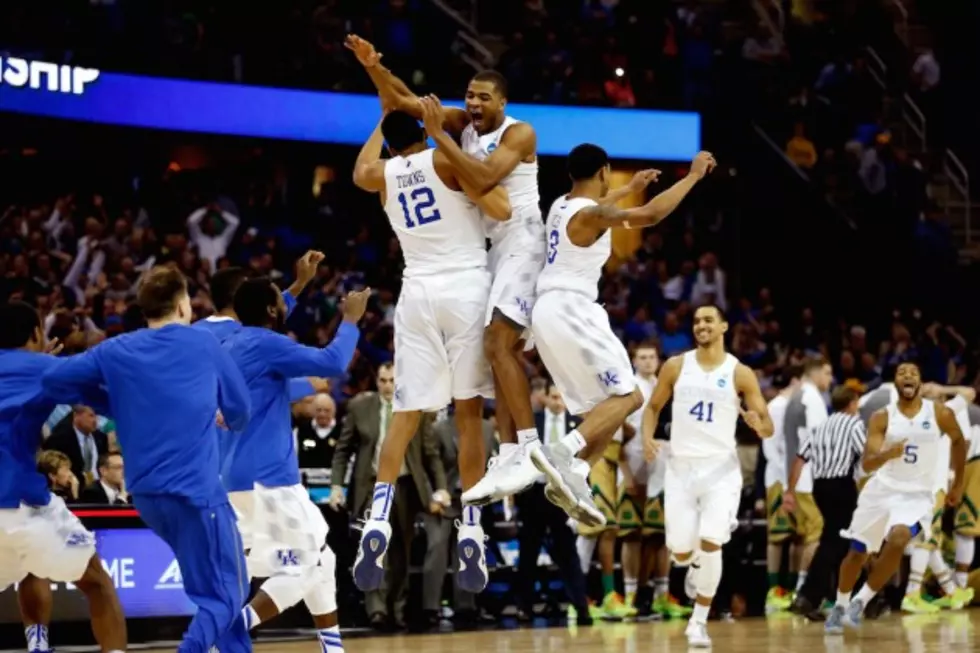 Kentucky, Wisconsin Return to NCAA Final Four
Getty Images
Top seeds Kentucky and Wisconsin won their respective regional finals on Saturday to return to the Final Four for the second consecutive year. Here's a recap of the day's action:
Midwest Regional Final: Kentucky 68, Notre Dame 66
Andrew Harrison made two free throws with six seconds remaining, and top-seeded Kentucky edged Notre Dame, 68-66, in the Midwest Regional final of the NCAA men's basketball tournament in Cleveland on Saturday night. With the win, the top-ranked Wildcats remained undefeated and reached the Final Four for the second consecutive season and fourth time in five years.
The Fighting Irish had a chance to tie or win the game, but Jerian Grant's off balance three-point shot was off the mark as time expired. The thrilling contest was Kentucky's biggest test so far this season. ACC-champion Notre Dame (32-6) was tied with the Wildcats at halftime and led 59-53 with six minutes to play.
Kentucky (38-0) rallied behind center Karl-Anthony Towns, who finished with 25 points, five rebounds and four assists.
Zach Auguste led the Irish with 20 points.
The Wildcats advanced to set up a rematch with West Regional champ Wisconsin in the Final Four in Indianapolis next Saturday. The Badgers defeated Arizona earlier in the day. Kentucky and Wisconsin played an exciting national semifinal in 2014, with the Wildcats getting the win and a berth in the national title game against Connecticut.
West Regional Final: Wisconsin 85, Arizona 78
Frank Kaminsky scored 29 points and Wisconsin beat Arizona, 85-78, in the West Regional final of the NCAA men's basketball tournament in Los Angeles on Saturday.
The Badgers advanced to next weekend's Final Four by defeating the Wildcats in the West final for the second consecutive year. They won 64-63 in overtime in 2014.
Arizona held a 33-30 halftime lead, but Wisconsin surged ahead for good thanks to a 14-3 run to start the second half. Badgers forward Sam Dekker added 27 points for the Big Ten champs.
Rondae Hollis-Jefferson and Brandon Ashley each scored 17 points for the Wildcats.
Wisconsin advanced to Saturday's final by beating fourth-seeded North Carolina on Thursday. Arizona reached the regional final by defeating sixth-seeded Xavier in the Sweet 16 round.
The Badgers (35-3) will face Midwest Regional champ Kentucky in the national semifinals in Indianapolis next Saturday.
The Pac-12 champion Wildcats (34-4) fell one game short of their first Final Four appearance since 2001.