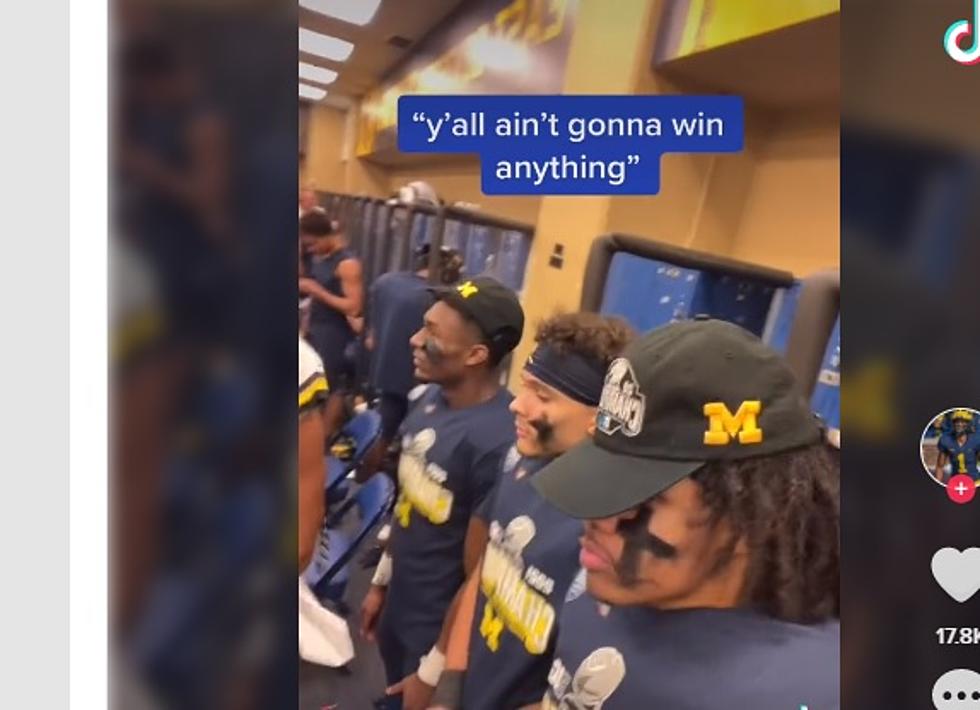 Watch: Michigan Players Do The 'Head Bounce' During Locker Room Celebration
Andrel Anthony via TikTok
Does anyone have more fun during their post-game celebrations then the Michigan Wolverines? I think not.
In the locker room following the Wolverines 42-3 Big Ten championship win over Iowa, freshman wide receiver Antrel Anthony line up three of his teammates to do the 'head bounce' dance, which is popular in TikTok right now.
The result is a fun look behind the scenes at a team that loves to party after their big wins. And it's another example of the way these guys kind of love hanging with each other. Because you can't fake that head bounce.
It's done to the tune of 'Chocolate Barbie' by the British band Drilla, which apparently has become a thing to dance to on the old TikTok.
The original dance was done by a player for the soccer team in Liverpool, England, and it's slowly been readapted and become a dance craze and TikTok meme here across the pond.
The original was a goal celebration for Liverpool. Shades of the Ted Lasso dance, for sure.
ESPN sports reporter Laura Rutledge got her very reluctant co-workers to do it. You can tell that they hate doing it, but they go along with the ruse, mainly because Laura is hot.
It's become a dance that people to do to not only celebrate, but to relieve the tension of stressful situations like a tree falling on your garden.
People seem to able to get anyone to do the dance, even men at work.
You can do the head bounce with your twin brother!
Or when your husband wants a boy and all he gets his girls!
Anyways -- here's a whole page of people doing the head bounce.
Five Out-Of-The-Way, Inexpensive Grand Rapids Restaurants