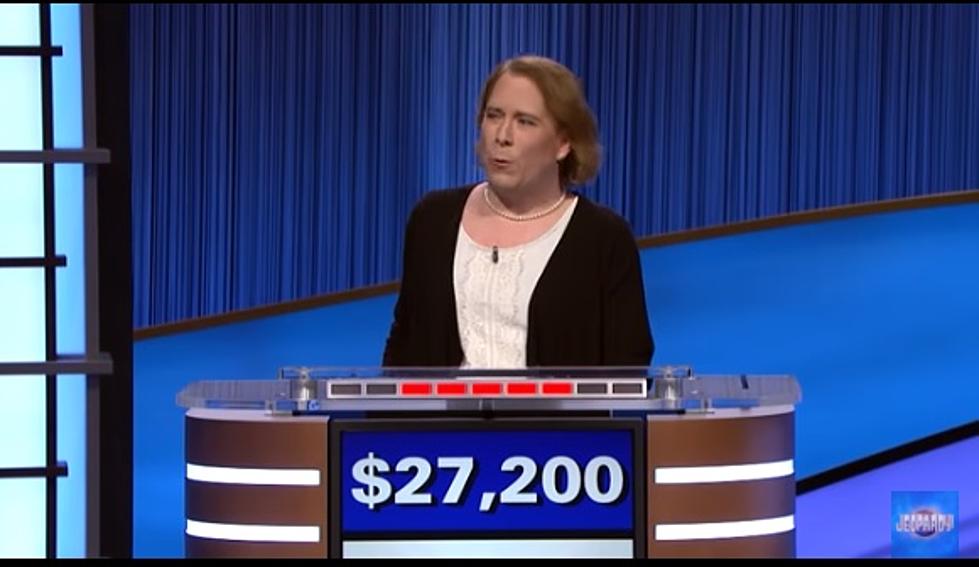 Watch As Channel 3 Cut Away From Historical 'Jeopardy' Moment
Jeopardy! via YouTube
Amy Schneider had rung up 40 consecutives win on the TV game show 'Jeopardy!'. But her historic run ended last night. But local viewers on Channel 3 had the upset loss cut short.
Schneider's record run was the second longest in the history of the classic quiz show, eclipsed only by current host Ken Jennings 74 game winning streak back in 2004.
Earlier this week, Schneider had passed Matt Amadio for second place on the all time 'Jeopardy!' victory list by winning her 39th straight. After chalking up one more win to make it an even 40, Schneider met her match in challenger Rhone Talsma.
Talsma correctly came up with question in 'Final Jeopardy' for the answer, "The only country whose name ends in an 'H', it's also one of the 10 most populous."
The correct question was "What is Bangladesh?"
Schneider failed to come up with it, but the instant Jennings acknowledged Schneider's wrong answer, the local feed at WWMT Channel 3 cut away for a promo for the 11 o'clock news.
The incident irritated fans on Twitter like @weirdavi, who posted this response.
So for those of you who missed the aftermath of the upset win by Talsma, here's the ending in its entirety, as well as the highlights form the stressful match, which included a gutsy true Daily Double by Talsma to get back in the game.
After the match, Talsma and Schneider talked about his win in a video posted by the show to YouTube.
"It's really been an honor," Schneider said. "To know that I'm one of the most successful people at a game I've loved since I was a kid and to know that I'm a part of its history now, I just don't know how to process it."
"I had thought that Rhone was going to be tough going into it," she added.
"I loved hanging out with him, we had great conversation before the taping, but I could tell that he was here to play and that he was going to be good. I still came very close to winning, but I did feel like maybe I was slipping a little bit. And once it was clear that he was fast on the buzzer, I knew it was going to be a battle all the way."
READ MORE: 10 Things You Should Never Ask a Michigander