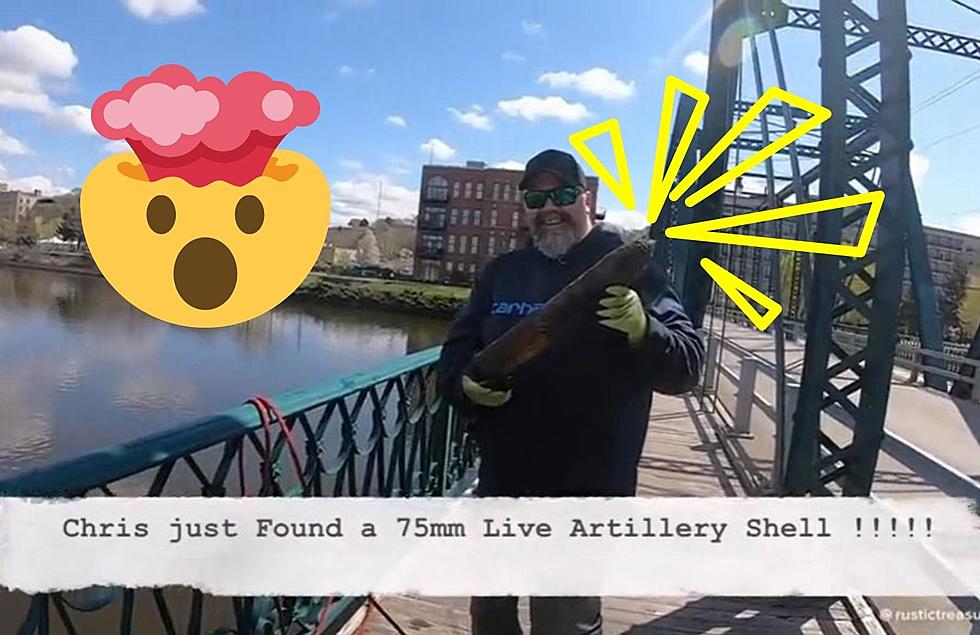 Video: Someone Found A 75mm Sherman Tank Round In The Grand River
Rustic Treasure Hunters / Canva
The weather is warming up, and you're likely to see more people hanging out downtown near the Grand River. And one of the most common sights you'll see are fishermen of all types.
And while there are plenty of live fish to catch in the Grand River, apparently if you magnet fish you could catch something a little more lively than expected.
Youtubers Rustic Treasures Hunters posted a video recently where during a magnet fishing trip, they found something that seemingly has no business in West Michigan... a 75mm Sherman Tank Shell
Let's take a closer look...
But... what was it doing in the Grand River?!
To answer that question, first we have to dig into history of the shell itself.
This 75mm shell was originally developed to use by the gun mounted on the Sherman tank by the French, right before World War I, but wasn't popularized for use by the US Army until World War II.
It didn't have a long life. The Sherman tank was decommissioned from use by the US army in 1957, but they still remain one of the most iconic pieces of heavy equipment used by the military in history.
But how did this shell get to Grand Rapids?
Obviously, Grand Rapids wasn't the site for any battles during the time when the Sherman Tank was being used. However, during World War II, the Fisher Body Plant was converted to help with the war efforts. They built bullets and ammunition of all sizes, including the Sherman 75mm Tank Shell. Just like the one found in the Grand River.
While, we can't be one hundred percent sure this is the exact origin of the shell, it's the most likely option.
What should I do If I Find Something Like This?
Call an expert! While it may seem like fun to pull it out yourself and keep it as a trophy, there is no easy way to tell if this ammunition is still live. And after (what I can only assume to be) a long period of time underwater, who knows the state of it at this point. The Grand Rapids Police non-emergency line can direct you if you need.
If you'd like to follow the Rustic Treasture Hunters to see what else they find in the future, you can find their Youtube Channel here.
So good luck out there if you're magnet fishing in the Grand River. You never know what kind of crazy things you'll find.
23 Lansing Area Spots With The Best Fried Fish
With fish on the brain this time of year, we wanted to make sure that you had all your options available when it came to "best-fried fish in the Lansing area". And we didn't limit our search to just restaurants or churches, we include a slew of options. Not to mention, some places that are doing something different than your "typical" fish and chips option. Think, lobster rolls. Think, bisque. Think, crab rangoon pizza? All that and more. Look through the gallery below and find out who has the best-fried fish and more in the Lansing area this Lent.