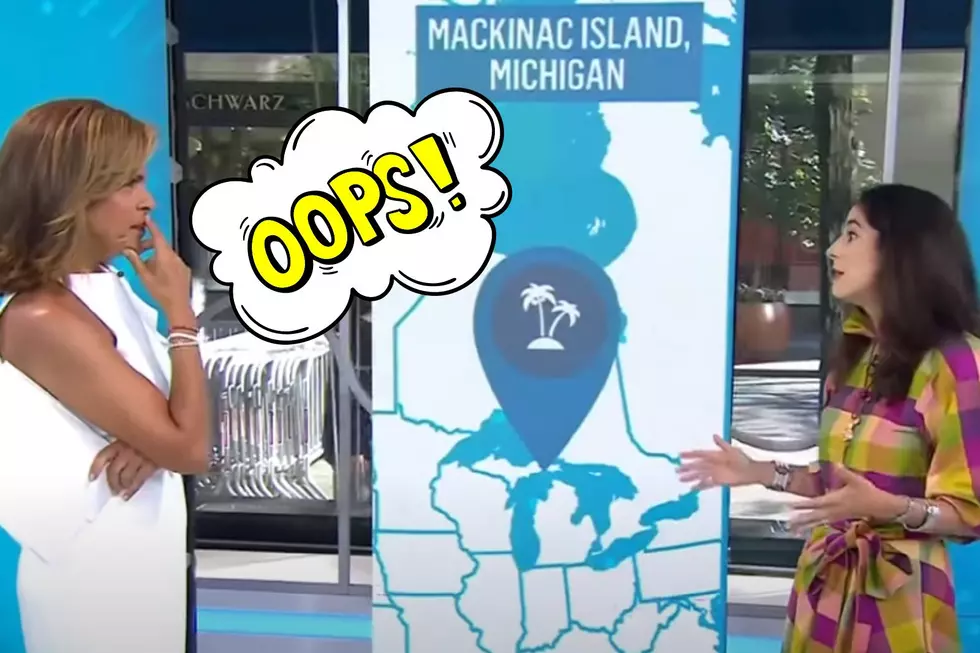 Travel Directions from the "Today" Show Not a Good Idea!
Photo: Today via Facebook, Canva
From time to time we have to stop and ask for directions. It doesn't happen as much now days because everyone has a GPS (Global Positioning System) in their car, on their smartphone, or as a separate device in their car.
Let's Go to the "Best Island in the Continental U.S."
Recently, Travel + Leisure named Mackinac Island as the "Best Island in the Continental U.S."!  In their results they said the following about Mackinac Island...
Eighty percent of this roughly four-square-mile island on Lake Huron is protected as a state park. The family-friendly downtown has many restaurants, fudge shops, and galleries. There are also several golf courses, one of which, known as "Wawa," lies on a battlefield where the British captured the island from the Americans in the War of 1812. You can explore the island by foot, bike or horse-drawn carriage, but no cars are allowed. Accommodations include the Grand Hotel, which dates back to 1887 and earned the No. 6 spot on this year's list of the Best Hotels in the Midwest.
For those of us in Michigan, we all know that Mackinac Island is located just east of the Mackinac Bridge, in Lake Huron, near both Mackinaw City and St. Ignace. Whomever is putting together maps for NBC's "Today" show must not have known that, nor did they have access to the internet to check it out.
The Map to Mackinac Island
In a recent segment on the "Today" show, host Hoda Kotb interviewed Travel + Leisure's Editor-in-Chief Jackie Gifford. The two talked about Mackinac Island and some of the other islands that made the Best Island list.
As you saw in the video, their map shows Mackinac Island in Lake Michigan on the west side of the Mackinac Bridge.
Their pointer is near Naubinway, in the Upper Peninsula, near US-2.
This is a more accurate map of just where to find Mackinac Island...
On a positive note: They clearly showed both the Upper and Lower Peninsulas of Michigan. (The poor U.P. is often forgotten or mislabeled.) And, at least they pronounced the name of the island correctly! We would have all cringed if they had called it "Mack-i-nack Island"!
Homes For Sale on Mackinac Island
RETURN TO MACKINAC ISLAND