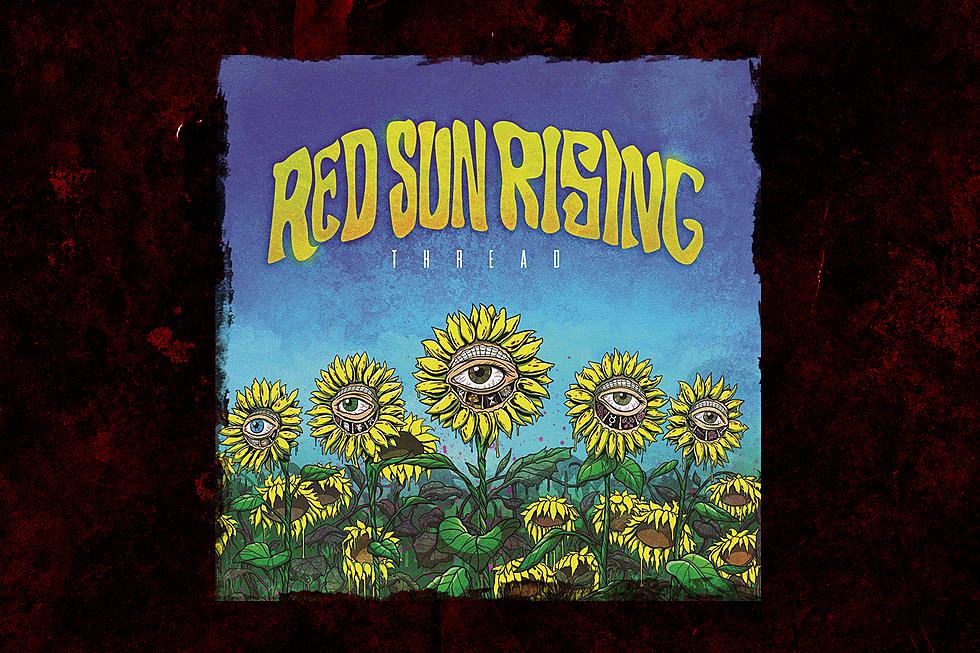 Red Sun Rising Keep the 'Thread' of Success Going With New Disc – Album Review
Razor & Tie
After a pair of independently released albums, Red Sun Rising broke through to rock radio in 2015 with "The Otherside," "Emotionless" and "Amnesia" off their Polyester Zeal album, their first major label effort. The question soon became: can they keep up that momentum on the follow-up? We're happy to say that Polyester Zeal was no fluke and that with their latest effort Thread, the Ohio rock outfit are taking major steps to being one of the next big bands in rock.
Though their history dates back over a decade, the group underwent a significant change in 2015 when rhythm guitarist Dave McGarry, bassist Ricky Miller, and drummer Pat Gerasia all joined the core duo of singer-guitarist Mike Protich and fellow founding guitarist Ryan Williams. And while Polyester Zeal may have given the band their much-deserved breakout, Thread really provides a more fleshed-out representation of what the band can do.
"This album feels like a rebirth," says Protich. "Although Red Sun Rising played 140 shows on our last tour, it was not until we made this album that I felt we became a band. The growth and evolution of RSR that you will hear in our sound and our songwriting builds on our 'Thread' mentality (songs that people can love and sing with us but don't fit a mold). We aren't chasing trends and never will."
The singer hits the nail on the head with that comment, as Thread makes Red Sun Rising a band that's very hard to pigeonhole. The influences come from a variety of places and eras, often making it feel as though Red Sun Rising could have just as easily succeeded in the modern rock world of the late '90s/early aughts or college rock radio of the late '80s.
The album kicks off with some fuzzed out reverb guitar tone, spooling out a dark vibe, ascending with a building drum beat, then pulling back to a shimmery, haunting feel on the aptly titled "Fascination." The opener is one of the album's stronger tracks, providing the listener with a sense of discovery that this is not the cookie cutter rock you've been hearing on the radio lately. "Do you miss us at all? / Well never mind / It's the same old rhetoric," sings vocalist Mike Protich, before adding, "And if you want to complain / Well would you mind remembering us for a change?" Though it has a different meaning in the song, we should note this is not the "same old rhetoric" from the band and we'd be happy to remember them for the changes and evolution they continue to provide.
With a killer production team of producer Matt Hyde and mixer Jay Ruston, Red Sun Rising deliver a very polished sounding record full of melodic gems and the occasional dive into the darker side. Though very catchy, there's something a little sinister behind the lead single "Deathwish," while the album closer "Evil Like You" provides a dark finale opening with the haunting sounds of a child's piano and later churns out some of the nastiest, heaviest guitar licks on the album.
While the disc does have its poppier moments, Red Sun Rising definitely are a hard rock band. Drums and guitar really drive the chaotic mid-album standout "Veins," while they keep the flow going well with the follow-up "Clarity," letting Gerasia and Miller provide a more raw, tribal sounding backdrop to the music.
Other standouts of note include the melodic and the timeless sounding radio-ready track "Left for Dead," as well as "Stealing Life," a song which might best encapsulate the range of what the band can do. It starts on acoustic guitar, adds in Jellyfish-esque keys and takes listeners on a journey through both moody and heavier moments while singing about the lament of letting one's opportunities to seize the day slip away.
Rest assured, Red Sun Rising have seized the day on Thread, which continues to show promise for a band bringing a little something different to the rock radio world. The album is available to order in the format of your choice here and you can look for the band putting plenty of time in on the road in support of Thread. They currently have dates booked into September, with likely more to follow.