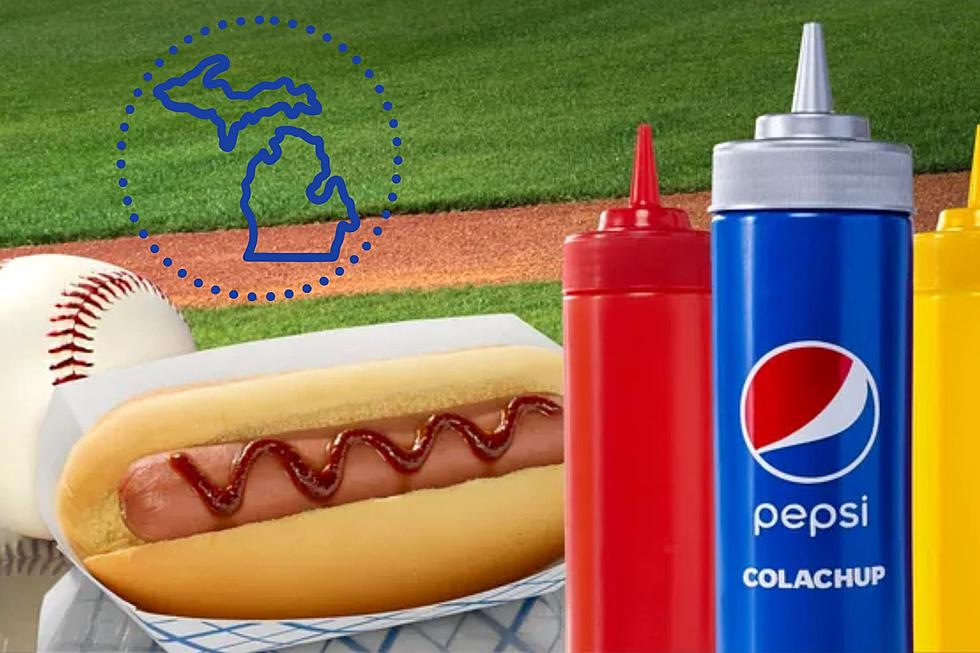 Yum or Yuck? Michigan is One of Only Places in the Country you Can Get Pepsi's New 'Colachup'
Pepsi/ Canva
I've heard of people using Pepsi to marinate ribs... but what about an actual Pepsi condiment? Well, there's a new one to try. And this spot in Michigan is one of the only places you can get it.
No stranger to flavor combinations with its soda (remember Peeps Pepsi?) - this is the world's first Pepsi-infused condiment. Pepsi + Ketchup = Colachup. Anyone else think they missed the mark by not calling it "PEPchup"?
Anyway, Pepsi has collaborated with the Culinary Institute of America on the new product.
The brand says,
Pepsi is so confident that hot dogs are #BetterWithPepsi, the brand is taking hot dog enjoyment to the next level with Pepsi Colachup, giving fans the chance to add even more of the iconic sweet, citrusy taste of a crisp, refreshing Pepsi-Cola directly onto their hot dog.
So what does Colachup taste like? To create the concoction, they boiled down Pepsi and added tomatoes, cinnamon, oregano, thyme, paprika, and onions.
David Kamen, director of client experience for CIA Consulting says,
The concept is both simple and creative. The distinctive flavors and vibrant citrus blend of Pepsi enhances the bright and tangy characteristics of ketchup, offsetting the smokiness of the hot dog.
Yum? Or yuck?
Well, if you want to try it, there are only a few places you can get Pepsi's Colachup.
On the Fourth of July, Pepsi is teaming up with the Detroit Tigers, Minnesota Twins, Arizona Diamondbacks and New York Yankees for exclusive in-stadium sampling during the team's home games. Hot dog enthusiasts who want to be the first to try Pepsi Colachup can look for the sampling carts at these stadium locations:
Comerica Park, 

Detroit, MI

; Section 139

Chase Field

, 

Phoenix, AZ

; Section 130/131
Yankee Stadium, 

Bronx

, NY; Pepsi Lounge (Pepsi Lounge Ticket Required)
Target Field, 

Minneapolis, MN

; Section 113
Who knows, maybe they'll end up releasing it in stores, but for now, you gotta head to the Tigers game July 4 to snag it!
If you can't make it to Detroit, Pepsi still wants to hook you up.  All weekend long through July 4, anyone who buys a hot dog  with a Pepsi at any food service or retail location can get the Pepsi comped by texting "FREEPEPSI" to 81234 and uploading the receipt to get reimbursed.
The Bad With The Detroit Tigers In 2023
The Good With The Detroit Tigers In 2023