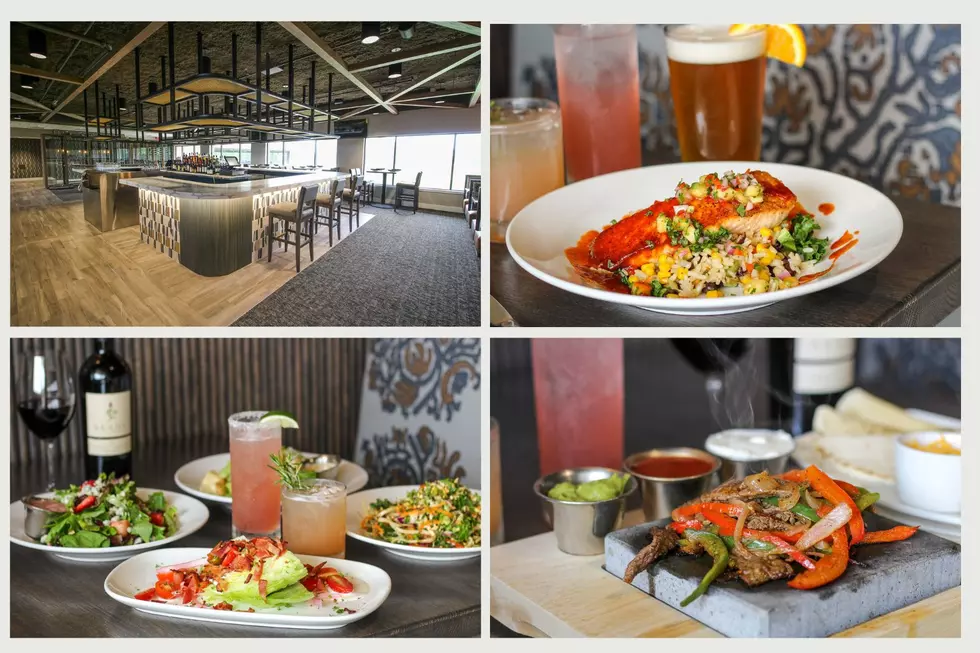 New Restaurant at Muskegon Country Club Opens This Week
Lake Bluff Grille, Facebook
Muskegon Country Club has new ownership who have been working to renovate the club, including a new restaurant concept - which opens this week!
The West Michigan restaurant group, RedWater, bought Muskegon Country Club at 2801 Lakeshore Dr. last summer. Muskegon Country Club first opened in the area in 1908. .
RedWater also owns and operates nine other properties including Ravines Golf Club in Saugatuck, Boatwerks in Holland, and Gravity Taphouse and Grille in Grand Rapids
Lake Bluff Grille Opens at Muskegon Country Club  June 15
The new restaurant, Lake Bluff Grille, which overlooks Muskegon Lake, is open to the public June 15, 2022 AT 5:30p.m., following a ribbon cutting with the Muskegon Chamber of Commerce.
Formerly Se4sons Gastropub, renovations have included relocating the restaurant to offer more space for guests, building a large wrap-around bar at the center of the space, adding a feature wine wall with wine locker storage, and expanding and covering the deck for outdoor dining.
RedWater describes the food at at Lake Bluff as "New American style cuisine with a wide range of handcrafted appetizers, sandwiches, and entrees."
Lake Bluff Grille's menu includes a variety of soups and salads like Lobster Bisque, Corn Chowder, Asian Noodle Salad, and RedWater Salad, which features mixed field greens, strawberries, dried cranberries, bleu cheese, candied pecans, raspberry vinaigrette.
Appetizers include Fried Calamari, Peach-Tomato Brushetta, Baked Bri, and Blackened Ahi Tuna.
You'll find an assortment of burgers and sandwiches like the Truffle Mushroom Swiss Burger, Olive Burger, Perch Sandwich, and French Dip.
Redwater has brought a "guest-favorite" from its other restaurants to Lake Bluff Grille: Steaks that are served on 500-degree fire rocks, which allows guests to cook food to the temperature of their liking.
Lake Bluff Grille serves thin crust pizza, and entrees like Prime Rib, Shrimp Totellini, Fajitas, and Faroe Island Salmon as well, which is pictured below.
Lake Bluff Grille also has a full bar with beer, wine, seltzer, cider, and cocktails like the Adult Lemonade Spritz, Prickly Pear Margarita, and Beach Time, which is Bacardi Mount Gay Rum, Velvet Falernum, and Pineapple.
Check out their full menu here.
You'll be able to enjoy live music at Lake Bluff Grille Thursday and Friday evenings on the patio.
Lake Bluff Grille is open Wednesday through Sunday 4p.m. through 9p.m.
Upgrades to the Muskegon Country Club Event Venue
In addition to the new restaurant, RedWater has upgraded the Muskegon Country Club's event space. The new venue seats around 150 people indoors and has added space for weddings and other events on its covered deck. A new reception courtyard area off the patio has also been added.
Indoor Golf Simulators
If you're missing golf during the fall and winter, you'll be able to play inside at Muskegon Country Club. RedWater is expanding their LiveGolf Studios brand with the addition of golf simulators in the restaurant and event venue area.
RedWater says,
The simulators will feature state-of-the art technology and will offer access to more than 100 golf courses, various challenge games, multiple practice ranges, and arcade games to provide fun for the whole family.
The golf simulators will be open to the public and available as an add-on for private events.
52 of the Best Michigan Waterfront Dining Locations
You probably already have a favorite dining location with a view, most of us do. But what you will find here is a nice long list of waterfront dining locations in every part of Michigan. Be adventurous, take a drive and explore something new, you'll find locations within an hour or more away from you that you have yet to experience.