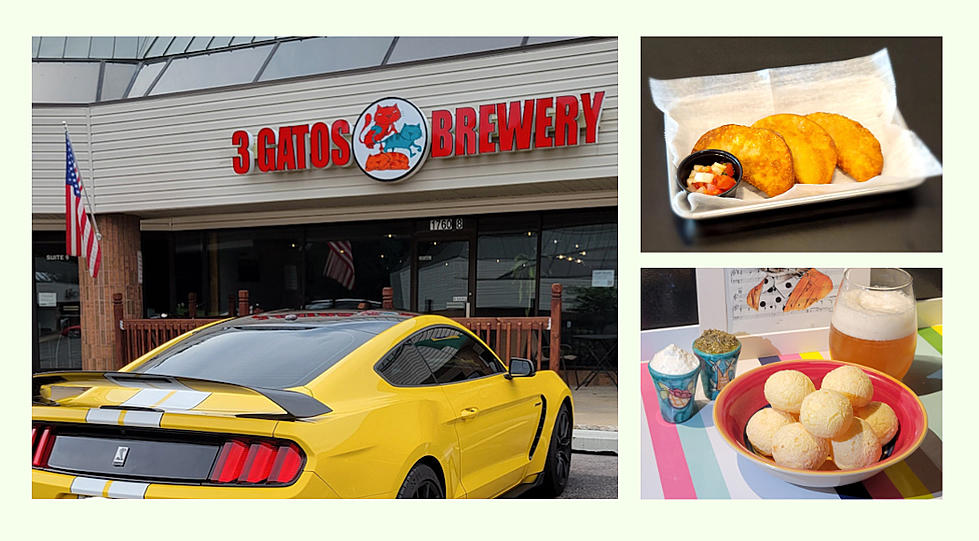 New International-Themed Brewery Opening in SW Grand Rapids Area
3 Gatos Brewery, Facebook
There's a new brewery to check out in Beer City USA!
3 Gatos Brewery, an international-themed brewery with strong Brazilian and German influence, is currently in a "soft opening" phase at 1760 44th St. SW in Wyoming. The new bar and restaurant is at the site of the former Kitzinger Brewery.
Owners and founders Linus and Renata De Paoli started home brewing in Brazil in 2011. Work took them to Germany in 2015, where they continued to develop their passion for  craft beer and brewing. Though they worked in automotive engineering, the dream of someday owning a small brewery started to blossom.
In 2018 Linus attended a brewing course at VBL- Berlin, a world-renowned educational institution in the brewing industry, and it was there that he met Rommie Bailey, owner of Kitzingen Brewery. The two became good friends and at the end of 2019, Bailey offered to sell the brewery to Linus and Renata.
During a quick visit to West Michigan in February 2020 Linus and Renata decided to buy the brewery. After a long process and some delays due to the pandemic, they took it over and started to give their own personality to the place.
On Facebook, the pair shares that they value diversity: in people, in culture, and in beer. They've pledged to brew a wide variety of beer styles to celebrate beer culture from all over:
We like our beers in all types and colors.
So expect us to brew lagers and ales. As well as some mixed fermented stuff.
Also expect our beers to range from super pale to pitch black, including some red, amber and brown ones.

 
While a full food menu isn't available online yet, 3 Gatos Brewery has shared some of the dishes they'll be serving on Facebook.
While 3 Gatos will serve Brazilian street food, they also incorporate German food as well:
We'll have a good Wiener Schnitzel, Currywurst and Wurstplater in our food menu.
The De Paolis say they'll also try to bring a little bit of all places they've visited, like Belgium, the Netherlands, England, Ireland, and the Czech Republic, to their customers as special items on the menu and during special events.
During 3 Gato's soft opening, the hours currently listed are Wednesday and Thursday 2p.m. to 10p.m. and Friday and Saturday 2p.m. to 11p.m.
Stay tuned for an official grand opening date on 3 Gatos Brewery's Facebook page!
Five Out-Of-The-Way, Inexpensive Grand Rapids Restaurants