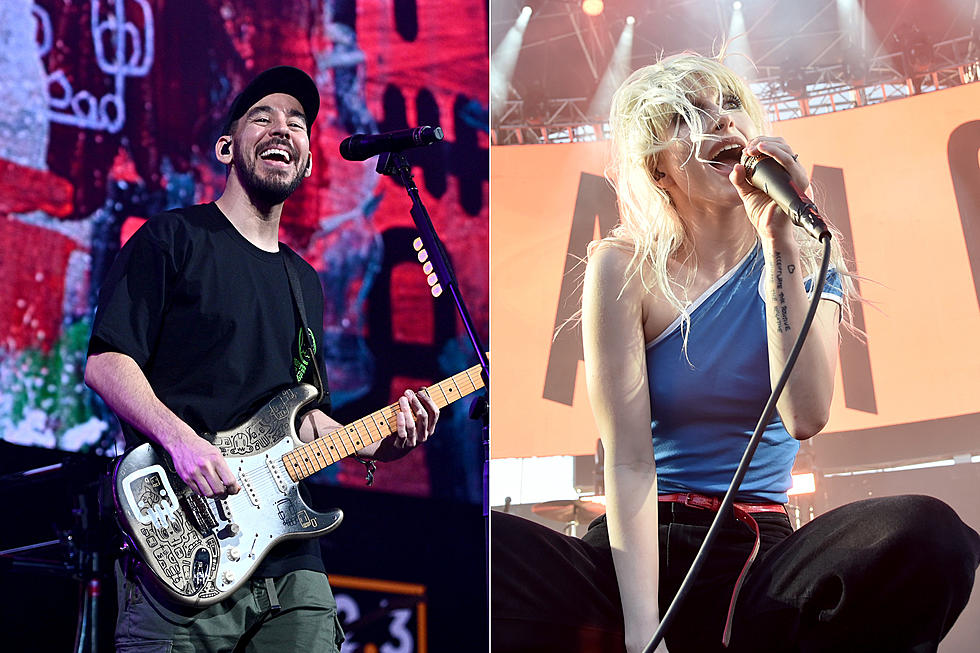 Mike Shinoda Says Hayley Williams 'On Her Own Level' Performing Live
Mike Pont / Alberto E. Rodriguez, Getty Images
Mike Shinoda continues to be one of the more accessible musicians online, and during a recent Q&A session, he was asked by one fan his thoughts on the solo career of Paramore vocalist Hayley Williams.
"I think Hayley is just such an insane artist," stated Shinoda. "She's got a great voice, she's got some of the best stage presence. If you've never seen Paramore live, she's totally on her own level when it comes to presenting songs and holding the interest of a crowd."
"What I feel like it is a lot of times is in a sense conducting, like she is choreographing and conducting the emotional arc of a night, just leading people through something that's special and staying in sync with what your music is about," the musician elaborated. "She does a really incredible job with that. If you've never seen it, it's worth checking out. Her vocals are perfect live and it just feels effortless. It's nice."
While mostly speaking about Hayley in terms of her time with Paramore, Shinoda then revealed that he hadn't seen her during support of her solo album. Speaking about the record, he offered, "I probably like it less than the most recent Paramore album. I'm not like a huge Paramore fan but the most recent Paramore album was really good."
As for where Paramore falls in his fandom of music, he explained, "I'm just not a big Warped Tour music fan and they came from that in the beginning. I didn't like the music, but I liked the singer, but when they started moving away from that I liked it better."
Mike Shinoda Shares His Thoughts on Hayley Williams
25 Amazing Pop-Punk + Emo Albums With No Weak Songs