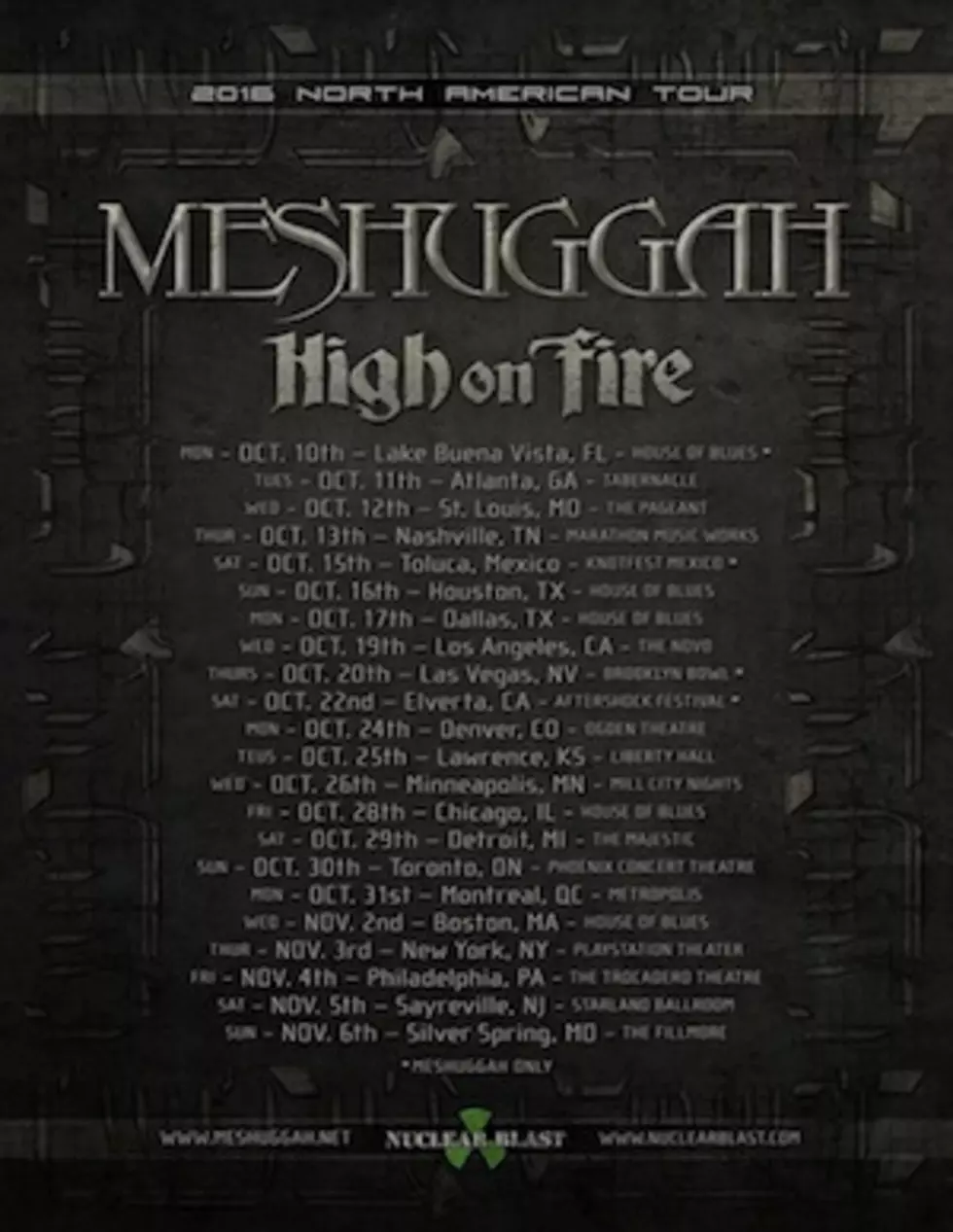 Meshuggah to Embark on Fall 2016 North American Tour With High on Fire
Nuclear Blast
Get ready for one of the heaviest tours of the Fall! Swedish legends Meshuggah will be teaming up with the power trio High on Fire for a month-long string of tour dates.
The tour will launch on October 10 in Lake Buena Vista, Fla. without High on Fire, who will link up with Meshuggah the following night and remain on for the rest of the trek save for three more dates. Departing from the panhandle state, the tour will head West where Meshuggah will dip below the border to perform as part of Knotfest Mexico. Working their way up North, through the MidWest and into Canada, the two acts will hit the NorthEast before wrapping up in Silver Spring, Mo. on Nov. 5.
Meshuggah have teased a follow-up to 2012's Koloss and promise a new album will arrive this Fall. No word is available yet if the record will be out in time for the advent of the North American tour. The Swedes will also be releasing a career-spanning boxset, 25 Years of Musical Deviance, which will feature a staggering 17 clear, 180 gram LPs, a 100 page hardcover book and more. The set is limited to 1,000 worldwide with 585 reserved for the U.S. More information can be found at the Nuclear Blast webshop.
High on Fire will be on the road supporting last year's Luminiferous, which landed on Loudwire's 20 Best Metal Albums of 2015. Speaking with Full Metal Jackie last summer about his playing, frontman Matt Pike stated, "There's no rest for the wicked. None of us have done anything less than sacrifice our entire lives to play riffs. It's the most important part. Then, if you smash someone over the head with it because you're good at it, it's because you believe and you are a warrior of that riff. You're a warrior of all the riffs."
Meshuggah 2016 North American Tour Dates
10/10 — Lake Buena Vista, Fla. @ House Of Blues*
10/11 — Atlanta, Ga. @ Tabernacle
10/12 — St. Louis, Mo. @ The Pageant
10/13 — Nashville, Tenn. @ Marathon Music Works
10/15 — Toluca, Mexico @ Knotfest Mexico*
10/16 — Houston, Texas @ House Of Blues
10/17 — Dallas, Texas @ House Of Blues
10/19 — Los Angeles, Calif. @ The Novo
10/20 — Las Vegas, Nev. @ Brooklyn Bowl*
10/22 — Elverta, Calif. @ Aftershock Festival*
10/24 — Denver, Colo. @ Ogden Theatre
10/25 — Lawrence, Kan. @ Liberty Hall
10/26 — Minneapolis, Minn. @ Mill City Nights
10/29 — Detroit, Mich. @ The Majestic
10/30 — Toronto, Ontario @ Phoenix Concert Theatre
10/31 — Montreal, Quebec @ Metropolis
11/02 — Boston, Mass. @ House Of Blues
11/03 — New York, N.Y. @ Playstation Theater
11/04 — Philadelphia, Pa. @ The Trocadero Theatre
11/05 — Sayreville, N.J. @ Starland Ballroom
11/05 — Silver Spring, Mo. @ The Fillmore
* no High on Fire
See Where Meshuggah + High on Fire's Albums Landed on the Top 100 Hard Rock + Metal Albums of the 21st Century