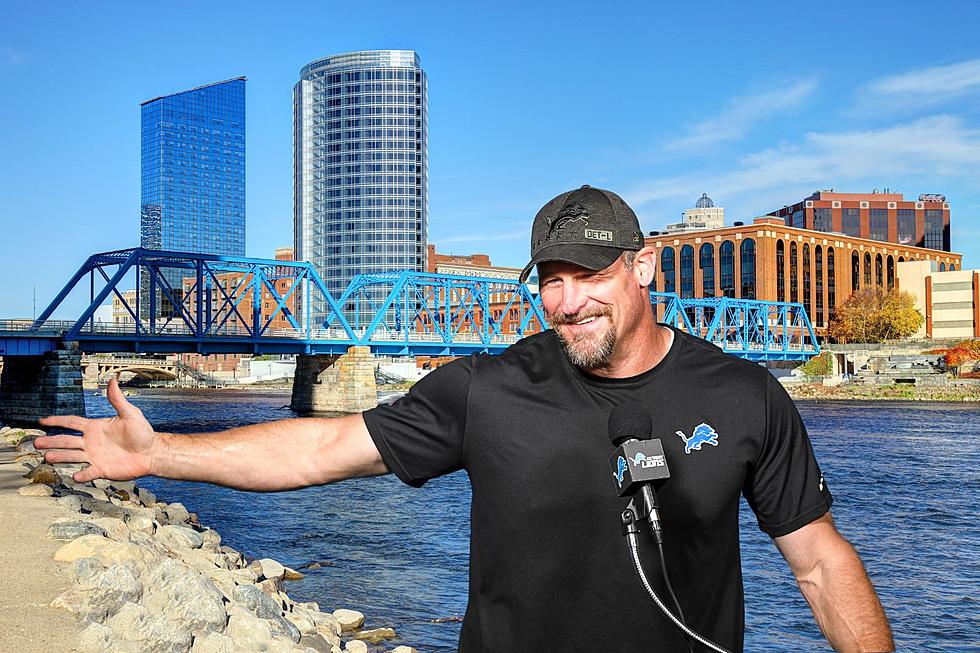 Why Was Lions Coach Dan Campbell in Grand Rapids Last Weekend?
Getty Images, Canva
Did you spot Dan Campbell around Grand Rapids this past weekend?
Apparently the Detroit Lions head coach is impressed with Grand Rapids fans and is considering the possibility of holding a training camp session in town!
How cool would that be?!
Campbell says he was in Grand Rapids for his daughter's volleyball tournament.
In a press conference, he cracked a few jokes saying that while in GR he got a few questions like,
Does Frank Ragnow really bring an axe to work everyday?
and
Can Hutch really dance in real time?
Aiden Hutchinson Boss Up GIFfrom Aiden Hutchinson GIFs
Campbell said yes to the former and no to the latter - ha!
He continued,
On a serious note, it was good to get out there. Lot of good fans out there. It almost felt like, hey man, don't forget about us, and we don't. Had a good time, Festival of the Arts was going on.
Campbell was asked if he ever considered doing a Lions training weekend on the West side of Michigan. He replied,
I actually thought about it. A lot of it comes down to the logistics of it. Where are we practicing? What's the turf like? What's the field? So we've thought about it, but that's about as far as we've gone.
As Lionswire points out, it's been a while since the Lions have practiced anywhere but Allen Park or Ford Field in Detroit. Back in 2015 the lions did have a practice at Novi High School.
In terms of where they could practice in the Grand Rapids area, what about Grand Valley State University? Where do you think would be a good place?
Watch more here!
NFL Books Detroit Lions For 5 Nationally Televised Games In 2023
The Lions' meteoric rise has captivated their fans. It's apparently captivated the NFL, as well.
The league has reportedly scheduled Detroit for five nationally televised games this coming season. The last time the Lions had even a single primetime game was in 2018.
The 10 Worst First Round Picks In Detroit Lions History (Since 1980)
Things That Make More Sense Than Detroit Lions' First Round Of The 2023 NFL Draft
Not only did the Lions take a running back in the first round, they took one at No. 12 overall. And not only did they take a running back at No. 12 overall, they took a running back at No. 12 overall who many had graded as a second-round pick.
Their second first-round pick at least addressed a position of need, although the player they took there was also graded as a second-round talent.
Here are some things that make infinitely more sense than whatever Brad Holmes and Dan Campbell were thinking.